'I Don't Remember Anything Like That'
In an interview with conservative radio host Sean Hannity, Republican Senate candidate Roy Moore stopped short of unequivocally denying that he once dated girls as young as 17 years old.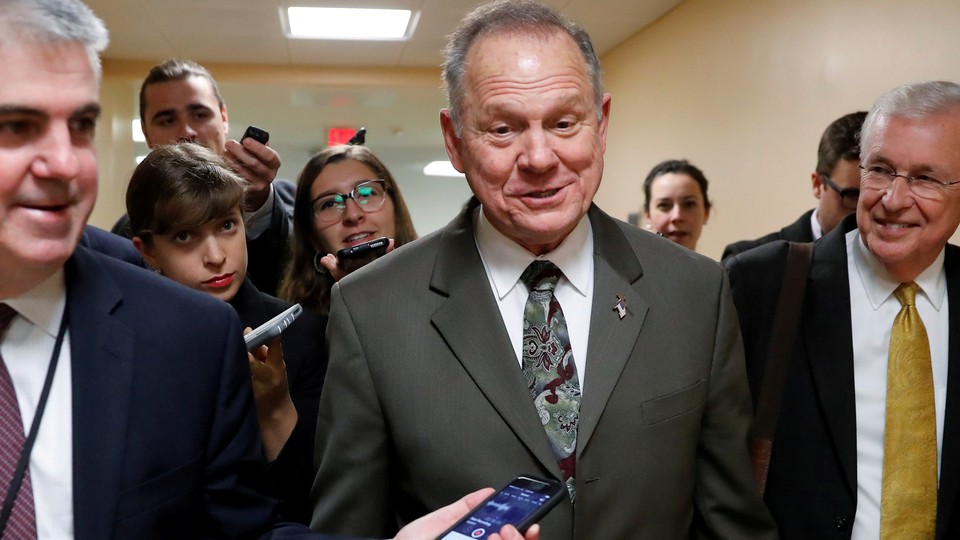 Updated on November 11, 2017.
Alabama Republican Senate candidate Roy Moore, facing allegations that he had a sexual encounter with an underage girl nearly 40 years ago, denied any impropriety in an interview with conservative radio host Sean Hannity on Friday. But his responses to Hannity's queries are likely to deepen the still-developing scandal—they've already led to two Senate Republicans withdrawing their endorsements.

In the afternoon interview, Hannity asked Moore whether he had "dated" girls as young as 17 years old, the age one of the women cited in a recent Washington Post article said she was when she went out with him. In response, Moore stopped short of unequivocal denial, saying only that he could not recall having done so.
"Would it be unusual for you as a 32-year-old guy to have dated a woman as young as 17, that would be what, a 15-year difference, or a girl 18—do you remember dating girls that young at that time?" Hannity asked. "Not generally no," Moore replied, adding that "if I did, I'm not going to dispute anything, but I don't remember anything like that."

Hannity followed up on the matter later, asking: "You can say, unequivocally, you never dated anyone in their late teens like that when [you] were 32?"
Moore told Hannity that "that would be out of my customary behavior." The radio host then tried another angle: "In other words, you don't recall dating any girl that young when you were that old?"
"I've said no," Moore parried. Pressed on whether such a relationship would be "inappropriate," the candidate said he agreed it would be.
After the interview, two of Moore's would-be colleagues quickly withdrew their support for his candidacy. They followed earlier calls for Moore to step down, which came after the Post published its report Thursday. The story included allegations that Moore, a former state Supreme Court justice, had a sexual encounter with a 14-year-old girl nearly 40 years ago.
Early Friday evening, Republican Senator Mike Lee of Utah wrote on Twitter that "having read the detailed description of the incidents, as well as the response from Judge Moore and his campaign," he could "no longer endorse his candidacy for the US Senate." Republican Senator Steve Daines of Montana tweeted succinctly that he would be "pulling my endorsement and support for Roy Moore for U.S. Senate."
By contrast, some Republicans made statements in Moore's defense following the Post story: Some of his political supporters called the allegations totally false, while others claimed the women accusing him were in cahoots with the Democratic Party. A few went even further, excusing the alleged behavior.
"Take Mary and Joseph. Mary was a teenager and Joseph was an adult carpenter. They became parents of Jesus," Alabama State Auditor Jim Zeigler told the Washington Examiner. "There's just nothing immoral or illegal here. Maybe just a little bit unusual."
The Post reported that Moore allegedly had an inappropriate sexual encounter with Leigh Corfman in 1979, when she was 14 and he was 32, and that he pursued relationships with three other teenage women. Corfman alleged that Moore kissed her, touched her through her bra and underpants, and guided her hand to his underwear. The age of consent in Alabama was—and still is—16 years old. The other three women in the story allege that Moore dated them briefly when they were between the ages of 16 and 18, but that they were not forced into sexual contact.
Moore denied the claims, calling the story a "completely false and desperate political attack." On Twitter, he wrote that "the Obama-Clinton Machine's liberal media lapdogs just launched the most vicious and nasty round of attacks" he's ever faced. A statement from Moore's campaign called the report a "last ditch Hail Mary" by Democrats supporting his opponent, Doug Jones.
Moore, who is an evangelical Christian, was removed from the bench in 2003 over his refusal to take down a monument to the Ten Commandments in the state Supreme Court building in Alabama. Last year, he was suspended for the remainder of his term after telling probate judges to enforce the ban on gay marriage, which by then had been struck down by the U.S. Supreme Court. Both fights elevated his profile among religious conservatives in the state and nationally.
In the hours that followed the story's publication, several of Moore's fellow Republicans criticized him. But many others, especially Moore's local Alabama supporters, defended him.
State Representative Ed Henry accused the women cited of being politically motivated. "You cannot tell me there hasn't been an opportunity through the years to make these accusations with as many times as [Moore has] run [for office] and been in the news," Henry told the Cullman Times. He said he believes Moore's accusers should be prosecuted. "You can't be a victim 40 years later, in my opinion."
The Toronto Star's Daniel Dale contacted state GOP officials, many of whom also rejected the allegations. Mobile County GOP Chairman John Skipper told Dale that the report didn't surprise him. "I think it is a typical Democratic, Democrat, ploy to discredit Judge Moore, a sincere, honest, trustworthy, individual," Skipper said, calling the allegations "bunk" with "no credibility whatsoever."
Many leading Republicans outside of Alabama said in public statements they would like to see Moore step aside—if the allegations against him are true. On Thursday, The Atlantic reached out to all 52 GOP senators, and the 20 lawmakers who responded said exactly that. That approach would seem to leave room for Moore to deny the report and continue his campaign.
Other officials and commentators said that even if they were true, the allegations are exaggerated. Joel Pollak, an editor-at-large at Breitbart, criticized the Post's report in an interview on MSNBC, saying "the 16-year-old and the 18-year-old have no business in that story" because Alabama's age of consent is 16. "As far as we know, there's only one relationship that's been alleged that is problematic," Pollak said of the encounter with 14-year-old Corfman.
Moore's alleged activity with Corfman carries serious legal consequences. Under state law, from 1979 to today, the reported behavior might constitute second-degree sexual abuse. Enticing a person under 16 for genital touching is considered a felony, punishable with up to 10 years in prison.
Zeigler, the state auditor, insisted "there's nothing to see here." "Single man, early 30s, never been married, dating teenage girls. Never been married and he liked younger girls," Zeigler told The New York Times. Marion County GOP Chair David Hall told Dale he doesn't see how the story is relevant. "It was 40 years ago," Hall said. "He was 32. She was supposedly 14. She's not saying that anything happened other than they kissed." The candidate's brother, Jerry Moore, told CNN that Moore is being persecuted "like Jesus Christ was."
The American Family Association president, Tim Wildmon, told Religion News Service that the Post's report "does not change our support for Roy Moore," and Wildmon thinks others in the faith community will feel the same way. "I don't think this kind of story will change support for him among Christians since he has categorically denied it. Most will see it as dirty politics."
Paul Reynolds, the Republican national committeeman from Alabama, told The Hill that something "doesn't smell right" about the report. "My gosh, it's The Washington Post. If I've got a choice of putting my welfare into the hands of [Russian President Vladimir] Putin or The Washington Post, Putin wins every time," he said.
And Hannity suggested on his show on Thursday that the accusers might be lying. "We do have Ten Commandments. One of the Commandments is, 'Thou shalt not bear false witness.' We know human beings break, with regularity, the other nine commandments. Did they break this one? I mean, it's something to think about," he said.
"It comes down to a question [of] who is more credible in the eyes of the voters—the candidate or the accuser," Jerry Falwell Jr., the president of evangelical Liberty University and a Moore supporter, told RNS. "And I believe the judge is telling the truth."
Indeed, many Republican officials are still behind him. "I'm not saying I support what he did," Bibb County Chairman Jerry Pow told journalist Dale. But Pow said he'll still vote for Moore, simply because he doesn't want to vote for the Democrat.
The situation resembles the final days of the 2016 presidential campaign, when voters heard Donald Trump on the Access Hollywood tape, as well as sexual-harassment allegations against him from at least 16 different women. Despite criticism from lawmakers and pundits on both sides of the aisle, enough voters preferred Trump to his Democratic opponent to put him in the Oval Office.
Whether or not they believe the claims against Moore, voters in Alabama might make the same choice. According to the candidate himself, there are only more allegations to come: "I'm sure that in the next four weeks they're gonna come out with another article," he told Hannity on Friday.