'If These Allegations Are True, He Must Step Aside'
A report that Republican nominee Roy Moore had sexual contact with a 14-year-old girl in the 1970s has upended the Senate race in Alabama.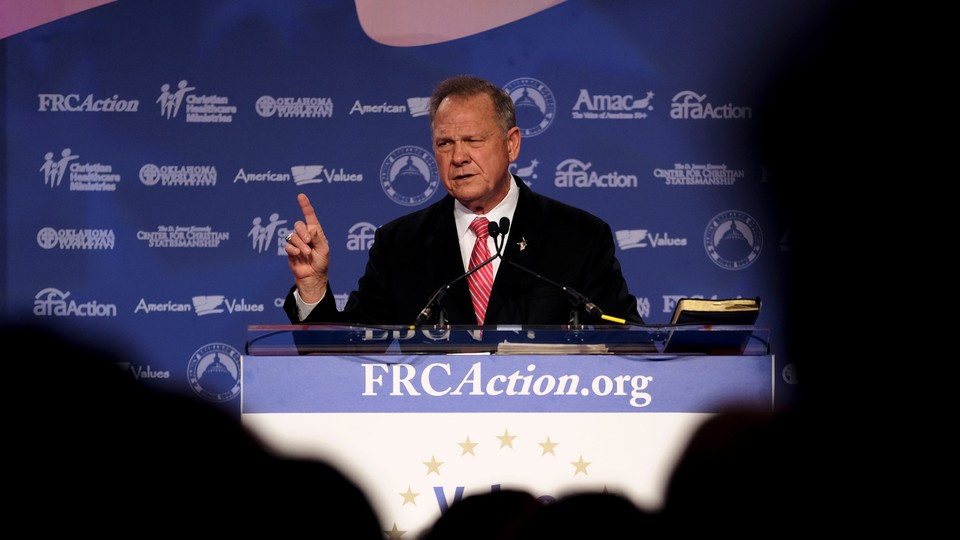 Updated on November 10, 2017
Roy Moore, the controversial GOP nominee for a U.S. Senate seat in Alabama, had sexual contact with a 14-year-old in the 1970s, and pursued two other teenaged girls, according to a bombshell Washington Post report published early Thursday afternoon.
Leigh Corfman told the Post that she met Moore, then a 32-year-old district attorney, outside a courtroom in Etowah County, Alabama. Moore obtained her phone number, then made arrangements to pick her up near her house a few days later. She said that on a first date, he kissed her. On a second encounter, she said, he took off her pants and shirt and his own clothes, touched her over her bra and underwear, and guided her hand to touch his penis over his underwear.
"I wasn't ready for that—I had never put my hand on a man's penis, much less an erect one," she said. Corfman, 53, said she had never made a public accusation for several reasons, but said it had weighed on her. A Trump voter, she'd prayed over the decision to speak out about Moore and decided to do it. She said she had considered confronting Moore previously, and vomited after seeing a story about him on Good Morning America.
The age of sexual consent in Alabama, then and now, is 16, so Moore's alleged action would constitute second-degree sexual abuse, a misdemeanor. Enticing someone younger than 16 into a home for genital touching is a felony. The Post corroborated elements of Corfman's account using court records and interviews with her mother and a friend to whom she recounted the events at the time.
The Post also spoke to three women who dated Moore briefly when they were between 16 and 18 and he was in his thirties. One said he first approached her at 14, and asked her for a date at 16, but her mother refused. Another recalled Moore buying her glasses of wine before she was of legal drinking age. The women said they found the attention flattering at the time but disturbing in retrospect.
"If these allegations are true, he must step aside," Senate Majority Leader Mitch McConnell said in a statement. A string of other Republican officeholders, including Cory Gardner, who leads the GOP's Senate campaign, made similar statements. The Atlantic reached out to all 52 Republican senators to ask whether they think Moore should withdraw from the Alabama Senate race, based on the allegations. Nineteen senators responded, all suggesting that if the Washington Post allegations are true, Moore should withdraw from the race.
In a statement, Nebraska Senator Ben Sasse said, "The Post's story is appalling and heartbreaking. If there's an ounce of truth to any of this, Roy Moore has no place in public life and ought to drop out immediately. Alabamians should start thinking about who they'll write in but it's obvious that conservatives deserve better than this." Florida Senator Marco Rubio called the report "deeply disturbing and, if true, disqualifying."
Senator John McCain, though, was unequivocal. "The allegations against Roy Moore are deeply disturbing and disqualifying," he said. "He should immediately step aside and allow the people of Alabama to elect a candidate they can be proud of."
Moore, who made his name as a crusading moral and religious conservative, denied the allegations. A campaign statement said, "This garbage is the very definition of fake news and intentional defamation." Moore tried to undercut the story by leaking the accusations to Breitbart News, a sympathetic outlet, ahead of the Post story.
Throughout his career, Moore has argued the nation needs to return to an earlier and more virtuous, God-fearing era. He has spoken thunderously against LGBT rights, even to the point of defying a federal courts.
Voters in Alabama head to the polls on December 12 to elect a new senator. Moore's opponent is Democrat Doug Jones, and while Alabama is solidly Republican territory, Moore's controversial and checkered past has given Democrats some hope of winning the seat, even before the Post story.
Moore is only the latest powerful man to be accused of sexual misconduct in recent weeks, part of a flood of revelations since The New York Times and New Yorker chronicled film producer Harvey Weinstein's sexual misbehavior, including accusations of rape. (Weinstein denies them.) While politics is widely reported to be a hotbed of sexual abuse, no American politician has faced accusations as serious as the ones against Moore since the current flood began.
The allegations against Moore are even more timely, however, because he is a current candidate for office. At this point, if Moore withdrew from the race, his name would remain on the ballot, according to Alabama Deputy Attorney General Brent Beal, but any votes cast for him would be counted only to ensure that he didn't receive over 50 percent of the vote. If Moore withdraws from the race, his Democratic opponent, Doug Jones, would still have to get more than 50 percent of the vote. Candidates for the special election were certified on October 11, 2017, which is when the state mails packets to the state's 67 probate judges—one for each county. The deadline has passed for a party to replace its candidate on the ballot, ballots have already been printed, and some absentee votes have been cast, Beal said.
Given Moore's history, and his defiant reaction to the accusations, there's no indication he would seek to withdraw. A longtime Alabama Republican gadfly, Moore has twice been elected chief justice of the Alabama Supreme Court, and he has twice been thrown out of office. The first time, in 2003, a state court removed him for defying federal court orders to remove a Ten Commandments monument from the Alabama Judicial Building. He returned to office in 2013 but was permanently barred from the court in 2016, after telling probate judges to enforce a ban on gay marriage that been struck down by the U.S. Supreme Court.
Moore also ran twice, unsuccessfully, for the Alabama GOP gubernatorial nomination. Earlier this year, he entered the race to fill the Senate seat of Jeff Sessions, who became U.S. attorney general. Then-Governor Robert Bentley appointed Luther Strange to temporarily fill that seat. Republicans from McConnell, a frequent target of Moore's criticism, to President Trump endorsed Strange, but Moore defeated him in the September primary.
That left many Republicans in an awkward position, disliking Moore and seeing him as a blot on the party but unwilling to publicly condemn a GOP candidate and possible future colleague. Many Republicans in Washington have tried to avoid discussing Moore at all, but 14, including Senators John Cornyn, Ted Cruz, Mike Lee, and Rand Paul, have all endorsed him, as have some representatives. Cornyn told reporters that the allegations are "deeply disturbing," but that "the next steps are up to the governor and the people of Alabama," BuzzFeed reported. "If these allegations are true, Judge Moore should resign," Mike Lee said. Calls to the other 12 lawmakers were not immediately returned. Representative Thomas Massie of Kentucky, who also endorsed Moore, declined to comment.
State officials backing Moore were more supportive. "Even if you accept The Washington Post's report as being completely true, it's much ado about very little," Alabama State Auditor Jim Zeigler told The Montgomery Advertiser's Brian Lyman. Secretary of State John Merrill told HuffPost it was "just another piece of information that will allow [voters] to make their decision" and questioned the timing of the report.
Meanwhile, Moore has continued to court controversy. On Wednesday, Moore said, "The transgenders don't have rights." CNN reported Thursday that Moore was removed from a divorce case in the 1990s due to his statements about homosexuality, and other stories have mined his past career in the law as well. The Post reported last month that Moore had been paid $180,000 per year for part-time work at a charity.
The latest allegations create even more of a headache for Republicans, both in Alabama and beyond. Do they distance themselves from Moore and try to defeat him, especially given that his obstinacy and edge in the polls? Or do they continue to grit their teeth and back him, even in the face of the allegations made in the Post story?
In 2016, when a tape of then-candidate Donald Trump boasting about sexual assaulting women was published, many Republicans condemned Trump, but he still won the presidential election about a month later. Trump's imperviousness to repeated accusations of sexual misconduct, and his own recorded boast about it, has provided a peculiar background to the string of men felled in recent weeks by their past misconduct. It falls to Alabama voters to judge the self-appointed Christian crusader and the allegations against him.
---
Priscilla Alvarez, Lena Felton, and Taylor Hosking contributed reporting.