Roy Moore Tests the Limits of Bannon's 'Season of War'
The mounting charges against the Republican Senate candidate from Alabama are causing uncertainty for the Breitbart chief and his allies.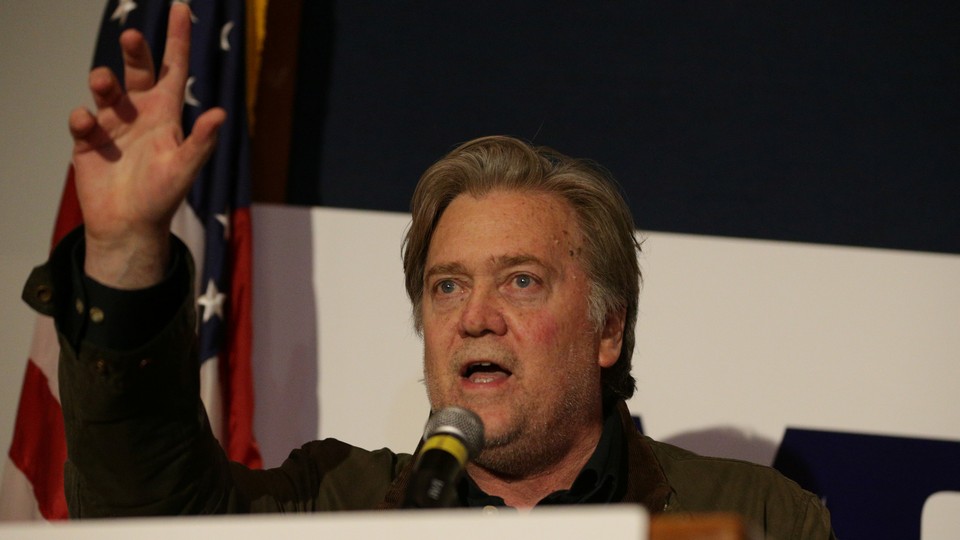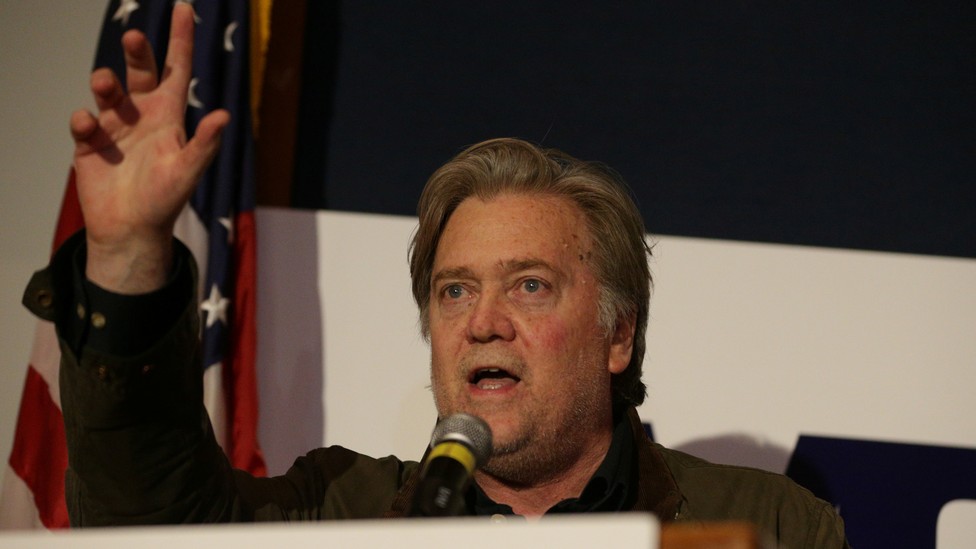 Back in September, Roy Moore's Republican senatorial primary win over Luther Strange seemed like a good early sign for Steve Bannon's "season of war" against the Republican establishment. Bannon and his website Breitbart News had gone all-in on the Alabama race, flooding the zone with pro-Moore coverage, and Bannon had campaigned for him in person. And Moore emerged victorious even though President Trump endorsed his opponent.
Since then, things have gone very much awry. Five women have said Moore pursued them when they were teenagers and he was in his 30s; two of them, including one woman who said she was just 14 at the time, have said Moore sexually abused them; the National Republican Senatorial Committee has cut Moore off and its leader called for him to be expelled from the Senate even if he wins; nearly every Republican senator who endorsed Moore has withdrawn their endorsement; recent polls have shown him neck-and-neck with the Democratic candidate, Doug Jones; and on Tuesday night, the Republican National Committee pulled their support from him.
The cascade of revelations has forced Breitbart to double down when nearly everyone else is abandoning Moore, and is testing the kingmaker image Bannon has been trying to build for the 2018 midterms.
Bannon has remained publicly defiant, casting the allegations as a coordinated smear of Moore and sending two reporters to Alabama. But a Bannon ally confirmed to me that behind the scenes, Bannon has been sounding people out about how to handle the Moore situation. (This source and others quoted in this article spoke on condition of anonymity in order to speak freely about internal conversations.)
The Daily Beast reported on Tuesday that Bannon had told his inner circle he would "put [Moore] in a grave myself" if it turned out Moore had been lying to him about the accusations—Moore insists they are false—and had been "taking the temperature" of allies to see how they thought he should proceed. And internally, some in Bannon's circle have expressed concern at the unrelenting nature of the scandal and indicated they're more worried than they appear to be publicly, according to a source with knowledge of these conversations.
Another source close to Bannon pushed back on the Daily Beast report and said Bannon still "stands by Judge Moore 1000 percent" and plans to send more reporters to Alabama, adding that there's "zero chance" Bannon and Breitbart will back down. Bannon is, this person said, scheduled to appear at a rally organized by Moore's friend and adviser Dean Young on December 5. Bannon is in Japan this week giving a speech.
"There's healthy debate about the whole thing, that's the way Breitbart is on anything," the source said, referring to internal conversations about the Moore story. "There's not strong disagreement in any sense of the word."
Bannon has compared the Moore allegations to the Access Hollywood tape that leaked a month before the presidential election, which showed Trump bragging to TV host Billy Bush about groping women and kissing them against their will. The tape caused a similar political firestorm, with many top Republicans pulling their support of the nominee. Trump did apologize for his comments but stayed mostly defiant; in a move orchestrated by Bannon, the campaign brought four women who had accused Bill Clinton of sexual misconduct to the debate that was held shortly after the story broke. Despite being abandoned by much of his party's establishment, Trump won.
Bannon speaks often of "Billy Bush weekend" and sees it as the ultimate litmus test of who was with or against them during the campaign. The story appeared to vindicate Bannon's strategy of never compromising under pressure. But the Moore story is different from the Access Hollywood tape in key ways. As vulgar as Trump was on the tape, Trump and his allies insisted it was regrettable but ultimately harmless "locker-room talk," despite the number of women who came out afterwards saying Trump had harassed them. Moore's denials have done nothing to tamp down the furor, in part because he has appeared to acknowledge the stories have some truth to them even as he denies the most explosive charges.
Moore equivocated in a radio interview with Sean Hannity last week, saying that he did "not generally" remember dating teenage girls that "if I did, I'm not going to dispute anything, but I don't remember anything like that." Since then, Moore has denied knowing the latest accuser despite the fact that she has an old high school yearbook that bears his signature.
"Nobody's going to try to say that the Moore campaign is handling this well," one of the sources close to Bannon said.
Another friend of Bannon's said they still believe Moore will win.
"It's too much too quick, the establishment is overkilling on this," the friend said. "I don't think it stops him from being elected. It's only grist to our mill if they stop him" from being seated in the Senate.
On the other hand, a Moore loss or withdrawal—or even a win followed by possible expulsion from the Senate—would offer grist to the mill of Bannon's critics heading into next year's primary battles.
"Hopefully this isn't playing out next year," said Chris Pack, communications director for the Senate Leadership Fund, a McConnell-connected super PAC which backed Strange in the runoff and which has aggressively gone after Bannon. Pack pointed to the Republican megadonor Sheldon Adelson distancing himself from Bannon on Monday. "Donors are already walking away from Bannon—and Alabama is 'Exhibit A' as to why. While everyone else was talking about tax reform last Friday, Bannon's minions were on TV talking about the age of consent for sexual relationships with teenage girls. That hasn't gone unnoticed by many." (After the initial Washington Post story came out, Breitbart California editor Joel Pollak said on TV that the women who were 16 and 18 at the time shouldn't have been included in the story because they were of legal age to consent.)
Bannon's defenders maintain that the Moore story won't damage Bannon's political efforts going forward.
When Bannon initially got involved, "I don't think anybody in the world would have said 'Come on Bannon, he's obviously a sexual predator,'" one of the Bannon friends said. "I don't think anybody's going to be able to say, 'See, we told you so.'"
Breitbart quickly claimed credit after Moore won the runoff in September. Pollak wrote that "what Bannon showed on Tuesday was that Trump's agenda transcends elections" and "Tuesday's result proved the enduring power and reach of Breitbart News."
But Moore had been building a political base in Alabama well before Bannon came along, and it's that base that is keeping him alive in the race for now.
"The idea that Bannon had anything to do with Roy Moore winning the nomination in the first place is risible," said Quin Hillyer, an Alabama-based conservative writer and activist. "Bannon came in late, Moore was already going to win that race."