A Bizarre Night in the Roy Moore Scandal
Facing even more allegations of sexual abuse and harassment, the Alabama Republican Senate candidate's campaign has decided to go on the offensive.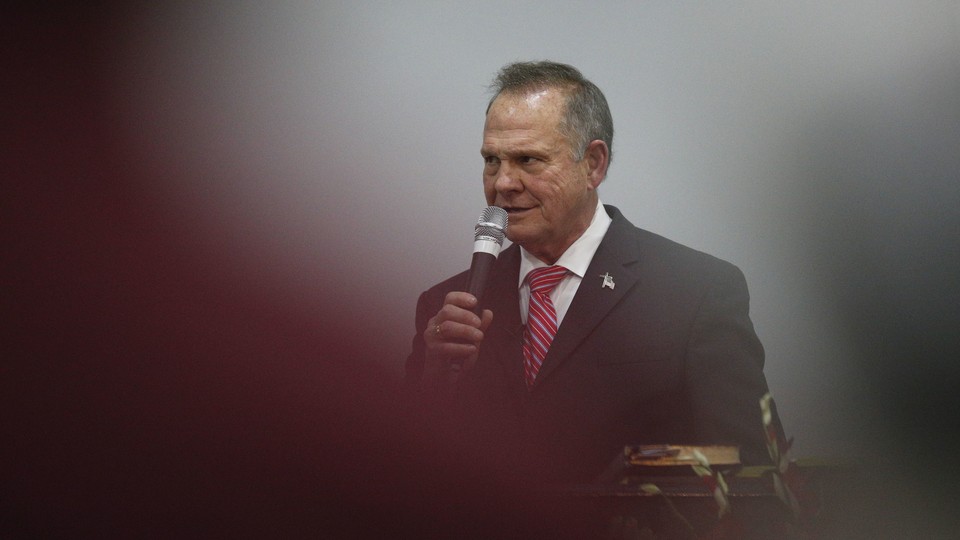 Even as Roy Moore's campaign publicly denounced the claim of one accuser, two more women came forward.
The latest turn in the Alabama Senate special election came in a press conference Wednesday afternoon, when Moore's attorney Phillip L. Jauregui attempted to cast doubt on the claims of Beverly Young Nelson, who said on Monday that Moore signed her high-school yearbook and then later sexually assaulted her when she was 16. In the press conference, Jauregui said that Nelson's claim that she had never spoken to Moore after the incident was false, since Moore had presided over a divorce proceeding with Nelson and her husband. Jauregui also denied that Moore ever signed Nelson's yearbook, alleging inconsistencies in the former Alabama chief justice's signature, and asked Nelson and her lawyer Gloria Allred to turn the book over to handwriting experts for analysis. "Is it genuine, or is it a fraud?" Jauregui asked.
Just 20 minutes later, AL.com reported that another woman, Tina Johnson, had come forward to allege that Moore had groped her when she was 28, during a meeting in 1991 when Moore was serving as her mother's attorney during a custody-petition process. "He didn't pinch it; he grabbed it," she said of a parting incident in which Moore allegedly touched her buttocks.
Two hours after that, The Washington Post reported that another woman, Gena Richardson, had come forward with accusations that Moore had made unwanted advances—and in one case, an unwanted "forceful" kiss—while she worked as a teenager in the Gadsden Mall. "It was a man kiss—like really deep tongue. Like very forceful tongue," Richardson said of the alleged encounter, which she says happened around the time when she was 18. Her former coworker at the Gadsden Mall Sears, Kayla McLaughlin, and another former mall employee, Phyllis Smith, corroborated her account.
In a statement to the Post, the Moore campaign denied these new claims and the earlier ones, saying that "if you are a liberal and hate Judge Moore, apparently he groped you." But in the scandal now consuming the Alabama race, many of the women who've come forward with stories of sexual abuse have been Moore's Republican constituents. On November 9, the Post ran a story containing allegations from Leigh Corfman that Moore had sexual contact with her when she was 14, and offered stories of other women from Gadsden, Alabama, who allege Moore courted them as teenagers. Additionally, AL.com and The New Yorker ran stories with sources claiming that Moore had been known for approaching young women and teenagers in the Gadsden Mall, and was rumored to have been banned at some point.
Even in the face of seven women claiming Moore assaulted or harassed them, his campaign is defiant, with his chief of staff claiming yesterday that "there are holes all the way through the stories" of the accusers.
Moore's team has painted his candidacy as the victim of a smear campaign. This afternoon, Moore's wife Kayla Moore wrote a Facebook post claiming that her hometown had "been invaded by The Washington Post and liberal media," and that the campaign is filing suit against at least one media outlet. Trenton Garmon, one of the campaign's lawyers, issued a letter to AL.com "in anticipating (sic) of our firm preparing and filing a lawsuit against your client and its agents," and the campaign website also now contains a form for supporters to report being contacted by reporters.
At least one Alabama resident reported receiving a seemingly anti-Semitic robocall falsely claiming to have been from a Washington Post reporter that appeared to be an attempt to discredit the paper's reporting. And Garmon made a strange appearance on MSNBC Wednesday, suggesting that host Ali Velshi's "background" could give the journalist insight on the allegations of sexual assault against minors.
The Senate's Republican leadership, including Majority Leader Mitch McConnell, have called on Moore to withdraw. Richard Shelby, the Republican senior senator from Alabama, said that he wouldn't vote for Moore, and would instead favor a write-in candidate. On Tuesday, the Republican National Committee ended all support for Moore, and on Wednesday, the National Republican Senatorial Committee, which withdrew its support of Moore last week, released a poll showing Moore trailing 12 points behind his opponent, Democrat Doug Jones. (The average of other recent polls depicts a tighter race, with Moore clinging to a slight lead.) Ivanka Trump told the AP that "there's a special place in hell for people who prey on children. I've yet to see a valid explanation and I have no reason to doubt the victims' accounts." To all of this, Moore's campaign tweeted another defiant message Wednesday night, telling McConnell to "bring it on."
Even Moore's support among the more Breitbart-ian elements of his party has faltered. My colleague Rosie Gray reports that "behind the scenes, [Steve] Bannon has been sounding people out about how to handle the Moore situation." On Tuesday, FoxNews talk-show host Sean Hannity gave Moore a 24-hour ultimatum to "immediately and fully come up with a satisfactory explanation for your inconsistencies." Moore attempted to meet that ultimatum, tweeting an open letter to Hannity outlining Jauregui's attacks on Nelson's claim and stating that "I have been attacked by The Washington Post and other liberal media in a desperate attempt to smear my character and defeat my campaign."
Allred has pushed for her client to testify against Moore in a hearing before either the Senate Judiciary Committee or the Senate Select Committee on Ethics. Moore, instead, is seeking to cast doubt on at least one claim lodged against him, in an apparent effort to mollify his erstwhile endorsers and wavering supporters, by giving them just enough to cling to the "if true" portions of their denunciations. Additionally, the fear-mongering about media in Alabama seems aimed less at challenging the veracity of the claims themselves than at undermining trust in any reporting, and solidifying local support.
Moore isn't going anywhere, and that local support has been much more important than condemnations by national Republican leaders. Several state GOP leaders, including Alabama Secretary of State John Merrill, have continued to support Moore, even after the allegations first surfaced. In fact, Alabama Republican Party Chairman Terry Lathan has implicitly threatened all Alabama Republican politicians with potential expulsion from future ballots for publicly supporting any candidate other than Moore.
With Moore entrenched in defiance, the only real entity that could challenge him to step aside is the Lathan-led state GOP steering committee, which coincidentally met at the same exact time Jauregui gave his press conference. The steering committee sat for hours in the Embassy Suites in the Hoover suburb of Birmingham, grappling with the monumental decision it had before it. But NBC News's Vaughn Hillyard reported that the proposal to remove Moore from the race never reached the point of a vote, although members of the committee didn't immediately issue a statement on their decision or come out to speak to the waiting press. According to Josh Gauntt, a reporter for the local Fox affiliate WBRC, "apparently members slipped out some hidden door."