'You're Just a Child ... No One Will Ever Believe You'
An Alabama woman says U.S. Senate candidate Roy Moore sexually assaulted her in 1977. She is now the fifth woman to speak out against the Republican.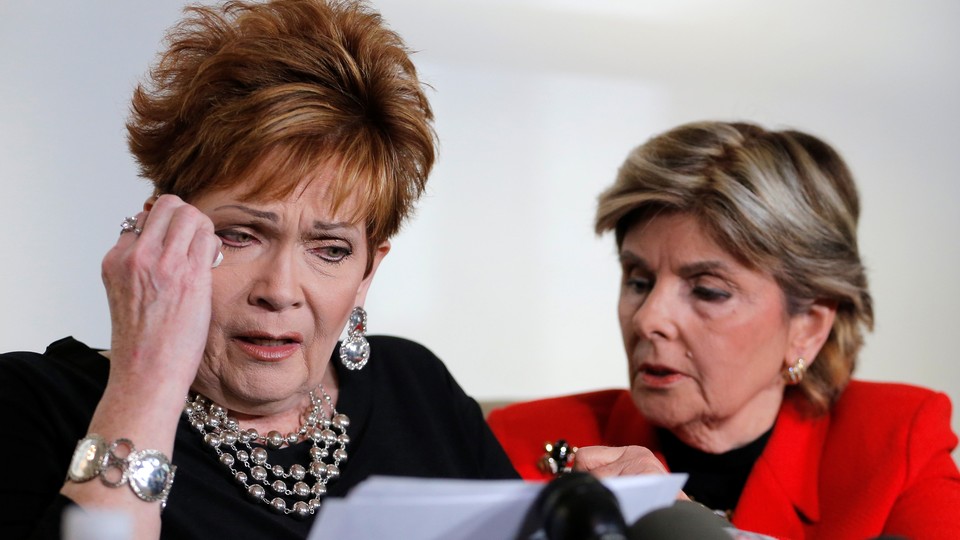 An Alabama woman says that Roy Moore, the Republican nominee for U.S. Senate in Alabama, sexually assaulted her in 1977 outside the restaurant where she worked in Gadsden, Alabama.
Beverly Young Nelson, who will turn 56 on Tuesday, said that when she was 16, Moore, a regular patron, offered her a ride home from work, then pulled his car around the back of the restaurant where he groped her, tried to force her head into his crotch, and tried to remove her shirt.
"I was alarmed and I immediately asked him what he was doing," she said. "Instead of answering my questions, Mr. Moore reached over and began groping me and putting his hands on my breast. I tried to open my car door to leave but he reached over and he locked it."
She added, "I thought he was going to rape me. I was twisting and I was struggling and I was begging him to stop."
Eventually, she said, Moore gave up.
"He told me, he said, 'You're just a child,' and he said, 'I am the district attorney of Etowah County and if you tell anyone about this no one will ever believe you.'"
Nelson, who spoke at a press conference in New York alongside her attorney Gloria Allred, is the fifth woman to publicly describe Moore pursuing her as a teenager, and the second to accuse Moore of a crime. Last week, Leigh Corfman said that Moore had taken her to his house, removed some of his clothes, and guided her hand to touch his genitals over his underwear. The allegations have upended the Senate race, in which Moore, though controversial, was expected to defeat Democrat Doug Jones in the December election.
Nelson's claims are particularly damaging because they allege a violent crime. Her recollection of Moore's words is also chilling, as it represents an awareness of her status as a child even as he allegedly attempted sex with her, as well as a threat intended to keep her quiet.
Since the first allegations against Moore last week, his allies have painted them as politically motivated, and have asked why his accusers did not speak out publicly. Many accusers have cited Moore's prominence in the community to explain their hesitation, as Nelson did Monday.
"I was scared," she said. "I felt that if I told anyone, Mr. Moore would do something to me or my family." She said she had been inspired to contact Allred and share her story after seeing Moore's other alleged victims come forward.
Nelson said she told her sister about the incident two years later. She told her mother about four years ago, and she also told her now-husband before they married.
Nelson also displayed a yearbook that she says Moore asked to sign at the restaurant several days before the alleged assault. She said Moore was a regular at the Old Hickory House and had often complimented her looks and sometimes tugged at her long, red hair. She said she had not encouraged his flirtatious behavior, both because she had a boyfriend and because she was not interested in a relationship with an older man. Moore would have been 30 at the time of the assault.
The inscription in the yearbook reads, "To a sweeter more beautiful girl I could not say 'Merry Christmas.' Christmas 1977. Love Roy Moore DA, 12-22-27 Old Hickory House." The writing appears similar to a more recent instance of Moore's signature.
Nelson said that her statement "has nothing whatsoever to do with the Republicans or the Democrats," and added that she and her husband both voted for President Trump.
Nelson's harrowing statement will land with a thud in the Alabama race. Moore's campaign, in a prebuttal, accused Allred of sensationalism. But the story adds to the number of allegations against Moore, and also begins to sketch a consistent modus operandi in targeting younger women. Other accusers described him as a frequent presence at the Gadsden Mall. (Corfman met him in court.) The violence of the alleged encounter also escalates the accusations.
Moore has denied Corfman's account, but has not flatly ruled out having dated teenagers, and a former colleague told CNN that his pursuit of young women and girls was well known.
Senator Cory Gardner, a Colorado Republican who heads the National Republican Senatorial Committee, said Monday that Moore should withdraw from the race, and that if he does not, the Senate should vote to expel him. (Moore has twice been removed as chief justice of the Alabama Supreme Court for defying federal courts.) Earlier on Monday, Senate Majority Leader Mitch McConnell also said Moore should step down, saying of his accusers, "I believe the women."
But many Republicans have rallied around Moore, insisting that the allegations are false or, in some cases, saying that even if the allegations are true, they still support him. Polls suggest a tightening race.