Roy Moore Presents Republicans With a Familiar Dilemma
A month to go before the election, a controversial outsider candidate, and a report alleging sexual impropriety—what will the GOP do this time?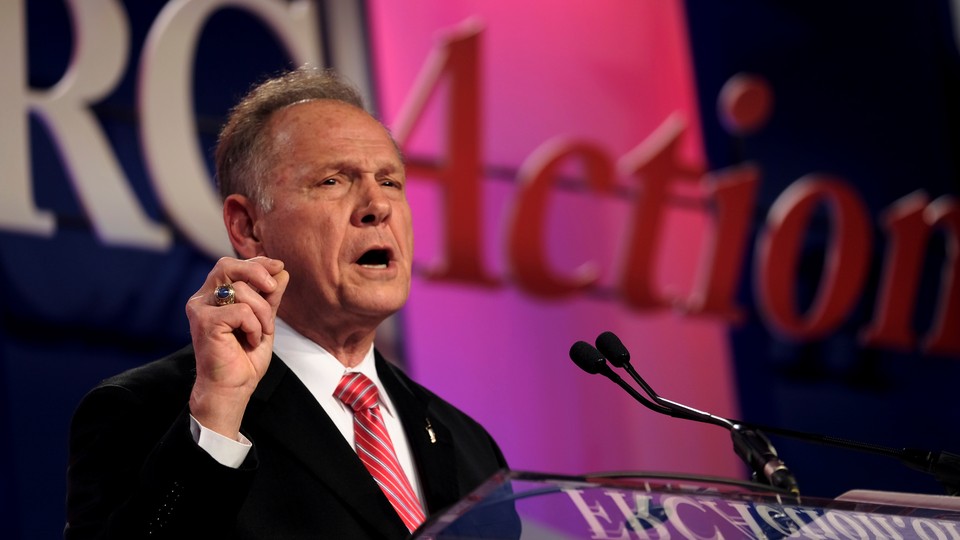 Stop me if you've heard this one before: A Republican candidate, widely loathed by the party establishment and known for his inflammatory comments, has defeated rivals more embedded in the party hierarchy. Now, about a month until election day, accusations of sexual impropriety have upended his campaign.
That is, of course, where things stood a little more than a year ago, when The Washington Post first published a tape in which Donald Trump boasted about sexually assaulting women. And it's where things stand in the special election for U.S. Senate in Alabama, where the Post has just published a story featuring four women who say that GOP nominee Roy Moore pursued them when they were younger than 18, including one who says he guided her hand to touch his penis when she was 14.
Now the Republican Party faces a moral and political test: How will it respond to the accusations against Moore? It's a decision in which the Trump experience will weigh heavily.
When the Trump tape landed in early October, along with stories from multiple women who alleged unwanted sexual contact of other kinds over the course of several decades, many Republican officeholders leaped to dissociate themselves from Trump. Many of them had never really liked him, and had supported other candidates in the GOP primary, endorsing him only reluctantly once he locked up the Republican nomination. After the tape, they reasoned that Trump was likely to lose anyway and might even be forced to withdraw his candidacy in the wake of the allegations. Better to jump ship and preserve moral standing than to back a candidate destined to lose anyway.
But a strange thing happened. Trump remained defiant and refused to withdraw. Some of the Republicans who had indignantly condemned him slunk back to support him, and on Election Day Trump shocked the nation by winning. Now Republican officeholders who had condemned him not only had a president-elect whose morals they disdained; they had to deal with him as president of the United States.
Today they face a similar dilemma: Condemn Moore? Or assume that in a post-Trump world he could well survive, and so keep quiet lest they alienate a future congressional colleague?
In the immediate wake of the Moore allegations, the predominant Republican reaction has to been to offer a conditional condemnation—if the allegations are true, then Moore must resign. That's the language that Senate Minority Leader Mitch McConnell used, and many of his colleagues followed suit. Senator John McCain is a notable outlier, demanding that Moore step down immediately.
Many Republicans will likely try to keep a low profile and wait to see what happens. But others are taking a different stand. Alabama State Auditor Jim Zeigler told the Montgomery Advertiser, "Even if you accept The Washington Post's report as being completely true, it's much ado about very little." That's a pretty shocking thing to say about what could amount to felony child sexual abuse, and all the more so because Moore has positioned himself as a moral crusader. Breitbart's Joel Pollak appeared on TV, downplaying the allegations, especially from the other women. Several other Alabama GOP officials told Daniel Dale the allegations didn't change their support for Moore. Another told Talking Points Memo that accuser Leigh Corfman should take a lie-detector test.
These "if true" statements are in a way reasonable: No one would ask an innocent man to step down after a false accusation. Yet it's unclear what proof they would accept. Moore is unlikely to confirm the allegations. (A campaign statement called them "baseless" but did not specifically deny any of the accounts in the Post story.) The women in question all spoke to the newspaper on the record, with their names attached, and reporters were able to confirm many details based on court records and interviews with people who were told about the events at the time. The women's accounts are consistent with each other. It's hard to imagine what further evidence would emerge that would be strong enough to pass this test.
Trump and Moore share certain characteristics. Both are outsiders, widely disliked by party leadership before their runs. GOP leaders lined up against Moore during the Senate primary, but despite the backing of Trump and McConnell, among others, Moore defeated Luther Strange, the interim senator. Moore had earned the disdain of Republicans for his outlandish statements and broadsides against McConnell. He has twice been removed as chief justice of the Alabama Supreme Court after defying federal courts.
There is one difference. Trump had reveled in his playboy reputation before the sexual-assault tape, while Moore has painted himself as a religious warrior, and a defender of traditional sexual morality. His record of anti-gay statements extends back decades. It includes not only his second removal from office, for instructing probate judges to ignore the law allowing same-sex marriages, but extends up to Wednesday, when Moore said that "the transgenders don't have rights."
The allegations against Moore would make him a hypocrite, but he was already a proud bigot. Besides, he is widely disliked by GOP officeholders. For weeks, when pressed on Moore, many officials have dodged questions or avoided comment.
The newest allegations against Moore present Republicans with a choice—not only individual officeholders, but the party as a whole, both nationally and in Alabama. Withdrawing support for Moore, and calling for voters not to support him, would be a bitter pill. It's too late to replace him on the ticket, and although there's talk of a Luther Strange write-in campaign, a Moore defeat would probably mean the seat goes to Democrat Doug Jones. And yet if the party's members can't bring themselves to set aside narrow partisan interest and condemn a man whom they despise, with a track record of bigotry, and with multiple on-the-record accusations of improper sexual misconduct with underage women, what behavior and which candidate can they possibly rule out in the future?