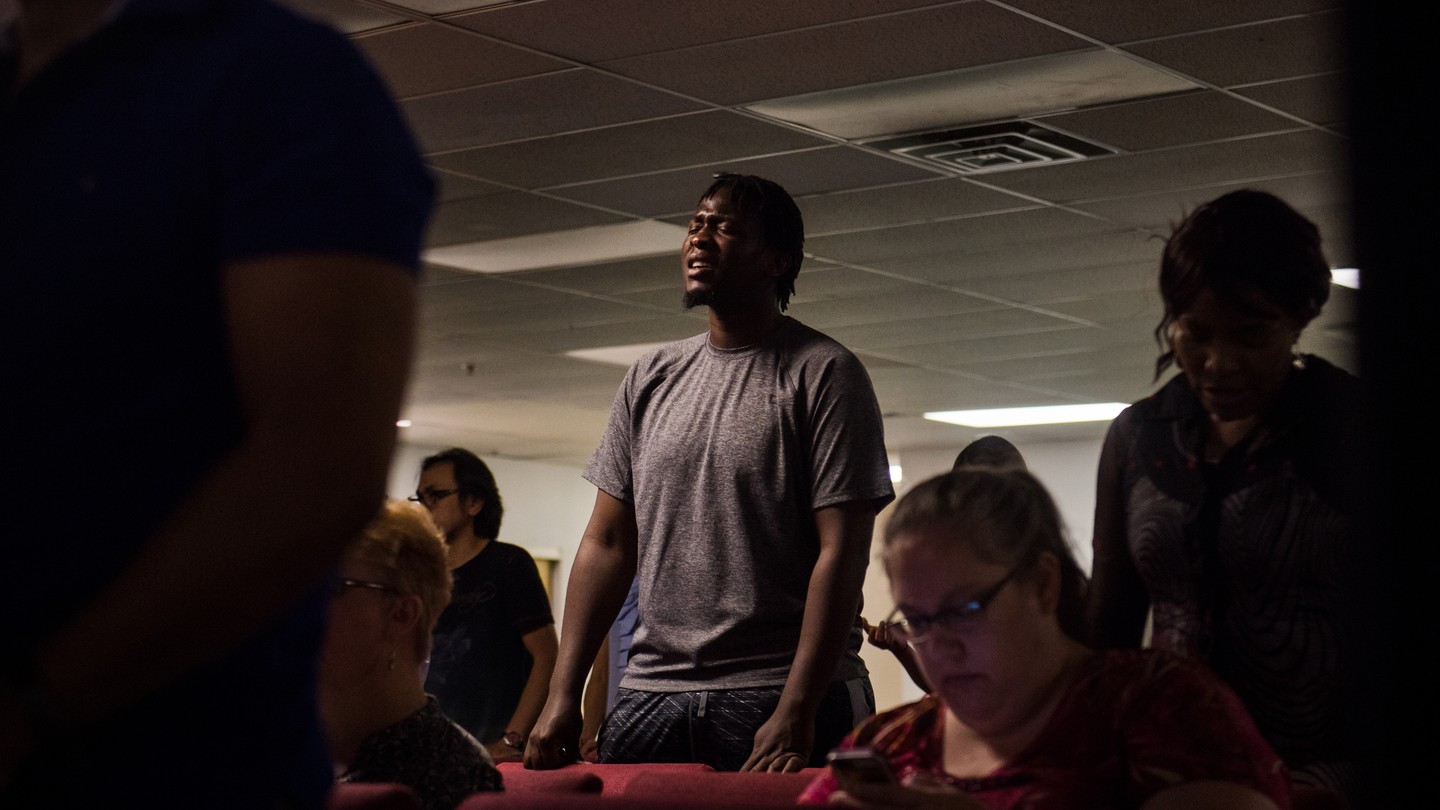 The Quiet Religious-Freedom Fight That Is Remaking America
A federal law was supposed to put an end to the use of local zoning laws as tools of discrimination. It hasn't.
A church outgrows its old building. It finds a vacant warehouse in a middle-class neighborhood, close to the highway and convenient for its congregants. Mortgage money is raised, plans are drawn up, the sale is approved. All that remains is a technicality: securing a zoning-code exemption.
Three years and two lawsuits later, the church is at last in its new building—and out $1.2 million. It holds services in the lobby because it ran out of money to renovate the room that was to be the sanctuary.
This problem was supposed to be solved. Seventeen years ago, Congress unanimously passed a law, the Religious Land Use and Institutionalized Persons Act, to prevent cities and towns from using zoning as a weapon against groups that want space to worship. At the time, everyone cheered a rare moment of legislative success. In practice, though, few congregations have the time, knowledge, money, or energy to pursue the legal process set up by RLUIPA, leaving many in a desperate limbo with no place to pray.
By the time they take on a zoning challenge, many religious groups are already struggling to find and retain members, and to get by on shoestring budgets. Without an adequate place to gather, they miss opportunities to assemble in study, service, and prayer. The stakes are high for towns, too. Churches, synagogues, and mosques influence life well outside their walls: People who belong to religious institutions are more civically engaged than their secular neighbors. They are more likely to serve on school boards, volunteer at charities, and join clubs. In the absence of these institutions, communities can become fractured and isolated. Neighborly infrastructure decays.
Sometimes, these stories have a clear villain: anti-Semitic or Islamophobic townspeople who are plainly intolerant of religious difference, or white residents who are hostile toward Christians of color. The congressional testimony on RLUIPA includes alarming anecdotes about local officials acting with hostility toward religious bodies. One New Jersey lawyer recounted a hearing on an Orthodox Jewish group's zoning application where an objector stood up, turned to the yarmulke-wearing crowd, and said, "Hitler should have killed more of you."
These cases of outright bias get the most attention from the U.S. Department of Justice, which has the power to enforce RLUIPA. In addition to protecting the religious rights of prison inmates, the statute forbids state and local governments from placing a "substantial burden" on religious organizations that want to purchase, build, or renovate property. But many land-use disputes aren't about explicit bigotry. They arise from concerns about noise, lost property taxes, and Sunday-morning traffic jams. The effect is largely the same, and can be just as devastating as outright hatred: A religious community is dragged into a lengthy, and costly, dispute with a city or town. Religious groups either give up and move somewhere else or prepare for litigation—and the burdens that come with it.
Fights over religious liberty tend to run hot. They are ignited by disputes over speech and sexuality, hate crimes and school vouchers—issues that divide the American public. But the slow burn of bureaucratic tedium has equal power to test the faith of a congregation. Zoning and land-use conflicts consistently rank among the top reasons why religious organizations end up in court, according to the legal newsletter Church and Tax Law. These fights matter because physical spaces matter: They can determine who makes the drive to morning services and who stays home; who remains in the fold and who grows disconnected from their faith; and whether people of all races, classes, and backgrounds are truly welcomed in, or whether the church doors are just too far away for some people to reach.
South Hackensack, New Jersey, is a small community nestled in Bergen County. Houses here are smaller than those in some of the wealthier enclaves closer to the Hudson River and Manhattan. Latino families socialize with white neighbors. Working-class residents might find themselves in conversation at a gas station or diner with an accountant who commutes to New York.
This range of race and class was one reason North Jersey Vineyard Church was drawn to the township. The charismatic Protestant group prides itself on bringing together a diverse crowd for its music-filled services and small-group Bible studies. It's a friendly, low-key community: The pastor, Phil Chorlian, smiles compulsively between sentences and wears jeans when he preaches.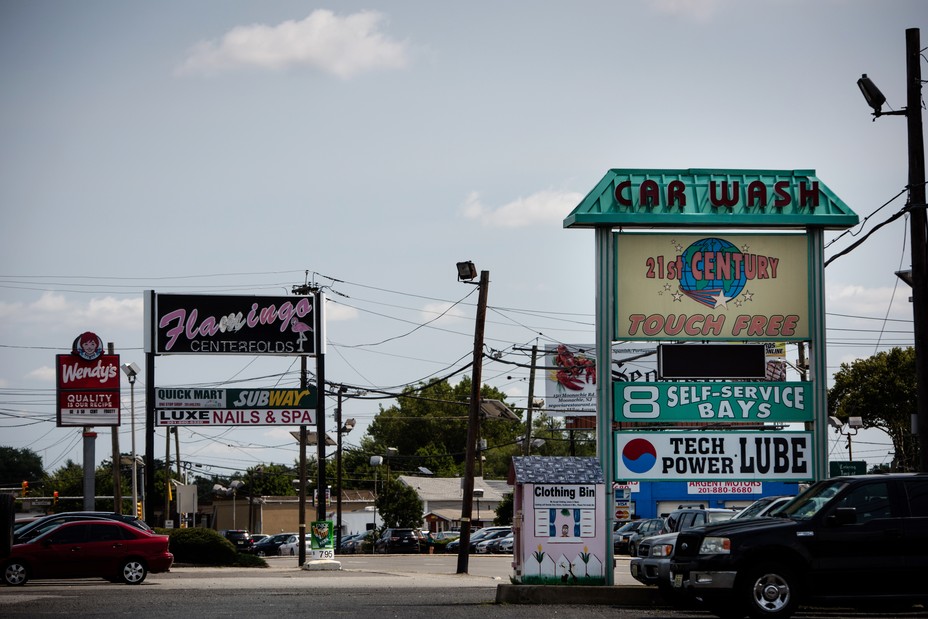 Chorlian is white, but from the time the church first started meeting at a Holiday Inn in 1997, he was focused on building a community for people who don't necessarily look like him. Today, Chorlian estimates the congregation is about 40 percent Latino, 30 percent white, 20 percent Asian, and 10 percent black—and most are middle- or working-class.
As the church grew, it moved to a small warehouse, then rented a 12,000-square-foot office building. By 2012, it had roughly 600 active members. North Jersey Vineyard started raising money and looking for a building of its own.
Members of the church-leadership team felt called to stay in the southern part of Bergen County, where they felt it would be easier to maintain their racial diversity than in other parts of the area, and where they saw more need for their charitable works. They wanted to be near a highway, with sufficient parking to accommodate the many members who drive to church. Above all, they wanted space. The congregation had grown so large that it required six services every weekend to accommodate all of its worshippers. Children were on top of one another in the daycare area. "I felt so bad for my toddler-room volunteers," said Mary Anne de la Torre, who leads the children's ministry. "They're running after really hyper, sometimes cranky, crying kids. [And] that room was in the hottest corner of the building."
After an extensive search lasting more than a year, the church found a building that met all of its needs: a vacant office at 310 Phillips Avenue, almost three times the size of its old space. It was in a part of town zoned for motels, fast-food restaurants, and outlet stores—but not houses of worship. The seller, a small engineering company, had been trying to find a buyer or tenant for more than a decade, according to court documents. The firm's owner didn't think getting an exemption would be a problem, according to Chorlian. "We had been hearing, 'Oh yeah, it's going to be a slam dunk.'"
In April 2014, North Jersey Vineyard submitted an application for a "use variance" to South Hackensack's Zoning Board of Adjustment. The church paid for a traffic assessment, which found that its activities would "not result in any significant negative traffic impacts to the surrounding road network," according to court documents. It submitted planning and engineer's reports and volunteered to hire a police officer to direct neighborhood traffic on Sundays.
The request was supposed to be heard in May, but the zoning board couldn't get enough of its members to show up, so it canceled the meeting. A June meeting was called off for the same reason. Finally, at the end of July, the board heard the church's case.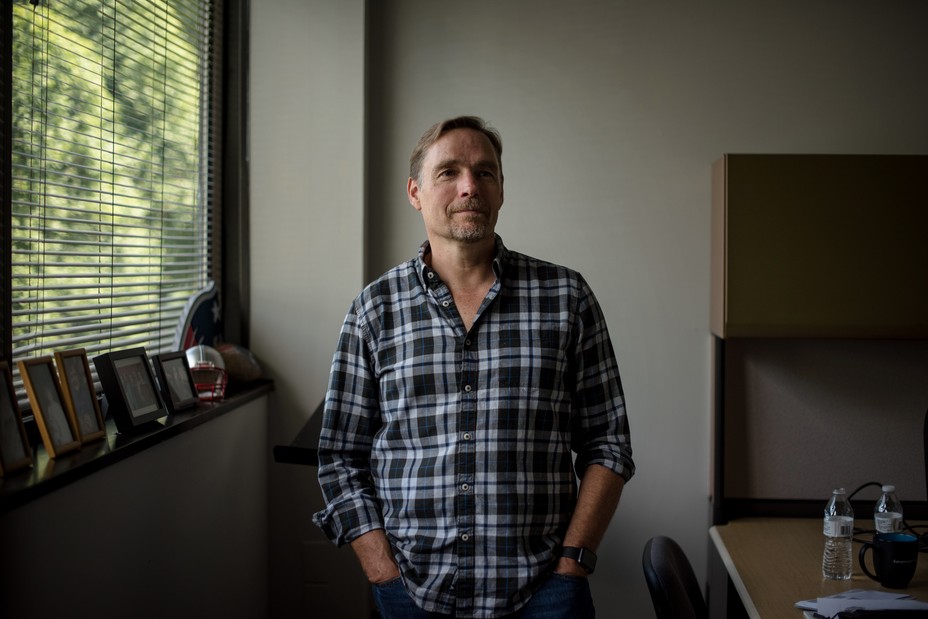 Chorlian had prepared carefully. He spoke about Vineyard's international network of nondenominational churches. He described his congregation's commitment to service, including the work it had done to restore a nearby trailer park damaged by Hurricane Sandy and its hope to open a food pantry for poor residents of South Hackensack. He expected the hearing would go smoothly.
It did not. "I don't want to be too pejorative, but it was like I could feel the hostility," Chorlian said. "I could feel, when I got up there, that they just did not want us there."
The board members seemed scarred by the traumas of driving in northern New Jersey. "What I, like, flash back to is … the shopping centers of Paramus opening up on Sunday," said one member, according to minutes of the meeting. "Nobody wants them there—not because of revenue, because of traffic. People don't want to be inconvenienced with the noise and stuff on Sunday." The board also worried that a shared-parking-lot arrangement with the building next door would fall through, leaving North Jersey Vineyard with insufficient spaces. A county known for its stringent, so-called blue laws—prohibitions against consumer activities taking place on Sundays, passed to protect citizens' rights to religious worship—was now effectively arguing that religious assembly would be too great an inconvenience for the community. In August 2014, the board unanimously voted to deny the use variance.
North Jersey Vineyard faced a choice. It could try to find another building, perhaps one already zoned for religious use. But by that point, the leadership had scoured the area and knew the church's options were limited. "We wanted to be between Route 4 and Route 46. It's a fairly narrow strip," said Bryan Respass, who was serving on the board at the time. "If you move 15 miles, it'll change the nature of the demographics that you're in."
The other option was to sue, a path that carried significant risk. "We had raised about $1.2 million from the congregation," said Respass. "Could we go back to the congregation in four years and say, 'Oh, you know that $1.2 million? We lost it all, and we don't have a building.' You enter into a lawsuit and you know you're right, but that doesn't mean you're going to win."
In the end, the church board voted to pursue the lawsuit. Their odds of winning were high, its members reasoned, and they saw their case as a fight for all religious groups facing zoning challenges. The church hired Daniel Dalton, a Michigan lawyer who specializes in religious land-use cases. Their suit argued that South Hackensack had substantially burdened the church's religious exercise and treated houses of worship differently from secular assembly halls, violating RLUIPA and the First and Fourteenth Amendments of the Constitution.
The proceedings took seven months. Eventually, the township agreed to settle. It revised its zoning code and agreed to a new parking arrangement. North Jersey Vineyard finalized its $3 million purchase of the new building in June 2015.
There was one step left. The South Hackensack Township Planning Board, a separate entity, had to approve the church's "site plan." Yet again, there was a parking dispute: The town planner thought the church needed yet more spaces. The board rejected the site plan in November 2015.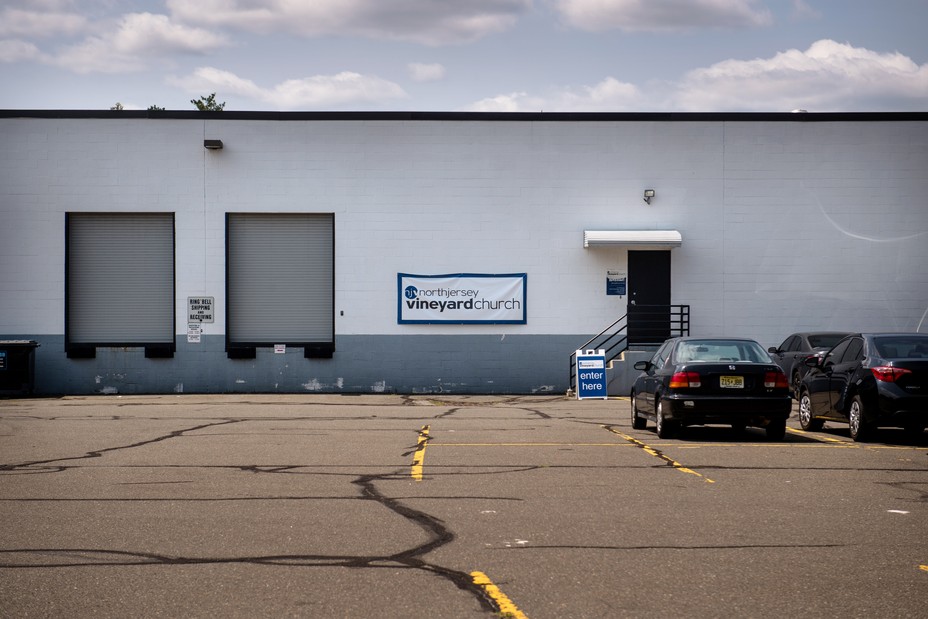 North Jersey Vineyard had now been making mortgage payments on a building it couldn't use for five months. A clutch of North Jersey Vineyard members formed an informal legal cheering squad, faithfully showing up for each hearing. But the leadership was starting to feel burned by the process. "It looks like a large church, but we're still a small church with a relatively small budget. We don't have millions of dollars in the bank," Respass said. "So you're watching your bank account go down. It's stressful. And you feel wronged."
After another year of legal proceedings, the town once again agreed to settle. But the church's victory was qualified. Although religious institutions can seek damages and fees if they win in RLUIPA cases, North Jersey Vineyard agreed to forego any compensation beyond one $50,000 payment, which covered attorney's fees in the second case.This was only a fraction of its total financial burden, which included more than $1 million in mortgage payments, property taxes, expert testimony, and other litigation costs.
North Jersey Vineyard had its building. But the $1.2 million, raised dollar by dollar, was gone. In the sanctuary, a floor plan the church couldn't afford to execute was taped to the wall worshippers would have faced when they prayed.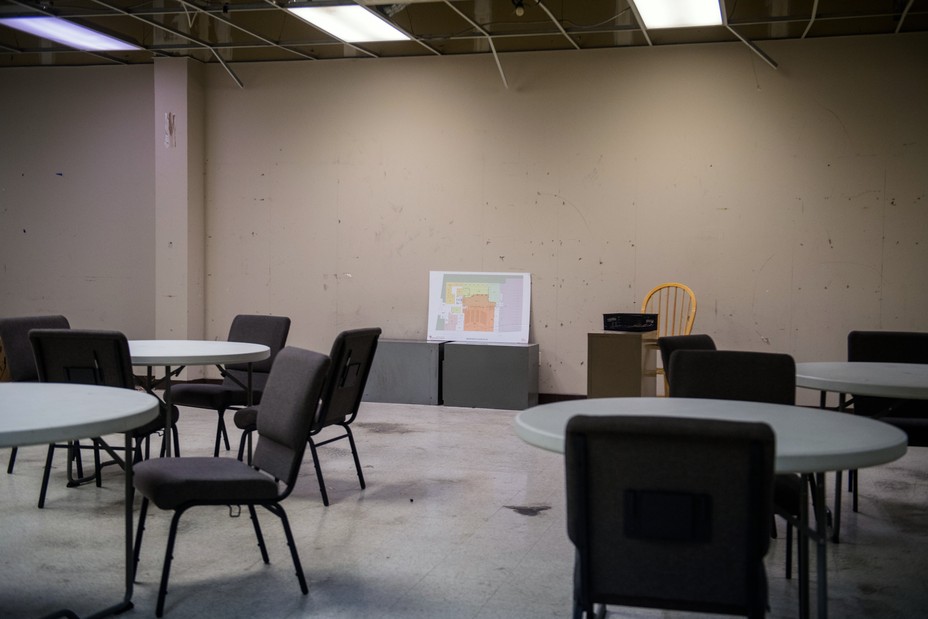 Many of the groups that wind up at the center of RLUIPA cases have it worse than North Jersey Vineyard. Cases can stretch on for decades, and the majority of religious organizations end up losing: According to Dalton, who wrote a book on RLUIPA, roughly 80 percent of RLUIPA claims filed in federal court fail. "This is a very hard statute to follow," he said. "For the inexperienced, it is easy to lose." An untold number of religious groups never make it to court at all, either because congregations don't realize they have special protections under the law, don't know how to file a claim, or don't have the resources to pursue a case. Many simply walk away from purchasing a property when they discover that it is not zoned for religious use.
North Jersey Vineyard was also spared the ugly bigotry underlying many zoning disputes. Other than a few awkward comments confusing Catholic and Protestant styles of worship, officials in South Hackensack didn't seem to oppose North Jersey Vineyard's purchase based on the congregants' faith. Often, though, zoning books are wielded by intolerant or ignorant officials; about half of RLUIPA disputes involve religious or ethnic minorities, according to Dalton. As a participant in a Department of Justice listening session recently told government officials, "People don't come into hearings now and say, 'I hate Muslims.' They say, 'The traffic is going to be terrible on [Fridays,]'" when Muslims gather for Jumah prayer.
RLUIPA was deliberately constructed so that religious groups don't have to prove intentional discrimination, in part because religious bias can so easily be disguised as procedural quibbling. But in some cases, it's difficult to avoid concluding that bigotry played a role. Take Sterling Heights, Michigan, where a Muslim group wanted to build a new mosque. In 2015, it submitted a land-use application to build a property in a residential area. The rhythms of the case appear similar to those in South Hackensack: decisions postponed, application revisions requested, a surprise denial. This time, though, the community turned out en masse to register its disapproval of the proposed mosque.
Protesters stood across the street from the planned building site, holding signs and chanting. In interviews with local reporters, some residents expressed concern about traffic and property values. Others plainly didn't want Muslims in the neighborhood: "I don't want no mosque anywhere!" one woman shouted. People packed into hearings to voice their objections. When the board voted the proposal down, a crowd of hundreds cheered "God bless America!"
Discrimination takes many forms—occasionally, minority groups perpetuate their own forms of bias. As Azzam Elder, one of the attorneys who represented the Sterling Heights mosque, pointed out, many of the protesters were Chaldean Christians who had recently emigrated to the United States from Iraq, where Christians have themselves faced intense persecution. "People were being spit on in the parking lot. People were being pushed. People were being sworn at," Elder said.
"I think the Muslim cases look more suspicious to DOJ."
The Muslim group decided to sue the city, and the Department of Justice stepped in, bringing a parallel case on behalf of the mosque. Both suits settled this spring, and the community is now moving forward with construction. But Muslims in Sterling Heights still feel anxious. "They had lived in that community for decades and decades," Elder said. Now, "their children [are] questioning whether they should stay in the city."
In recent years, land-use discrimination against Muslims has increased. According to a 2016 Department of Justice report, 15 percent of the agency's investigations into religion-related zoning disputes between 2000 and mid-2010 involved mosques or Islamic schools. Between mid-2010 and mid-2016, that number jumped to 38 percent. Cases involving Christian denominations still account for the greatest share of DOJ investigations, but the share of Muslim-related cases is wildly disproportionate to the religious minority's size: Roughly 70 percent of American adults identify as Christians, according to Pew Research Center, while less than 1 percent identify as Muslims.
A number of factors could have contributed to the spike in mosque cases. Around 2010, a number of mosques were involved in high-profile land-use disputes, including the proposed Islamic center near Ground Zero in New York City and a mosque in Murfreesboro, Tennessee, that took its case all the way to the Supreme Court. Those cases could have raised awareness about mosques and zoning in other communities. Muslims also doubled as a percentage of the American population between 2007 and 2014, according to Pew. Increased demand for new mosques and Islamic schools means more opportunities for zoning disputes.
It's also possible that the Justice Department has been paying special attention to land-use discrimination against Muslims. "When a community refuses to allow a mosque, the immediate inference is … they're actually hostile to Muslims," said Douglas Laycock, a law professor at the University of Virginia who specializes in religious-liberty issues. "I think the Muslim cases look more suspicious to DOJ."
According to Dalton, roughly 20 percent of successful RLUIPA cases involve Muslims, Jews, or Christians who are ethnic minorities. While it wasn't initially clear whether the Trump administration would continue pursuing these cases, particularly those related to mosques, Dalton said, it has: The Justice Department has won at least four major settlements on behalf of mosques since President Trump was elected. "The department has been active in bringing investigations and filing cases under RLUIPA to protect the religious freedom of all," said Acting Assistant Attorney General John Gore in a statement. "The department remains committed to vigorously enforcing this important law."
"We just don't have that kind of money to do this, to go through the legal battle."
In theory, any religious group that is lost in the legal system can turn to the federal government for help. But DOJ has limited resources and has to consider a number of questions before taking a case; it chooses its battles carefully. Among other things, the department weighs "whether a case involves important or recurring issues, particularly serious violations of law, or if it is a case that will set precedent for future cases," according to a 2010 report it released on RLUIPA.
Religious groups that don't have a cause the government is looking to champion—and don't have the zeal or resources for a years-long fight with a local zoning board—might be out of luck. The spiritual community of TrikaShala Kundalini Meditation Center in Berkeley has been holding retreats in Hawaii for years. The gatherings are a large source of the community's income, said Swami Khecaranatha, the leader of the community, and the group has long wanted to purchase its own property.
During a five-year search for a building on the island of Kauai, the Center has found a number of options. But each time, attorneys and at least one former island official advised the organization that it would likely not get approval for a zoning permit.* The Center contacted Dalton, who told them litigation would take somewhere between 18 and 36 months, and initial costs alone could reach $30,000 or $40,000. When TrikShala's board got together to discuss it, "everybody's response was the same," said Khecaranatha. "We just don't have that kind of money to do this, to go through the legal battle."
There's no doubt that resistance to religious groups is often grounded in animus. "Some of it's ethnicity. Some of it, there's just outright prejudice," said Dwight Merriam, a Connecticut attorney who has represented local governments in land-use cases across the country. (His license plate spells out ZONING.) But many disputes arise for more mundane reasons. Towns can have outdated, discriminatory zoning rules on the books and not even realize it. Local officials can be single-mindedly focused on raising revenue from property taxes, which churches and other houses of worship don't pay. This isn't appropriate, Merriam said: "If I see a case … [with] a public official saying, 'We can't allow this religious use because we're going to lose tax base,' I know they're already in trouble in terms of being able to defend their position." Sometimes, officials also make careless comments that could be construed as discriminatory, he added, not realizing that those words "may haunt them for many years ahead."
Often, people just don't like the idea of their neighborhood changing—and granting a zoning exception truly can reshape life in a town. Consider Orthodox Jews, another small religious group that frequently faces zoning challenges. With their large families—an average of four children per couple, according to Pew—many Orthodox Jews have been priced out of urban centers like New York City in recent years and have moved, en masse, to surrounding areas. In part because they cannot drive on Shabbat and many holidays, people in these communities tend to coalesce in neighborhoods within walking distance of a synagogue. They might erect an eruv, a perimeter that can be made of wire and posts marking where Jews can carry objects on Shabbat—a near-invisible physical structure that can have profound effects on weekend retail, property values, and the populations of neighborhood schools. Several New Jersey communities, including Jackson, Lakewood, and Jersey City have recently struggled with these physical and demographic changes.
While faith groups might feel singled out by zoning restrictions, towns can feel blind-sided when RLUIPA issues come up, landing them in unexpected legal disputes. They "barely have the money to maintain fire and safety forces," said Alan Weinstein, a professor of both law and urban studies at Cleveland State University, "let alone run their land-use regulatory program." Cash-strapped, risk-averse local governments can also be spooked by potentially expensive RLUIPA challenges, said Adam Smith, a lawyer for Deschutes County, Oregon, who is currently advising the local government on a land-use conflict with a church. "RLUIPA is a pretty broadly drafted federal law," he said. "It's not always self-evident how to go about addressing [it]."
These underlying issues have only become thornier as American religion has evolved. White-steepled churches still dot the landscape. But many small religious communities have been overtaken by mega-churches, which might need non-traditional spaces outside of residential areas, where houses of worship have typically been permitted. The biggest mega-churches might need capacity for thousands of worshippers, and their facilities can house fitness centers, daycares, and coffee shops; they sometimes function more like small sports arenas than storefronts in terms of their neighborhood impact. Zoning codes aren't necessarily written to accommodate this kind of mixed use. "There are times where a very large church in a residential neighborhood can overwhelm the infrastructure," Smith said.
"'Yes, we need it. But not here.'"
This is where the practicalities of land-use law shade into something more philosophical: Where is the line between preserving a community's character and preventing its evolution? While it's easy to sympathize with a church that can't find a space in which to pray, it's also easy to imagine aggrieved residents sitting in Sunday-morning traffic or searching in vain for parking near their house.
On the other hand, the ability to secure a physical space really can make or break religious groups. According to Pew, roughly one-fifth of Americans report attending religious services a few times per year or less, but say they used to go more often. Of this group, half said they stopped going for "practical reasons," which might include old age or logistical barriers. "The toughest thing to do is get kids to church on time on a Sunday morning," said de la Torre of North Jersey Vineyard. "I've gotten married [and] I've had kids since attending this church, and I can see why, yeah, it matters. It matters that the parking is here and close, that we have a ramp for the stroller." For single moms and harried parents, "the Sunday church service might be their only time away from their kids, to themselves, trying to connect with God."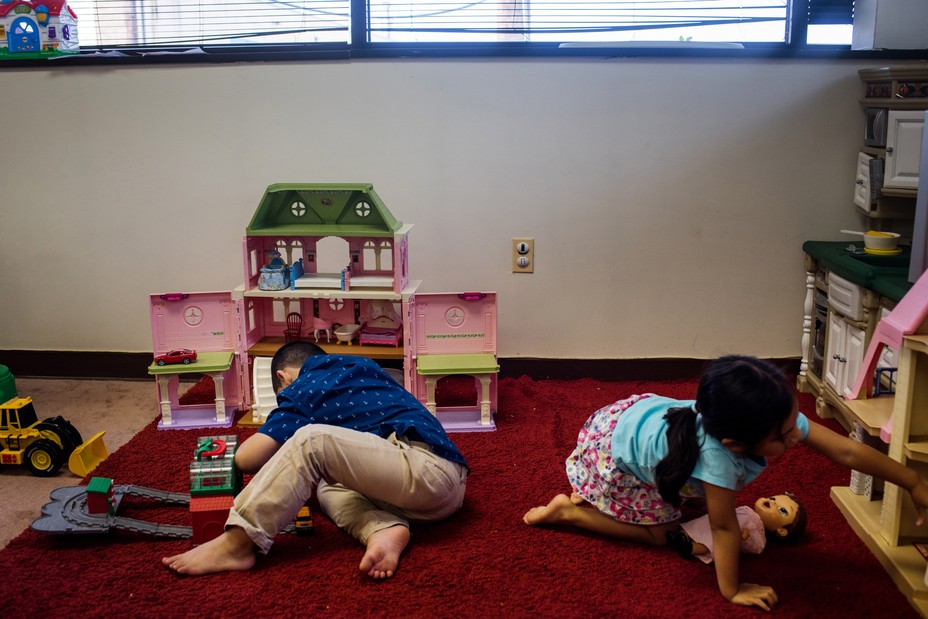 Residents and zoning boards may view faith groups through a narrow lens, worrying about burdens on infrastructure and traffic flow. But religious institutions don't just benefit their members. They can also strengthen a community's level of civic engagement. A large body of social science has shown that religious people are more likely to vote, volunteer, and join other groups like PTAs or book clubs than people who aren't religious. In many areas, congregations provide a backbone of social services, like housing for the homeless or coats and meals for the needy. They provide significant immigration and refugee-resettlement services, including English-language instruction.
These may seem like unmitigated goods, but not all communities see things this way. "They're concerned about a bunch of impoverished individuals showing up for food and clothing and shelter in their gentrifying neighborhoods," Weinstein said. "They look at themselves in the mirror and say, 'This is not the right place for this.' It's, 'Yes, we need it. But not here.'"
Churches that serve racial minorities and the poor may also face extra scrutiny. Bias against these groups has long been inscribed in the physical structures of American cities and towns: Along with zoning codes, subdivision boundaries, lot-size requirements, and bank-loan restrictions implicitly keep neighborhoods segregated by income, class, and race. A church or mosque that threatens old codes, written and unwritten, may be treated with hostility by prospective neighbors.
Many Americans do yearn for fellowship with people of every tribe and tongue. They want to reach those on the margins and serve the least of these. They repent of racism and call for reconciliation. But it's not always enough to reform the heart—sometimes laws and regulations need reform, too. Zoning measures that claim to keep neighborhoods clean, quiet, and beautiful also keep them homogenous. Martin Luther King Jr. once observed that "Sunday morning is the most segregated time in America." The phrase is so often invoked that it has faded into cliché, understood as an inevitability rather than an active choice communities make over and over again.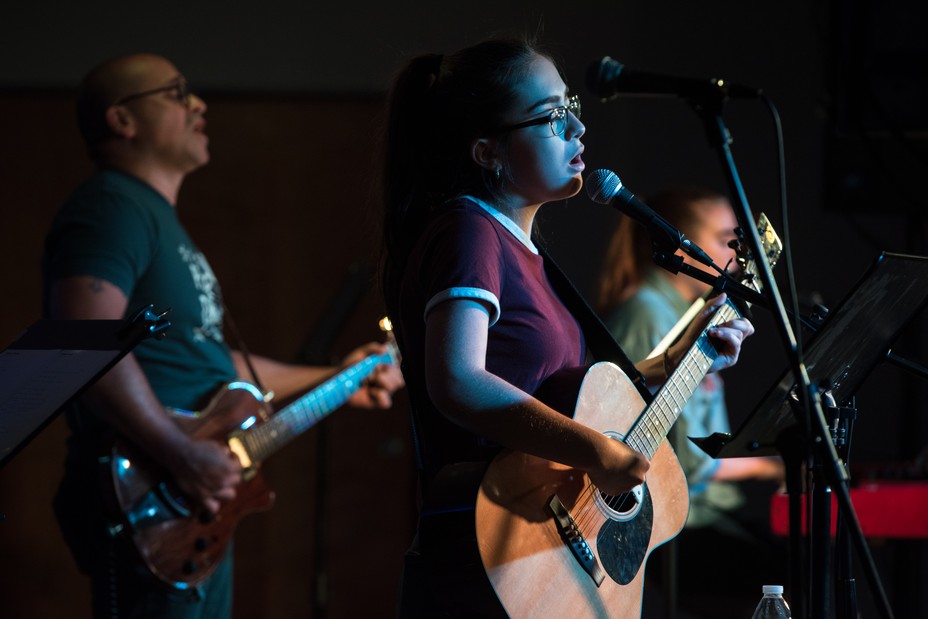 These days, North Jersey Vineyard holds four services each weekend in its new building on Phillips Avenue. Heavy cloth hangs from piping in the converted lobby, with 350 red and gray chairs neatly lined up behind it. The mixed-race congregants—black, white, Hispanic, Asian—come as they are; some wear T-shirts and sandals, while others look well-ironed in church dresses. By the time the 11 o'clock service rolls around, the make-shift sanctuary is almost full. The vibe of the service is somewhere between buttoned-up evangelical and free-wheeling Pentecostal—a few hands raise in hallelujahs, but otherwise the crowd remains fairly quiet.
After Vineyard's case finally settled in December 2016, Chorlian had wanted to get into the building as soon as possible. "It ruined Christmas for all the staff," he said. "We were working around the clock to get the curtain set up." A lot of the renovations have been DIY, and staff are always scouring Amazon for cheap supplies. One day in January, the staff spent hours replacing every doorknob in the 32,000-square-foot building when they discovered the current handles weren't up to code. De la Torre is especially eager to redo the walls in the staff's "ugly break room from the '80s," currently painted sunburn pink and trimmed in pears and plums. Chorlian says he hopes they'll start work on the main sanctuary at some point later this year, although 2018 might be more realistic.
In the nine months since North Jersey Vineyard moved in, the church has had 500 first-time visitors, according to Chorlian—roughly twice as many as they had during comparable periods in earlier years. In October, North Jersey hosted More Love More Power, a national Vineyard conference. "This is a great way for us to celebrate being in our new building," announced one of the church administrators, Sue Sehulster, during a recent Sunday morning service. "We have been called here to South Hackensack, not only to be a presence as a local church here in our community, but also to make a greater impact in our region." The conference was a way "to be able to say, 'We're here,'" she told me later. "The whole Vineyard movement has been following our travails."
Despite the attendance boost, the township's concerns about traffic and parking haven't been borne out. "Whatever they're doing there is working in terms of not negatively impacting the area," one of the township's lawyers said.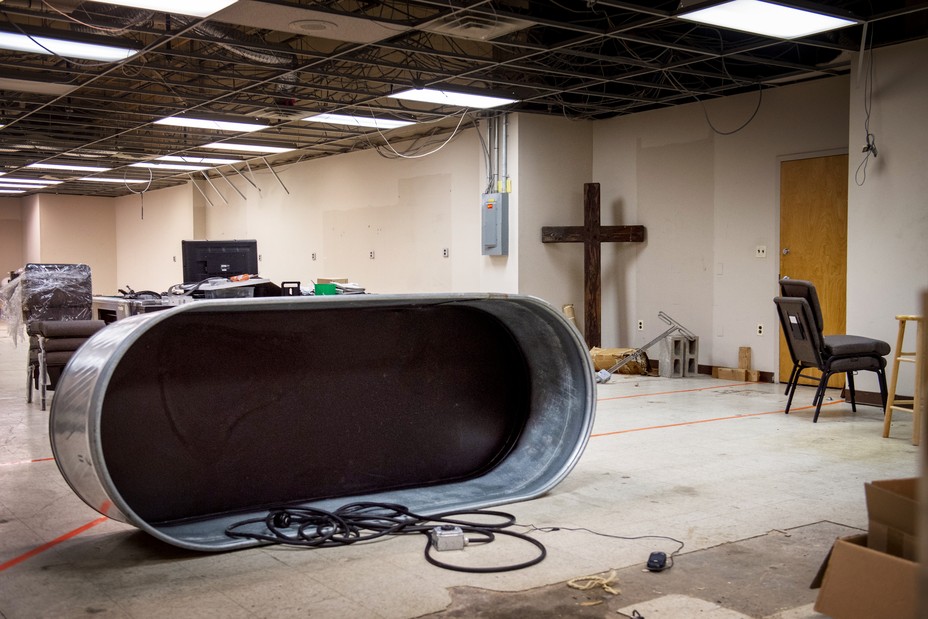 Shortly after the lawsuit concluded, another church approached North Jersey Vineyard, asking if they might be interested in selling the building. The other church hadn't wanted to deal with zoning headaches and a risky lawsuit, and was willing to offer $4 million as a starting price—at least a million more than the original purchase. Vineyard said no. "We went through it so we could use the building," Chorlian said. "We weren't playing a new cable show, 'Flip That Church.'"
But he understood why another church would pay a premium to avoid red tape. "When a church tries to come into a town, it's not a level playing field. There's so many things that the towns can do to make it hard, or to block them, or just procedure you to death," Chorlian said. He hopes Vineyard's case will help other religious groups navigate their own zoning challenges, but confessed that this has been the "the hardest, biggest obstacle I've faced in all of my years of ministry."
It's a shame when towns and municipalities make life hard for religious groups, the pastor said. "They should be helping us."
---
* This article originally suggested that TrikaShala Kundalini Meditation Center had submitted zoning applications for potential properties and been denied. In fact, it chose not to pursue these properties after being advised that its request would likely be denied. We regret the error.