A Big Night for Democrats
Ralph Northam won the Virginia governor's race on Tuesday, while Phil Murphy won the New Jersey governor's race.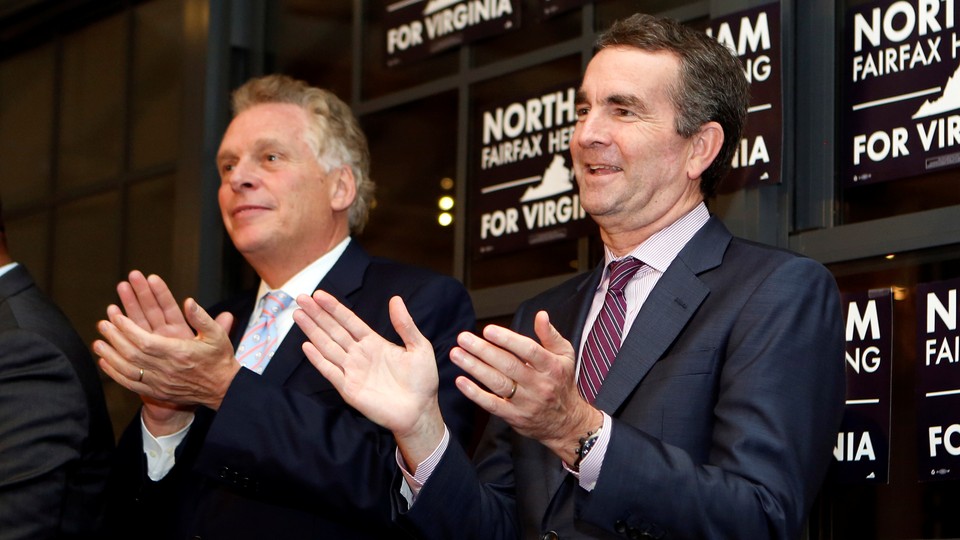 Tuesday delivered a string of high-profile victories for Democrats in gubernatorial races. Democrat Ralph Northam won the Virginia governor's race in what had become a nail-biter of a contest, defeating Republican Ed Gillespie in the election to replace outgoing Democratic Governor Terry McAuliffe. In New Jersey, Democrat Phil Murphy prevailed in the race to replace Republican governor Chris Christie, an expected victory over Republican Kim Guadagno.
The New Jersey gubernatorial Democratic win paves the way for the party to enact progressive policies statewide. Christie has clashed with the state's Democratic-controlled legislature. Murphy's win could set the stage for tax increases, marijuana legalization, health care, education investments, and the enactment of other liberal policy priorities.
The Virginia race had been the most closely watched and competitive of the two contests. Northam's victory will reassure Democrats who have been buffeted by a string of defeats in special elections in 2017 so far, and may tamp down some of the divisions between the party's progressive and moderate wing.
The stakes were especially high in the Virginia race, because if Democrats had lost they would have had to forfeit yet another governor's mansion. The party hit a record low in the number of governorships it controls earlier this year when West Virginia Governor Jim Justice switched parties from Democrat to Republican.
Control of the Virginia governor's mansion is also significant for redistricting after the 2020 Census. The Virginia governor can veto any congressional-district maps passed by the state legislature.
Democrats also flipped a number of Virginia state legislative seats on Tuesday. All 100 house seats in the Virginia House of Delegates, which has been under Republican control, were on the line in the November 7 general election. As of 9 p.m., it looked as if control Virginia's lower chamber could flip to the Democrats.
Democratic candidate Danica Roem became Virginia's first openly transgender legislator on Tuesday night when she defeated Republican incumbent Bob Marshall to win the 13th District seat in the House of Delegates. In January, Marshall introduced a so-called "bathroom bill," which was later voted down by a GOP-controlled subcommittee. "Mere separation of the sexes should not be considered discrimination," Marshall said when he proposed the legislation.
In another House of Delegates race, Democrat Lee Carter won out over Republican Jackson Miller, who had served as a member of the House GOP leadership. In August, the DC chapter of the Democratic Socialists of America endorsed Carter, who the chapter identified as "a member of DSA in good standing" in his House of Delegates race.
Another notable Democratic House of Delegates pickup occurred when Chris Hurst won out over incumbent Joseph Yost. Hurst is a former television news anchor whose girlfriend, news reporter Alison Parker, was fatally shot during a live television broadcast in August 2015.
Northam described himself as a progressive champion during his primary campaign and highlighted his track record of supporting reproductive rights. He went so far as to label President Trump a "narcissistic maniac," but his tone softened during the general election when he said that he would work with the president if he helped Virginia. Murphy is a former Goldman Sachs alum who embraced progressive agenda items like raising the minimum wage to $15 dollars an hour, and won the endorsement of progressive groups like New Jersey Working Families.
President Trump weighed in on the results of the Virginia election on Tuesday to say on Twitter that "Ed Gillespie worked hard but did not embrace me or what I stand for." Gillespie did attempt to keep his distance from the president, rarely mentioning him by name during his campaign. But the Republican candidate did take some Trump-like positions, attacking his opponent over sanctuary cities and promising to defend Confederate monuments. In Virginia, however, that wasn't a winning strategy.