A 'Completely Unelectable' Progressive Will Probably Win Philadelphia's DA Race
Larry Krasner is a longtime defense attorney with zero prosecutorial experience who made his career suing law enforcement.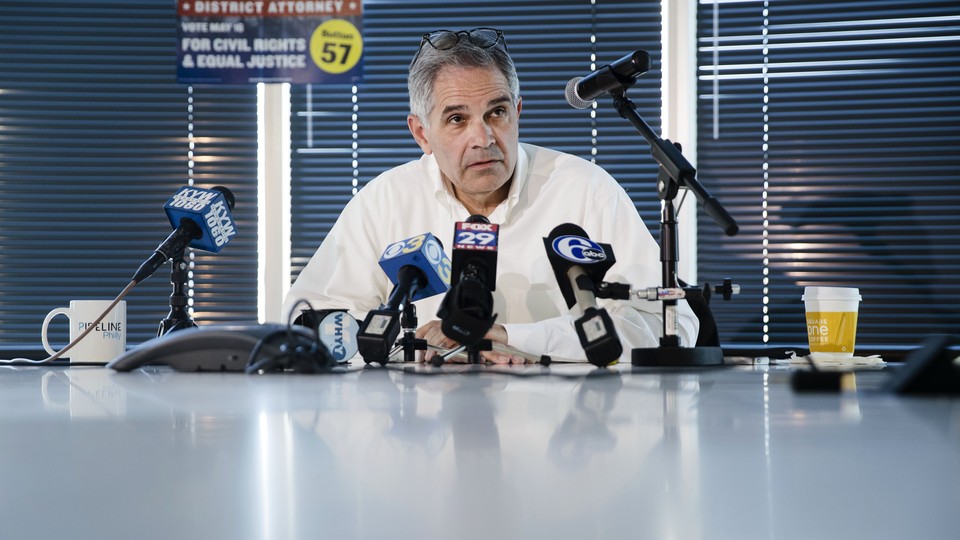 PHILADELPHIA—When civil-rights attorney Larry Krasner won the Democratic primary for district attorney here last spring, it made national headlines—not because he won with a large margin, which he did, but because in a race crowded with progressives, he stood distinctly in left field.
Krasner was the outsider candidate, offering voters zero experience as a prosecutor. As a defense attorney, he sued the Philadelphia Police Department dozens of times and represented Occupy and Black Lives Matter activists pro bono. And while his primary opponents were reformers, too, only he had spent decades litigating against the office all were vying to lead. Put simply: "I've spent a career becoming completely unelectable," as Krasner joked at a recent debate.
Come Tuesday, Krasner will see just how electable he really is when he faces off against Republican Beth Grossman in the city's municipal elections. But the rest of the country may learn something, too. The DA race is being watched as a potential bellwether among political organizers, analysts, and pundits trying to gauge voter appetite for progressive candidates in the era of President Trump. While the city is solidly blue, it typically votes for more mainstream Democrats: Hillary Clinton beat Bernie Sanders by 26 percentage points here in last year's primary. If Krasner once again wins by a large margin, it could be another sign that the country's progressive moment isn't over.
"Is this a proxy election of sorts for how we think about national politics?" asked Randall Miller, a political analyst and history professor at St. Joseph's University in the city. "People are making it that. Local concerns are going to decide this race. But the meanings we attach to it might actually be bigger than local concerns." The DA helps shape criminal justice beyond city lines, too. "I don't think one should underestimate the bully-pulpit role of being the DA in Philadelphia or Chicago or Los Angeles," Miriam Krinsky, the executive director of a national professional network for prosecutors, told me earlier this year. "It's not just about the local community—it's about how they're moving the justice system in their state and in the nation."
Krasner wouldn't be the first "reform-minded" prosecutor to take office, a term used to describe the growing cohort of district and state's attorneys vowing to overhaul cash bail, abolish the death penalty, and crack down on police corruption. But he would be the most progressive in this pool, a distinction that takes on extra weight at a time when the Justice Department is moving right. Whereas Attorney General Jeff Sessions is reinvigorating mandatory-minimum sentences, Krasner says he will prioritize keeping people out of prison and improving access to services for low-income residents and those with drug addiction and mental illness. The changes Krasner has promised wouldn't come swiftly; he himself has said that diehard supporters will be disappointed by a lack of immediate disruption. But his tenure would nevertheless expedite a leftward shift in criminal-justice reform that's been under way in Philadelphia for several years.
First, though, Krasner has to win. While his victory is still expected given how heavily Democratic the city's electorate is, in recent weeks his Republican opponent received an unexpected jolt of support. Grossman, who won endorsements from law enforcement, is a career prosecutor who has served in every division of the DA's office, including two she led. In a coup last month, the editorial board of the local paper of record, The Philadelphia Inquirer, endorsed her, too. The board wrote that Grossman's decades of service, along with her "passion for defending the rights of crime victims," make her the best fit for the job. In a race with no public polling, the endorsement complicated predictions that Krasner would sail into office.
Grossman has a fairly moderate platform. On the one hand, she doesn't support the death penalty in most cases; says defendants accused of minor nonviolent crimes should not be held on cash bail; and wants to expand community-based rehabilitation programs in lieu of incarceration. On the other, she supports mandatory minimums for drug dealers; promises to vigorously prosecute gun crimes, and thinks Philadelphia should cooperate with federal immigration officials.
Her critics also raise concern about her longtime leadership of the city's civil-asset-forfeiture program, which allowed police to seize cash and property from citizens suspected, but not yet convicted, of a crime. Under Grossman, law enforcement seized and spent millions of dollars from residents later found to be innocent. "Should experience really be considered the No. 1 asset for a new prosecutor when that experience is morally compromised?" Philadelphia Daily News and Inquirer writer Will Bunch asked in a recent column. Grossman defends her time in charge of the program, saying she used the law to improve the quality of life in neighborhoods blighted by drug trade. "A neighbor called to thank me for getting rid of a drug house next door to him. He told me that he could now sit on his porch again," she told Philadelphia magazine.
Krasner, meanwhile, faces questions about his capabilities as a potential prosecutor and his capacity to transform an office with a deeply engrained culture. Echoing other critics, the Inquirer board wrote that he doesn't have the right experience or "mindset" for the position.
"I think that it helps to have experience as a prosecutor if you want to do a good job running a prosecutor's office, just as running any office is easier if you have a handle on the workings of an organization. And [it] gives you credibility dealing with staff and other stakeholders in the criminal-justice system," said David Alan Sklansky, a Stanford University law professor who studies the role of prosecutors. Still, there can be an advantage to coming in as an outsider, Sklansky said, because the DA will be better positioned to "make a clean break from past patterns that have not been helpful."
While DAs have an undoubtedly important role in local criminal-justice systems, they aren't dictators: The attorneys working under them still have a tremendous amount of discretion in the courtroom—they decide whether to ask judges to set bail, for example, or what charges should be brought against a particular defendant. Office policies can set some boundaries, but they aren't always strict rules. For a new DA to make substantive changes, staffers have to be reasonably on board with his or her agenda.
In the six months since Krasner won the Democratic primary, rumors have circulated around the courthouse that assistant DAs opposed to his plans will walk if he wins on Tuesday. But if they don't, Krasner may need to consider weeding them out anyway, said James Forman Jr., a Yale University law professor and proponent of criminal-justice reform. "He's going to have to move aggressively to replace a lot of hostile actors," Forman told me. "He's got to bring in good new people and they can't all be outsiders." Anthony Voci, one of Krasner's informal policy advisers and a former assistant DA in Philadelphia, told me that lawyers with experience and credibility in the office are ready to join Krasner's team. "I think there will be some surprises when he walks in there the first day [regarding] who walks in there with him," he said.
Forman thinks Krasner's atypical voter base will see him through on Tuesday. Turnout for the primary, at least, was higher than usual—18 percent of registered Democrats voted, compared with 13 percent in the last DA contest in 2009. That uptick can be attributed in part to get-out-the-vote organizing from Black Lives Matter activists, Sanders supporters, and prison-reform advocates. (Last February, a Philadelphia Weekly writer described Krasner's approach as a "Bernie Sanders remix of The Wire and The New Jim Crow.")
Win or lose, Krasner's campaign activated something among Philadelphia Democrats. "Progressives in particular have been loathe to get involved in these races because no matter what, [the DA] is going to lock some people up, and in some cases is going to lock people up for a long time," Forman said. "For people who have deep concerns about the fairness of our prison system," they might not be willing to say, "'I'm going to knock on doors, and I'm going to give money, and I'm going to hold house parties for someone who is necessarily going to be a part of the system,'" he said. But this year, they did.