The Eclipse of John Conyers
Once a civil-rights icon, the 88-year-old congressman now faces multiple allegations of harassment and calls for his resignation.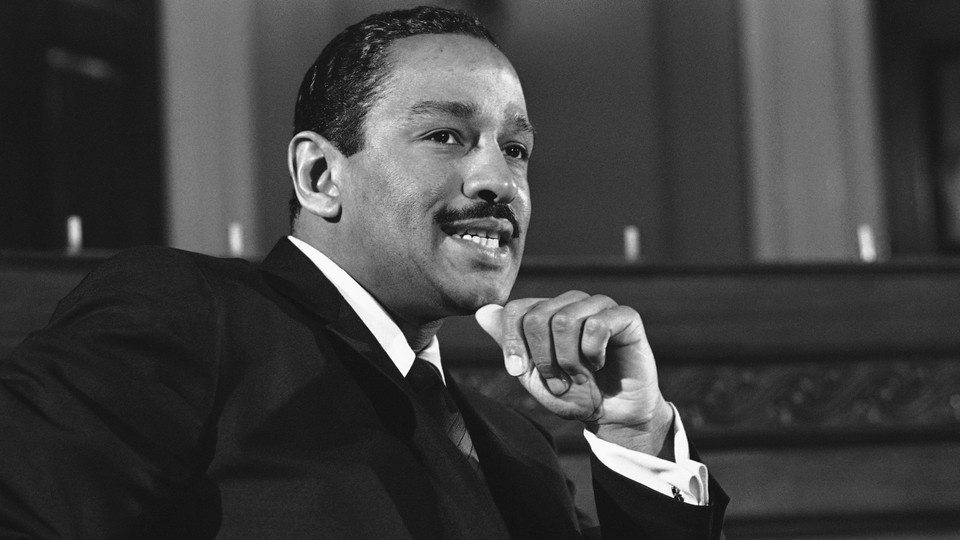 Across the media and entertainment universe, powerful men—as of writing, Garrison Keillor is the latest; as of reading, who even knows?—are being felled quickly after allegations of sexual harassment and sexual abuse.
But inside politics, the repercussions have, so far, been softer. Minnesota Democratic Senator Al Franken, accused of groping several women and giving another an unwanted kiss, has offered a strange mix of contrition and defiance in saying he will stay in office. Roy Moore, the GOP Alabama U.S. Senate candidate, has bounced back in polls after multiple allegations against him that range from the creepy to the criminal. Behind them looms President Trump, who was even recorded boasting about sexual assaults. (Behind him looms Bill Clinton, who escaped impeachment and settled into elder-statesman status.)
But the case of Representative John Conyers, the otherwise venerable Michigan Democrat, is a particularly complex one. It demonstrates the way that a man's stature can protect him, and how that stature plays into the backlash against him. It also shows how one generation's pioneers often end up as the next generation's impediments to progress.
While rumors of widespread hush-hush settlements in Congress abound, the only one that has been revealed so far is one that Conyers's office reached with a woman in 2015. Conyers denies any wrongdoing, and has said he did not know about the agreement. This week, a second former staffer came forward with allegations of sexual harassment by Conyers. Another, the ethics expert Melanie Sloan, said she was harassed by Conyers while working for him and was once called into his office while he was wearing only underwear, though she did not characterize her experience as sexual harassment.
This places Conyers in a precarious situation. There are now multiple accusations against him, and they are more serious than those against Franken, who is himself struggling to stay politically alive. Though Conyers stepped down from his post as ranking member of the House Judiciary Committee, he has said he has no intention of resigning, which may or may not say anything, since members usually say this right up until the moment they resign. Conyers was spotted on a flight home to Detroit Tuesday, skipping votes in the House.
Conyers presents a challenge to Democrats: In addition to the plain moral imperative to protect women in the workplace, they face political imperatives in dealing with him. Having long accused the Republican Party of a "war on women," it's hard for Democrats to not punish their own wrongdoers. That's especially true as the party tries to bury Roy Moore. But other Democrats are wary of "unilateral disarmament," in which they cast out their violators even as Republicans stick with Moore.
And some see Conyers as a special case. He is the dean of the House of Representatives—its longest serving member—and a civil-rights legend. As House Minority Leader Nancy Pelosi put it on Meet the Press, "John Conyers is an icon in our country." Were he simply another backbencher, Conyers might have been banished by now, but he is a towering figure in the Democratic Party. That's probably one reason that, as my colleague Megan Garber put it, it took Pelosi three tries to come to the right reaction to the Conyers allegation. Several Democrats have now publicly called on Conyers to resign. According to CNN, Pelosi is tacitly supporting a behind-the-scenes effort to get Conyers to resign.
That effort is, per CNN and Politico, driven by members of the Congressional Black Caucus. Just as Conyers's iconic status has insulated him so far, it's reportedly also an impetus among CBC members to try to get him to retire. "There is a feeling among some of our members that we need to protect his legacy," one aide told CNN.
It's remarkable that members of the CBC are pressuring Conyers, even privately. He is a co-founder of the group, going back to 1971. But their effort indicates the ways that the sexual-harassment scandal and changing generations have upended politics as usual. In 2010, New York Democrat Charlie Rangel, another CBC founding member, was found guilty of 11 violations by the House Ethics Committee and censured. The CBC didn't try to push Rangel out—in fact, it threatened to eviscerate the Office of Congressional Ethics. (Long ago, Conyers tried to save the career of Adam Clayton Powell, a black congressman accused of various acts of wrongdoing; Powell eventually lost a primary to Rangel.)
But the CBC's leadership recently shifted to a new generation. The chair at the time of the Rangel censure was Barbara Lee (born in 1946). She was succeeded by Emmanuel Cleaver (1944), Marcia Fudge (1952), and G.K. Butterfield (1947). But the current chair, as of this year, is Cedric Richmond, born in 1973; the first vice chair, Andre Carson, was born in 1974. The other three officers are all somewhat older, but they are also all women.
Neither the CBC nor Richmond has publicly called for Conyers to go, but Richmond released a statement that at the very least does not strongly support Conyers, and could be read to favor his quiet resignation.
"Today, I met with John and we had a very candid conversation about the seriousness of the allegations against him, which he vehemently denies," Richmond said. "I told him that I agreed with his decision to step down as ranking member of the House Judiciary Committee at this time. I also told him that I encourage and expect him to fully cooperate with the ethics investigation. He said he would."
In contrast, the CBC elder statesman James Clyburn (born 1940), a South Carolina Democrat, has defiantly backed Conyers.
Conyers's bona fides as a fighter for black civil rights are not in doubt. But at 88, he is also a relic of an age in which powerful men often got away with mistreating women. (Conyers is showing his age in other ways, too. At a recent House Judiciary Committee hearing, he seemed to have lost a step in his questioning of Attorney General Jeff Sessions.) While he has sometimes supported legislation in defense of women's rights—Pelosi cited his work on the Violence Against Women Act—his public politics cannot excuse his personal failings.
Conyers would not be the first pioneer of equality in one era who stuck around long enough to be seen as part of the problem in another. The issue of gay rights divided veterans of the African American civil-rights movement, with some, such as Representative John Lewis or Julian Bond, taking a strong pro-LGBT stand and others arguing that the struggle for black rights was not analogous to that of LGBT people.
Changing definitions like this are a normal part of politics; the expansion in LGBT rights over the last decade would have seemed unimaginable to all but a few people just 15 or 20 years ago. Few politicians have the longevity of a Conyers, and so they're unlikely to still be in office when their modus operandi becomes unacceptable. Sometimes they do stick around, attaining the status of icon. The problem with becoming an icon is it makes you ripe for iconoclasm.