Jeff Sessions's Selective Memory
The attorney general's sworn testimony before the Senate is at odds with other accounts.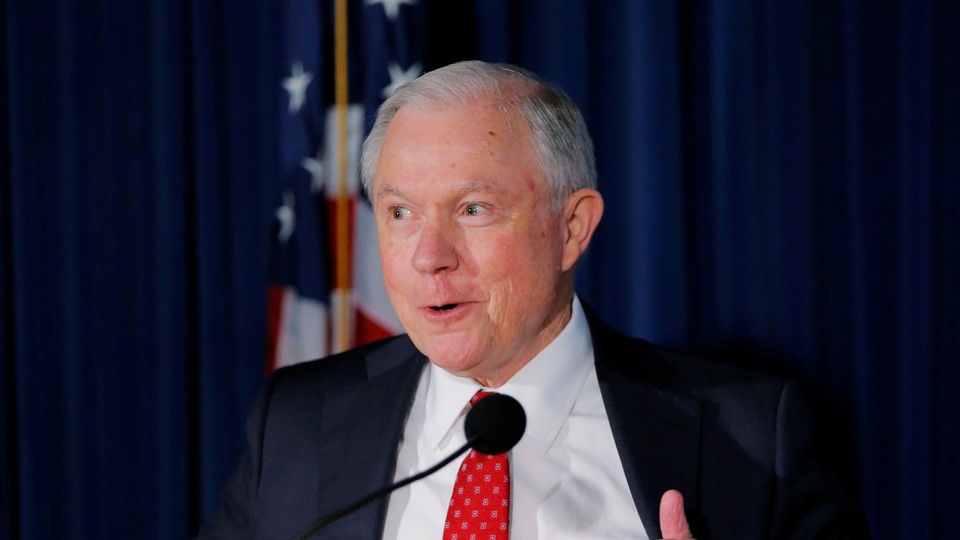 Attorney General Jeff Sessions is facing renewed questions about his sworn testimony before the Senate in the aftermath of reports that he was told about contacts at least two former Trump campaign officials had with Russia.
The former Trump foreign-policy adviser Carter Page told the House Intelligence Committee that he informed Sessions about a trip he took to Russia in July 2016, according to CNN, which Page claims was unconnected to the campaign.  Separately,  a participant in a March 2016 meeting of Trump's foreign-policy advisers told The New York Times he recalled Sessions "vehemently" opposing a proposal from George Papadopoulos to set up a meeting with Russian President Vladimir Putin. Papadopoulos pleaded guilty to making false statements to the FBI on Monday, and federal documents showed that he was offered "dirt" obtained by the Russian government on Trump's 2016 rival, Hillary Clinton.
That information appears at odds with Sessions's testimony during his confirmation hearing in January 2017. When Minnesota Democrat Al Franken asked what Sessions would do "if there is any evidence that anyone affiliated with the Trump campaign communicated with the Russian government in the course of this campaign," Sessions replied that he was "not aware of any of those activities."  In October, Franken asked Sessions directly: "You don't believe that surrogates from the Trump campaign had communications with the Russians? Is that what you're saying?"
"I did not, and I'm not aware of anyone else that did, and I don't believe it happened," Sessions said.
Sessions recused himself from the federal investigation into Russian interference in the 2016 election in March, after reports revealed that Sessions met twice with Russian Ambassador Sergei Kislyak despite telling the Senate he "did not have communications with the Russians." Sessions said he didn't "remember a lot" of their conversation, but that he met with Kislyak in his capacity as the senator from Alabama, not as a Trump surrogate—and so had not misled the Senate when he said did not communicate with the Russians.
In June, Sessions angrily defended himself against what he said were "scurrilous and false allegations" about his conduct. In that same testimony, he said that "there is the assertion that I did not answer Senator Franken's question honestly at my confirmation hearing. That is false."
The recent reports, however, contradict Sessions's original testimony in two respects: Not only did Sessions meet with the Russian ambassador, but he was allegedly aware of Trump surrogates' outreach efforts to the Russian government—in fact, he was reportedly so alarmed by them that he shut them down. His subsequent insistence to the Senate in October that no surrogates from the Trump campaign had communications with the Russians has likewise been contradicted by Papadopoulos. Perjury is difficult to prove, because prosecutors have to show evidence of a speaker's state of mind and proof that the speaker intended to mislead. But the attorney general's testimony appears impossible to square with these other accounts.
Sessions initially told the Senate that he didn't mention his meetings with Kislyak because he had not met with him in his capacity as a Trump surrogate. But he also said he didn't recall much of the substance of their conversation. Perhaps Sessions also did not recall Papadopoulos's offer to set up meetings between the Russian government and the Trump campaign, or the fact that he shut it down. It's possible that he didn't remember Page telling him that he was taking a trip to Russia the June before the election, and that's why he didn't mention it when asked directly.
But if so, it's a remarkable string of memory lapses around incidents that appear to be relevant to a federal investigation.