How James O'Keefe Made Himself Irrelevant
Once a right-wing media darling, O'Keefe laid bare the flaws in his approach with a botched sting of The Washington Post.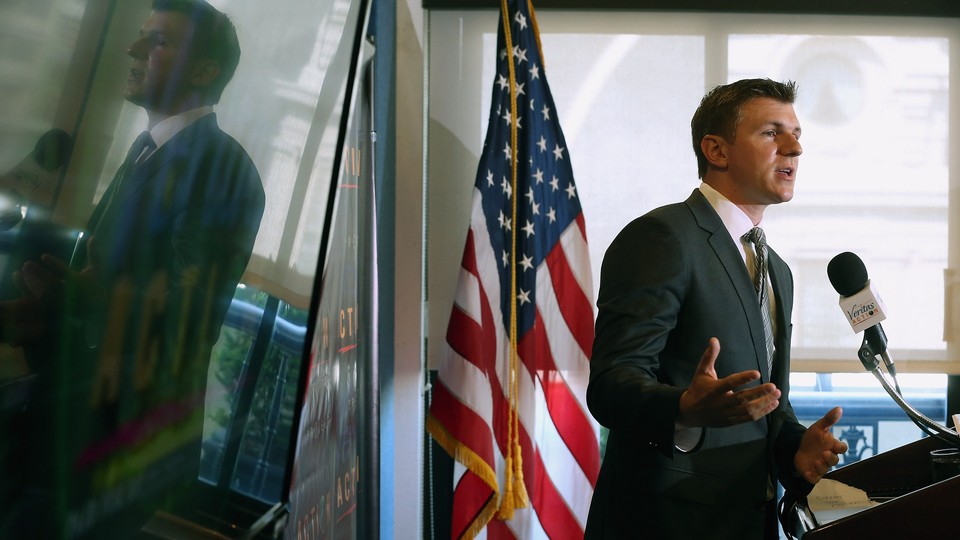 The conservative provocateur James O'Keefe's latest stunt is possibly his biggest backfire: He attempted to sting The Washington Post with a fake Roy Moore accuser, but found himself stung, as the Post exposed the scheme in a detailed report on Monday night.
It's been eight years since O'Keefe's debut on the national scene. The videos in which he and Hannah Giles posed as a pimp and prostitute to record ACORN employees appearing to advise them on how to break the law made the kind of impact mainstream news organizations dream of. They lead to ACORN shutting down, and made O'Keefe a key figure in the conservative media of the time. While others in the blogosphere or on cable news complained about the left, O'Keefe was out there doing something about it, infiltrating liberal institutions and exposing their corruption.
But it's been a long eight years. Despite a few big hits along the way, like a recording of an NPR executive making partisan remarks in 2011, O'Keefe's modus operandi has increasingly shown its flaws. The Washington Post incident is just his most recent own-goal. Last year, O'Keefe's Project Veritas accidentally left a voicemail for a George Soros group it was trying to sting, laying out its whole plan; there was the 2010 blunder when O'Keefe plotted to embarrass CNN reporter Abbie Boudreau by mock-seducing her on a boat equipped with sex toys; and there was O'Keefe and his colleagues' arrest in New Orleans in 2010 during an attempted sting of Senator Mary Landrieu.
According to tax filings for Project Veritas, O'Keefe is raising more money than ever; he drew a salary of over $300,000 last year. But Project Veritas feels like a relic from an earlier era in conservative media, like a Glenn Beck chalkboard or a Fox News segment on "Obamaphones."
Caleb Howe, a longtime conservative blogger and the editor-in-chief of the website RedState, has written optimistically in the past about the potential of "citizen journalism" practiced by conservative activists. But in recent years, he said, Project Veritas has largely failed to live up to its promise.

"I do think after ACORN, the magic went out of this pretty quickly," Howe said. "As I saw the story of this attempted sting," he added, "I thought to myself that it seems like the only thing being exposed lately is the lack of sophistication on the part of the stingers."

Howe said that O'Keefe and his compatriots seem to be motivated by a genuine belief that malfeasance and incompetence are so rampant in the American press that any enterprising prankster with a hidden camera can easily expose it. The half-baked nature of Project Veritas's schemes may be rooted in that misconception.

"I have seen people say in all seriousness that the [mainstream media] will repeat any lie about a Republican, no matter how fake or how easily disproved," Howe said. "I just don't think anything is that simple."
Like others who came of age in the conservative blogosphere, Howe said Andrew Breitbart played a key role in popularizing O'Keefe's videos and pushing them into the mainstream conversation. It was Breitbart who published O'Keefe's initial ACORN stings. Without his "judgment and experience" to guide the projects, Howe said, O'Keefe's sting operations have often had a hasty, incomplete quality to them—"like the rest of the science project after the nerd kid gets a cold and can't finish, and the partner has to turn it in."
"James has committed important acts of journalism," the conservative writer Ben Shapiro, a former Breitbart News editor, said. "This wasn't one. It was misbegotten from the outset. Attempting to indirectly discredit alleged sexual-abuse victims by planting a fake story with a news outlet is bad stuff."
"His track record over the past several years has been increasingly embarrassing," Dan McLaughlin wrote in National Review on Tuesday. "Even if you set aside the factual integrity of his reports – and there are those on the Right who believe that 'war by the other side's rules' means not worrying about such things – and judge O'Keefe strictly on activist terms by the scalps he collects, he's been startlingly ineffective for several years now at actually damaging any of his targets."
O'Keefe's choice of targets over the years has displayed a less-than-keen understanding of what has news value and what doesn't.
"O'Keefe has terrible judgment at times, but his news judgment is even worse," said a former O'Keefe employee who spoke on condition of anonymity to preserve professional relationships. "His sense of what is legitimately of public interest really is as bad as it looks given some of the trash he publishes. It might help with fundraising from the diehard Bannon wing, but pieces like the Clinton Campaign T-Shirt story also badly water down his brand. Earlier high risk/no reward stunts like the attempted Landrieu and Abbie Boudreau debacle nearly finished him before NPR resurrected him. Even Andrew Breitbart was close to cutting ties."
And O'Keefe has not always carefully prepared for his stings, as evidenced by the Washington Post scheme. A simple Google search for Jaime Phillips, the woman who posed as a Roy Moore accuser, would have turned up the GoFundMe she had created to fund her move to New York to become a conservative media operative—a key piece of evidence that the Post used to figure out what was really going on.
"O'Keefe's nature is to fly by the seat of his pants," the former employee said. "It's astounding how little O'Keefe understands about how real journalists operate, even now. There's real bias and corruption, but it's not as though reporters don't have basic skills."
Part of why O'Keefe's latest effort stands apart from previous projects is that instead of exposing alleged liberal hypocrisy and corruption as part of a larger goal, the botched Washington Post sting was launched  in the service of defending a candidate. And not just any candidate, but one who has been accused by multiple women of sexual misconduct when they were teenagers and who is deeply unsympathetic even to many allies of O'Keefe's.
The Washington Post reported that O'Keefe did not answer when asked if he had worked with anyone from the Moore campaign on the scheme, or with any Republican operatives including Steve Bannon, the former White House chief strategist and Breitbart News chairman who is backing Moore.
Breitbart News, the launching pad for O'Keefe's career, has been relatively circumspect about his latest stunt; as of Monday night, the incident was on the front page but not leading the site, and the headline gave as much credit to the Post as to O'Keefe: "James O'Keefe and Washington Post Bust Each Other."
"No one at Breitbart News was involved in, or aware of, O'Keefe's investigation," editor-at-large Joel Pollak wrote.
A source close to Bannon who spoke on condition of anonymity in order to speak freely said that Bannon and his circle had not known about or been involved in the plot. Asked if the Moore campaign had known or been involved, Moore adviser Dean Young said no.
In response to questions from The Atlantic, O'Keefe directed us to the hidden-camera videos Project Veritas had made of Washington Post employees. And on Tuesday evening, Project Veritas sent out an email to fundraise off of what was by then widely seen as a debacle: "The good news is...we already got our story."