The Bad Faith of James O'Keefe
His latest sting operation produced evidence that The Washington Post diligently seeks the truth. But that's not what he told his audience.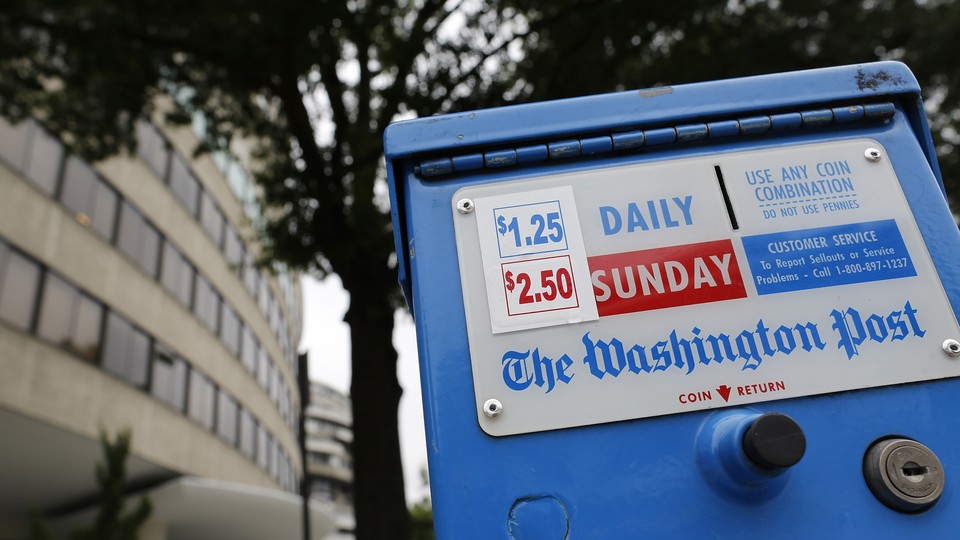 If James O'Keefe respected the right-wing populists who make up the audience of Project Veritas, a nonprofit he founded to produce undercover videos skewering the left, he would tell them the truth about all of the organizations that he targets.
Instead, Project Veritas operates in bad faith, an attribute it demonstrated again this week in the aftermath of its bungled attempt to trick The Washington Post.
A woman named Jaime T. Phillips approached the newspaper claiming that Republican Roy Moore impregnated her when she was 15, then drove her across state lines from Alabama to Mississippi in order to terminate the pregnancy. She told a Washington Post reporter, Beth Reinhard, that recounting the bygone ordeal made her so upset that she was unable to finish her salad.
The newspaper began to investigate the story.
And they quickly discovered suspicious information that caused them to doubt their source's veracity, including a GoFundMe page posted some months ago that said, "I'm moving to New York! I've accepted a job to work in the conservative media movement to combat the lies and deceipt of the liberal MSM."
Then, on Monday morning, Washington Post journalists saw their source "walking into the New York offices of Project Veritas, an organization that targets the mainstream news media and left-leaning groups," the paper reported.
It's possible to reverse-engineer a plausible account of what happened.
Project Veritas was operating on the premise that The Washington Post wouldn't exercise due diligence in vetting a young woman accusing a Republican Senate candidate of sexual misconduct—that the paper would report the bogus story in the newspaper, enabling Project Veritas to expose them for spreading a false allegation.
The premise that the newspaper spreads "fake news" is widely held on the populist right. But the premise proved incorrect. Washington Post reporters did not reflexively or opportunistically believe a woman falsely accusing a prominent Republican. They assigned multiple staffers to help vet the story's credibility. And they were skillful enough at doing so that they discovered their source's lies.
If Project Veritas was operating in good faith—if it was really trying "to achieve a more moral and ethical society," as it claims on its website—it would have acknowledged that its initial beliefs about The Washington Post were incorrect, and that the newspaper diligently pursued the truth when put to an undercover test.
Instead, even though the newspaper did the right thing, Project Veritas still cast it as an enemy. Even as the Post was exposing what happened in its pages, James O'Keefe was sending out an email trying to fundraise off of the operation:
Project Veritas Supporter,

This morning as I walked to Project Veritas' office, I was ambushed by reporters and a camera crew from The Washington Post.

What were they after?

Following months of undercover work within The Washington Post, our investigative journalist embedded within the publication had their cover blown.

This is how undercover work goes. This isn't the first time that has happened, and it won't be the last time.

The good news is … we already got our story.

Now our team in a dash to beat The Washington Post to the presses.

Can you help us finish this investigation?
A bit later on the email concluded:
… please donate so our team can FULLY follow through on our promise to expose the Establishment Media in 2017 and 2018.

Thank so much for all that you do, and as always … stay tuned.

In Truth,

James O'Keefe
Project Veritas
O'Keefe's team seems less interested in what's true than in making the media look bad. If it gathers footage that makes the media look good, apparently, it simply doesn't release it. In effect, Veritas offers the sort of biased, partial, and politically motivated work they accuse mainstream journalists of producing.
There is perhaps no better illustration of the bad faith that prevails today on the populist right than the actions of O'Keefe as he solicits donations for Project Veritas. And this is not the first time O'Keefe has failed to disclose to his audience that the uncharitable premise of one of his stings was disproved by a target who behaved well, only to be portrayed by O'Keefe as a villain anyway.
O'Keefe still parts credulous supporters from their money in part because the rest of the right-wing media is reluctant to expose his particular con.
It is too close to the con they run.
That's how hucksters like O'Keefe can fail repeatedly for years and still get rich. According to Lachlan Markay of The Daily Beast, O'Keefe took an eye-popping salary of $317,691 in 2016 for his nonprofit work. Meanwhile, the sorts of mainstream media organizations that O'Keefe tries to undermine are consistently breaking stories about actual abuses of power, including abuses on the left. As O'Keefe was stinging The New York Times, for example, its journalists were taking down Harvey Weinstein, using skills O'Keefe appears not to possess. The best way for Project Veritas to fulfill its stated mission of achieving "a more moral and ethical society" is to shut down and donate its assets to a nonprofit like ProPublica that exposes bad behavior without perpetrating any of its own.