The Dam of Congressional Sexual-Harassment Claims Cracks Open
A report says Representative John Conyers settled a complaint in 2015, and his case is unlikely to be the last.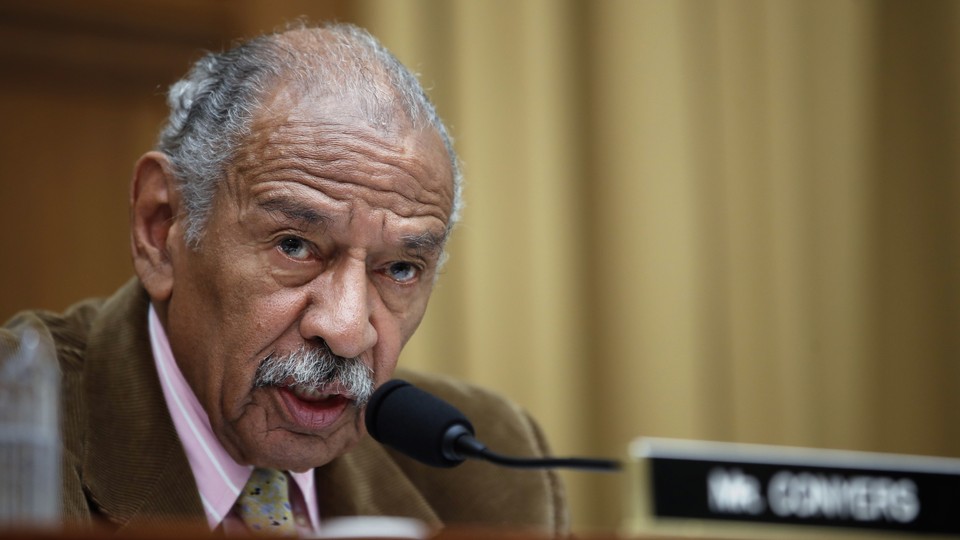 As sexual-harassment claims topple powerful men in media, movies, and elsewhere, Congress retains the potential to be the biggest arena for such revelations.
That is not solely because it involves the governance of the nation and the blood sport of politics. Combine a milieu that is historically (and currently) heavily male, entitled and powerful men, a system that allows members to keep claims quiet and mostly hidden, and a business in which victims are particularly reluctant to speak out for fear of reprisal, and the result is an atmosphere that is catastrophically overrun with sexual harassment. But while many women have spoken about their own experiences in recent weeks, few names of abusers have emerged.
Until now. Last week, radio host Leeann Tweeden said that Senator Al Franken, a Minnesota Democrat, had kissed her against her will during a 2006 USO tour, and she also shared a photo in which he groped or pretended to grope her over a flak jacket as she slept. Then on Monday, another woman alleged that Franken had groped her at the 2010 Minnesota State Fair.
Even more explosive was a BuzzFeed report Monday night about John Conyers, the Michigan Democrat. According to documents obtained by BuzzFeed, Conyers agreed to a settlement of more than $27,000 in 2015 after a woman filed a complaint saying Conyers had fired her for rejecting his sexual advances. (Conyers claims to have had no idea about the claims or settlements.)
The story seems to encapsulate many of the elements that makes Congress so susceptible to harassment. Conyers, as its longest-serving member, is the dean of the House of Representatives. To give a sense of what that means, he was elected in 1965, and boasted last week during a hearing of the House Judiciary Committee, of which he is the ranking Democratic member, that he was on Nixon's enemies list. That makes him a great example of entrenched male power.
Second, the story shows how members (or their aides) can quietly hide payments to accusers, helping to cover up allegations and the cost to taxpayers of settling them. Typically, confidential payments are made from a special U.S. Treasury fund established for the purpose. The Washington Post reported, "Between 1997 and 2014, the U.S. Treasury has paid $15.2 million in 235 awards and settlements for Capitol Hill workplace violations, according to the congressional Office of Compliance. The statistics do not break down the exact nature of the violations."
These payments are often small in comparison with private-sector agreements, and because they are confidential, citizens cannot know where taxpayer dollars are going, nor can they use the knowledge of harassment cases to perform the ultimate and unique act of voter accountability in a democracy: firing a misbehaving lawmaker.
In the Conyers case, the money was even more opaque, because rather than paying the woman out of the fund—where it would have at least appeared in aggregate numbers—it was paid out of his office budget, and effectively made her a no-show employee for three months, keeping her on payroll as a temporary staffer. (House Minority Leader Nancy Pelosi said she was unaware of the settlement.) It's impossible to know whether this practice is widespread or unique, but if the former, the Office of Compliance numbers in the Post might represent a dramatic undercount of the numbers of such claims that have been settled.
Finally, the Conyers case highlights the importance of the fear of reprisal. Politics, and Capitol Hill in particular, are all about connections; you can't move up without happy bosses and good recommendations. Congress has no HR office, but complaints move through the Office of Compliance, which requires a confidential and lengthy process that includes counseling and mediation; moreover, many staffers don't even know about it. The woman who filed the complaint against Conyers asked that her name be withheld, even though the settlement is over, because of fear of retribution. "I was basically blackballed. There was nowhere I could go," she told BuzzFeed.
As a result, it's rare for such cases to become public. The backstory of the article is intriguing on its own: BuzzFeed initially obtained the documents from Mike Cernovich, the pro-Trump blogger and prominent proponent of the bogus "Pizzagate" conspiracy theory. BuzzFeed verified the documents through other means. The unusual provenance in this case underscores how piecemeal and inconsistent the revelation of other congressional harassment scandals is likely to be.
In a statement Tuesday morning, Speaker Paul Ryan called the story "extremely troubling" and noted that he has ordered a review of House policies on harassment and discrimination.
In addition to the Conyers report, Representative Diana DeGette, a Colorado Democrat, told The Denver Post that former Representative Bob Filner, a California Democrat, groped her in an elevator. After leaving Congress, Filner became mayor of San Diego and was then forced to resign after multiple sexual-harassment allegations.
After the first Franken allegation, his fate seemed precarious. Some Democrats felt that Franken should resign immediately, lest the party be accused of hypocrisy is criticizing Republicans including Alabama U.S. Senate candidate Roy Moore. But when Senate Majority Leader Mitch McConnell called for a Senate Ethics Committee inquiry, Democrats joined in that call, and Franken apologized and said he also supported the inquiry. That seemed to have staved off a resignation, at least temporarily.
But the new allegation against Franken, from a woman named Lindsay Menz, injects new instability. Menz met Franken, then in his first term in the Senate, at the Minnesota State Fair in 2010. She was working at a booth for her father's business and took a series of pictures with celebrities and politicians, and she says Franken groped her butt while taking a photo. She told several people, including her father and husband, about the incident at the time. In a statement to CNN, which first reported the story, Franken said, "I take thousands of photos at the state fair surrounded by hundreds of people, and I certainly don't remember taking this picture. I feel badly that Ms. Menz came away from our interaction feeling disrespected."
While the nature and scale of the allegations against Franken, Conyers, and Filner run a range of times and degrees, there's one notable thing that connects all of them: their party affiliation. The Democratic Party has championed equal pay for women, laws like the Violence Against Women Act, and more, and its members have accused the Republican Party of a "war on women." Franken has called for greater protections for women who are sexually harassed. Conyers and Filner both got their start in politics during the civil-rights movement of the 1950s and 1960s; Conyers was at Freedom Day in Selma, and Filner was a Freedom Rider. Just last month, Conyers's colleague Maxine Waters praised Conyers for his commitment to women's rights.
Each of these men surely views himself as a genuine progressive and a champion of women, at least in the abstract. But the stories and allegations against them show that progressive values do not prevent men from harassing women; and moreover, championing women through politics, though important, does not excuse inappropriate private behavior.
Of course, the claims against Moore, and a raft of previous claims against Republicans, demonstrate that both parties face serious problems with sexual harassment. And if there's one thing the last two months have taught, it's that there are likely to be many, many more revelations about members of Congress in the weeks ahead.