'I Believe the Women, Yes'
Senate Majority Leader Mitch McConnell became the highest-profile Republican to demand that Roy Moore step down from a U.S. Senate race amid allegations of sexual misconduct with a teenager.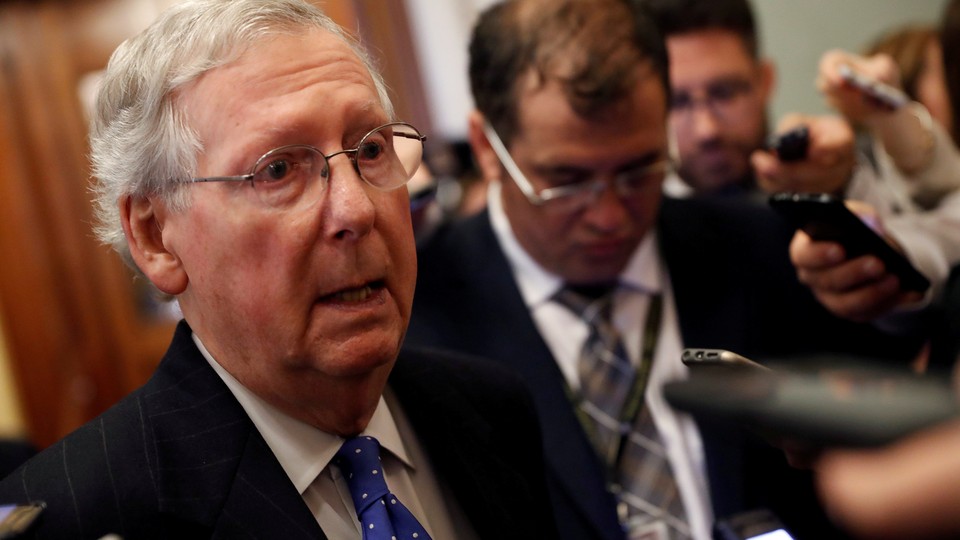 Senate Majority Leader Mitch McConnell on Monday became the highest-profile Republican to call on Roy Moore to drop out of the U.S. Senate race in Alabama.
Even more striking than McConnell urging Moore to leave the race is the way he framed his comments, focusing on the four women who have said Moore pursued them in their teens, including one, Leigh Corfman, who alleges he initiated sexual touching when she was 14.
"I believe the women, yes," McConnell said.
While he is not the first to say that—Mitt Romney, for example, tweeted, "I believe Leigh Corfman. Her account is too serious to ignore"—many Republicans have taken a cautious approach to the accusations against Moore, saying that on the one hand they think he should step aside if the claims are true, but at the same time withholding judgment on that question. This was also the position of White House officials on the Sunday shows this weekend. The parsing has raised the question of what these people would accept as evidence.
While Moore denies Corfman's claims, four women were willing to speak on the record to The Washington Post, which also found dozens of corroborating sources; a fifth is due to speak Monday; a former colleague has said Moore's dating teenagers was well-known; and Moore has not denied dating teenagers when he was in his thirties. McConnell now joins Romney among the politicians who assert that the victims' accounts are more credible that Moore's.
As a wave of women have brought forward stories of sexual harassment and worse, speaking out in the wake of allegations of rape and harassment against film producer Harvey Weinstein, the Moore allegations represented an unusual case: fresh allegations against a man in the moment he was running for high elective office. Many of Moore's defenders have attacked the women, accusing them of political motivations for speaking out and saying the allegations are not credible because the incidents in question happened years ago—even though that is true of many sexual-misconduct claims, especially against powerful men like Moore.
When the Post first published the allegation against Moore on Thursday, McConnell was among the cautious, saying, "If these allegations are true, he must step aside." But in retrospect, the McConnell camp may have been quietly telegraphing Monday's blunter remarks.
Thursday afternoon, the president of the McConnell-allied Senate Leadership Fund said in a statement, "If there's even a shred of evidence to these accusations, Gov[ernor Kay] Ivey and the Alabama Republican Party need to do everything in their power to remove Judge Moore from the ballot. There is no place in our party for sexual predators."
Meanwhile, Josh Holmes, McConnell's former chief of staff, blasted Moore and Steve Bannon, the former Trump aide who has become a Moore ally and defender. "This is what happens when you let reckless, incompetent idiots like Steve Bannon go out and recruit candidates who have absolutely no business running for the U.S. Senate," Holmes told The New York Times. On Friday, the National Republican Senatorial Campaign announced it would break ties with Moore.
It's not as if Moore and McConnell were ever close. McConnell had made his disdain for Moore clear in several ways. During the GOP primary, he lined up behind Senator Luther Strange, who was appointed to fill the seat vacated by Attorney General Jeff Sessions on an interim basis. Moore campaigned in part by bashing McConnell as insufficiently conservative.
Depending on one's perspective, McConnell has either much or little to lose from his statement about Moore. As leader of a narrow, embattled, and fractious Republican caucus in the Senate, McConnell needs every vote he can get, and by forcefully turning on Moore, he's accepting the possibility of a Democrat winning the seat. On the other hand, Moore could be even more of a thorn in McConnell's side as a senator than Democrat Doug Jones would be. McConnell said he and others are looking into whether a write-in candidate could provide an effective alternative to either Moore or Jones. (One thing to watch is the NRSC's resolve. Although the committee publicly yanked funding to Todd Akin in 2012, it ended up quietly sending cash his way late in the race.)
The existing bad blood between McConnell and Moore means the immediate impact of his remarks may be tempered. On Monday, Moore sent out a fundraising email asking for money to ward off "Mitch McConnell's plot to destroy me." But McConnell's public statements could give cover for more Republicans to say the same, and for the party to seek ways to force Moore out. Either way, McConnell's statement of faith in Moore's accusers represents a milestone for a national Republican.