For Trump, the Interpersonal Is Political
The president often seems more interested in getting along with foreign leaders than with his past rhetoric or the historic ties between the U.S. and a foreign country.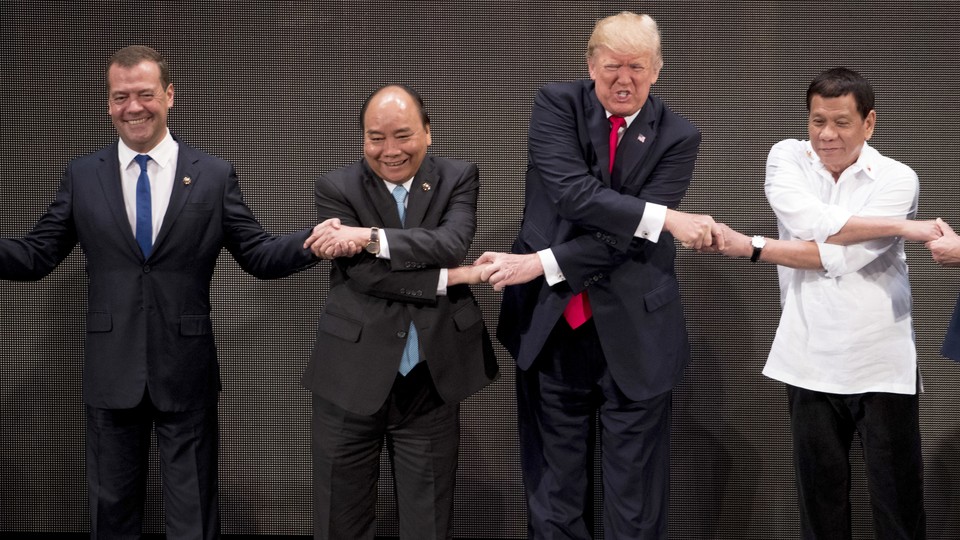 Man is a complex creature, and Donald Trump is no exception. The president is often willing to turn his ire on even his closest aides and allies, yet in other situations, he seems like he just wants to get along with everyone.
During his trip to Asia, Trump's comments about and with Vladimir Putin and Rodrigo Duterte produced predictable revulsion. Speaking about Russian interference in the 2016 election, Trump delivered a puzzling series of statements apparently designed to muddy the waters, just as he did in July in Europe. "Every time he sees me, he says, 'I didn't do that,'" Trump said of Putin. "And I believe, I really believe, that when he tells me that, he means it." In the face of pushback, Trump then said that he merely believed that Putin meant it—a meaningless piece of information if true, and why should we trust Putin anyway?—and that he believed intelligence agencies, now that his appointees and not "political hacks" control them, never mind that the conclusions have been the same: that Russia interfered.
With Duterte, Trump praised the brutal leader, said the two men had a "great relationship," and chuckled as Duterte slammed reporters. Elsewhere on the trip, the press was shut out or given limited access. The White House said demands of other nations accounted for the media guidelines, but veterans of past administrations pointed out that the U.S. has demanded better access on earlier trips.
Trump's affection for authoritarian leaders, amply demonstrated previously, explains this behavior in part but not in full. It's not just that Trump is acquiescent with vicious or adversarial leaders. A man who rose to the presidency promising to get tough with other countries has shown himself to be strongly influenced by personal relationships. When push comes to shove, Trump's personal reaction to someone often ends up being more important than his past rhetoric, the past relationships between countries, or the geopolitical stakes. It's not an accident that claiming great relationships with foreign leaders is his go-to boast in the global sphere.
Presented with a smiling face, and even better an elaborate greeting, Trump tends to get all warm and fuzzy inside. "It was a red carpet like nobody, I think, has probably ever seen," he said of the ASEAN summit. "Rodrigo, thank you very much for the way you treated all of us," he told Duterte.
The way Trump privileges personal relationships comes through in the way he speaks about international alliances. Take, for example, his remarks with Indian Prime Minister Narendra Modi. Modi struck up an (unlikely) friendship with President Obama. In public remarks, Obama repeatedly mentioned their friendship, but always emphasized shared American-Indian connections. Appearing with Trump this weekend, Modi spoke the language of international diplomacy: "The relations between India and the United States are growing very rapidly with a great deal of speed. … And I also feel that and that these relations between India and the U.S., they are not just for our mutual interests, but they go much beyond that."
Trump, however, focused almost entirely on the personal as he stood next to Modi. There was no mention of shared policy goals; it was all personal ties. "We've had him at the White House, and he's become a friend of ours and a great gentleman doing a fantastic job in bringing around lots of factions in India—bringing them all together," Trump said. "That's what I hear, and that's good news. And it really is. It's a lot of good reports coming out of India. So I want to congratulate you."
One result of this focus is that Trump often ends up going easy on foreign leaders, despite promising to be tough with them during his campaign and since. This has been clear in his approach to China, which he used as a central villain during the campaign. After meeting with President Xi Jinping, however, Trump suddenly sounded very different: He backed down on branding the country a currency manipulator, and reversed his insistence that China could solve the North Korea crisis if only it wanted to.
Xi's method of persuasion—offering a friendly face—has proven highly effective for other foreign leaders, who have gradually realized that Trump's desire to get along makes him an easy mark. Another frequent target of Trump's ire is Mexico, but as I wrote in August, the leaked transcript of a phone call with Enrique Peña Nieto showed how the Mexican leader was able to back Trump down using smooth and conciliatory language.
The same pattern has recurred during the Asia trip. Trump tweeted that he did not blame China for the U.S. trade deficit, but rather incompetent American leadership for allowing it to happen. Meanwhile, his own team was acquiescing to a Chinese request that reporters not be allowed to ask questions.
Trump has also complained about the U.S. trade deficit with Vietnam, and accused the country of stealing U.S. jobs. Before meeting with President Trần Đại Quang, Trump did mention the topic of trade, but he was hardly critical. "We will be a great trade partner, and whether we'll be treated fairly—past administrations didn't understand trade and didn't know too much about what was going on with trade," he said. "But we do. But we also know how to do a lot of trade. So I think it's going to very, very good for Vietnam." He added: "We're doing a lot of business with you in terms of your purchasing of materials and also purchasing of very substantial military equipment. And we appreciate that."
Mostly, though, he was laudatory. "I appreciate the incredible rollout that they've given to the United States—not just the president of the United States, but the United States as a whole," he said.
The personal touch overrides past rhetoric whether Trump's interlocutor is the leader of an adversary or an ally. Prior to U.K. Prime Minister Theresa May's visit, Trump had been unusually critical of Britain, America's closest ally. When May came to Washington, however, the visit was all hugs and handholding. But that hasn't prevented sparring between London and Washington since, especially over Trump's quick weighing in on terrorist attacks in Britain.
On the flip side, a little bit of warmth goes a long way to overriding adversarial behavior. Despite Russia's chilly recent relationships with the U.S., and its flagrant violations of international law in Ukraine, Trump has remained open to approaches from Putin. There are numerous possible explanations for this, and the growing number of documented contacts between Trump campaign staffers and Russian officials raise the question of whether the president has ulterior motives. But in the case of Putin, personal relationships seem to go a long way too. Putin's positive statements about Trump during the presidential election made a great impact on the candidate, to judge by Trump's repeated mentions of them.
Trump's refusal to state clearly and publicly that he believes Russia meddled in the election stems in part from Trump's fear that saying so would delegitimize his own victory one year ago. But he also seems conflict-averse, reluctant to take up an issue that might create interpersonal friction. Trump said one reason he is unwilling to press Putin any more on interference in the election is that "I think he is very insulted by it, which is not a good thing for our country."
There is, of course, one issue where Trump has embraced confrontation: the North Korean nuclear crisis. Even there, however, Trump apparently yearns for a relationship. In a tweet on Saturday, the president called Kim Jong Un short and fat—and yet, in the next, plaintive sentence, confessed, "I try so hard to be his friend—and maybe someday that will happen!"
Insulting a nuclear-equipped leader's height and fitness and calling him "Rocket Man" is an unusual way of striking up a relationship. But the desire to do so fits strongly with Trump's general ethic with foreign leaders. With friends like them, who needs allies?