Donald Trump Jr.'s Messages With WikiLeaks Point to Campaign-Finance Violations
At the group's request, the president's son promoted Russia-hacked materials to the American public.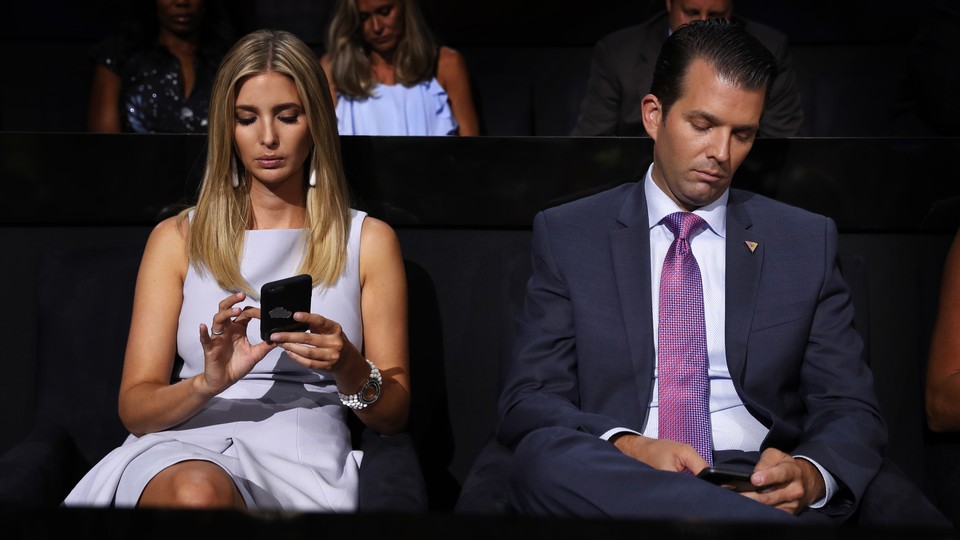 Donald Trump Jr.'s private Twitter correspondence with WikiLeaks adds significant detail to the emerging picture of a political alliance between the Trump campaign and Russia in 2016. It provides evidence of criminal violations of federal campaign-finance rules, which prohibit foreign spending in U.S. elections.
The prohibition has a broad sweep. It disallows contributions, donations, or "anything of value" provided by a foreign national to sway an election. It also bars a campaign from offering "substantial assistance" to a foreign national engaged in spending on American races. Trump Jr.'s messages not only powerfully support the case that the Trump campaign violated these rules, but they also compound the campaign's vulnerability to "aiding and abetting" liability under the general criminal laws for assisting a foreign national in violating this spending ban.
The exchanges show how the campaign, in this instance through Trump Jr.'s activities, provided specific support and encouragement to WikiLeaks, which by then had effectively partnered with Russia to attack Hillary Clinton's candidacy and promote Donald Trump's. Russia devoted resources to hacking Democratic emails; WikiLeaks funded their distribution. In public and private communications, the campaign endorsed and facilitated their actions.
These issues arise, of course, in a period of intensely polarized politics. It is natural, then, for even entirely impartial observers to ask how much of the concern over the legal implications of the Trump-Russia links may be yet another predictable byproduct of partisan conflict. It is a question that will be surely asked of a critic, such as myself, who has legally represented Democratic parties and candidates, including presidential candidates, for decades. But the facts and circumstances here are without precedent in the history of campaign-finance enforcement, and it is hard to imagine that any truly neutral analyst informed about the law would conclude otherwise.
As first reported Monday by The Atlantic, the private Twitter messages, which began in September 2016, "show WikiLeaks, a radical transparency organization that the American intelligence community believes was chosen by the Russian government to disseminate the information it had hacked, actively soliciting Trump Jr.'s cooperation." The group's solicitations of support were wide-ranging, from a request that the campaign "push" a particular news story to a suggestion that Trump Sr. tweet out a link enabling the media and others to more efficiently mine the trove of stolen emails.
Even before Monday's revelations, it seemed clear that the Trump campaign was aware Moscow was committed to Trump Sr.'s candidacy and ready to help. Campaign representatives pursued various contacts with the Russians, including a June 2016 meeting between Trump Jr. and other senior staffers and a Kremlin-connected lawyer who they thought might have damaging information about Clinton. The president himself publicly called for the Russians to locate and make public Clinton's private emails.
The president also repeatedly touted WikiLeaks' work. The group, which Trump Sr. once said he "love[s]," was itself a source of foreign national support for his campaign: It is a self-described "international" operation, based overseas, whose activities are controlled by a foreign national, Julian Assange. During the campaign, Trump officials would have been aware, from public reporting, that intelligence experts believed the Democratic National Committee emails WikiLeaks disseminated came from Russian hackers. And Assange openly promoted his anti-Clinton political goals.
Trump Jr., who worked on his father's race, was WikiLeaks' direct correspondent, but according to The Atlantic's reporting, he kept the senior campaign team in the loop, informing them via email that WikiLeaks had contacted him. His messages also suggest that he collaborated with WikiLeaks in very specific terms. Pressing for more media attention to its cache of purloined emails, WikiLeaks encouraged Trump Jr. in October 2016 to tweet a link that would facilitate reporters' review of the material. He did just that, two days later. More strikingly, within minutes of WikiLeaks' message, Trump Sr.—one month before he was elected president—tweeted a complaint about the "very little pick-up" the "dishonest media" had given the group's cache of emails.
While the correspondence between Trump Jr. and WikiLeaks was often one-sided—with the president's son responding to some messages, but not others—what matters is that the campaign was sufficiently responsive to send Assange an unambiguous message: His support was welcome. When the group told Trump Jr. that it had identified the hosts of an anti-Trump website, the president's son responded that he'd "ask around [the campaign]" for more information about the individuals involved. "Thanks," he added appreciatively. Message sent—and doubtless received.
The president's son's direct and collaborative engagement with WikiLeaks reflected the campaign's judgment that the Assange organization was a political ally. And what Trump Jr. did not say also spoke volumes about the nature of this relationship: At no point in the messages obtained by The Atlantic did he advise WikiLeaks that the campaign could not and would not engage with a foreign organization widely understood to be trafficking in illegally obtained materials on behalf of a foreign government. There is no indication on public record to date, nor has the Trump campaign so far claimed, that any of the senior campaign officials aware of the contact with WikiLeaks communicated that message.
The Trump campaign's actions seem to raise, rather clearly, a violation of the federal prohibition on knowingly providing "substantial assistance" to a foreign national's campaign expenditures. There is no question that WikiLeaks and the Russians were engaged in campaign spending: The resources used in the hacking and public dissemination of the emails constitute expenditures by foreign nationals. Nor is there doubt about the substantiality of the campaign's assistance. Both the president and Trump Jr. promoted to the American public the fruits of Russian hacking, shortly after WikiLeaks' specific request to do so. The president tweeted his belief in the email trove's significance, as did Trump Jr. The president's son furthermore tweeted the link specifically provided by WikiLeaks.
WikiLeaks and Russia would also have benefited from the knowledge, conveyed by Trump Jr. and Sr.'s responsiveness, that their activities were consistent with the campaign's strategic goals. They need not have doubted whether the campaign valued their efforts. They maintained direct contact with the Trump campaign that would have confirmed that, from the campaign's point of view, these foreign national activities were a genuine asset to the Republican nominee.
This reassurance qualifies as substantial assistance to foreign national spending. Campaign-finance rules can seem obscure, but in this instance, they seem to apply with crystal clarity. The law on aiding and abetting brings the point out in plain terms: As the fabled jurist Learned Hand once put it, the aider and abettor is one who "associate[s] himself with the [illegal] venture, … participate[s] in it as in something that he wishes to bring about, [and] seek[s] by his action to make it succeed." This seems to capture precisely the Trump campaign's 2016 engagement with the WikiLeaks-Russian political partnership.
Trump Jr. dismissed his private Twitter messages as only a "whopping three responses" in a tweet Monday night. But, for legal purposes, just one or two would have been sufficient. Add them to the other contacts with Russia, as well as the president's publicly stated support for WikiLeaks' and Russia's intervention, and the messages confirm that Trump Sr. and his presidential campaign face a "whopping" legal problem.