Democrats Try to Shove Trump Aside
Chuck Schumer and Nancy Pelosi want to cut the president out of year-end spending negotiations to avert a government shutdown, refusing to attend a White House meeting on Tuesday.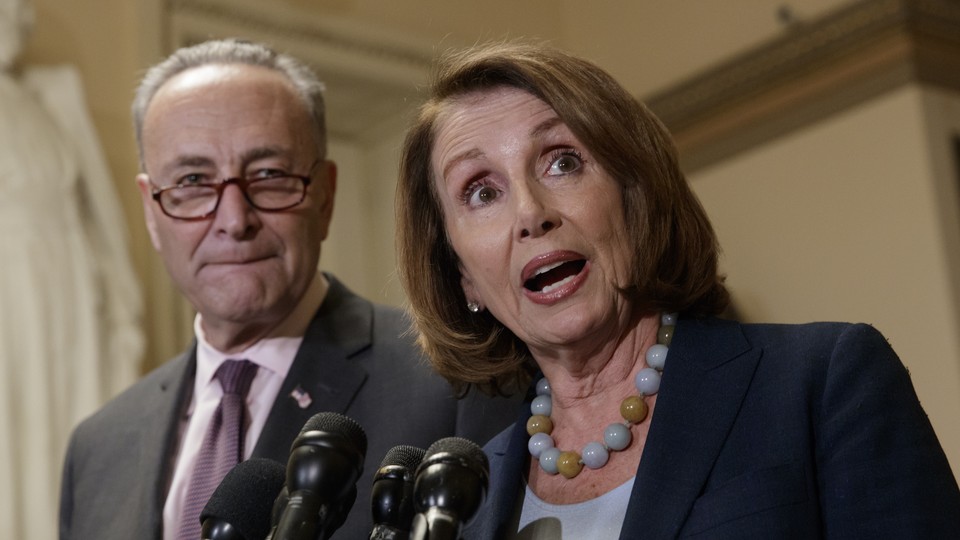 Democrats have tried defeating Donald Trump. They've tried to block him, mock him, and persuade him. They've even tried to pull one over on him.
Now, they're trying to shove him aside.
In a spat that began with—what else?—a presidential tweet, Senate Minority Leader Charles Schumer and House Minority Leader Nancy Pelosi are refusing to attend a meeting with Trump at the White House on Tuesday aimed at averting a government shutdown that could begin in 10 days. Their decision to pull out of the bipartisan summit came a little more than two hours after the president berated "Chuck and Nancy" over their opposition to his proposed tax cuts and immigration crackdown. "I don't see a deal," Trump predicted.
Given the president's statement, Schumer and Pelosi didn't see much point to a get-together they derided as "a show meeting" that won't produce an agreement. "We don't have any time to waste in addressing the issues that confront us, so we're going to continue to negotiate with Republican leaders who may be interested in reaching a bipartisan agreement," the two Democrats said in a statement. "If the president, who already said earlier this year that 'our country needs a good shutdown,' isn't interested in addressing the difficult year-end agenda, we'll work with those Republicans who are, as we did in April."
Schumer and Pelosi were hoping that House Speaker Paul Ryan and Senate Majority Leader Mitch McConnell would join them in thumbing their nose at the president, but to no avail: McConnell quickly replied that he'd still be meeting with Trump on Tuesday.
On the surface, Schumer and Pelosi's move is a signal to restive Democrats that they won't be treated as punching bags by the president and that they'll hold firm on immigration, the issue that seems likeliest to determine whether the federal government will stay open beyond December 8, when funding expires. Democrats, along with a few Republicans, are demanding that any year-end spending bill includes legislation protecting immigrants who could be at risk for deportation following Trump's decision to end the Obama administration's Deferred Action for Childhood Arrivals program.
Trump has said he wants a DACA deal, too, but he's under intense pressure from conservatives angry at him for bending on the issue in a meeting with Schumer and Pelosi back in September. The president has since backed off the contours of an agreement that would trade enactment of the Dream Act for additional border-security measures; the White House earlier in the fall sent a list of demands that went far beyond what Democrats would be willing to accept, including Trump's prized border wall and a reduction in legal immigration. There are other issues lawmakers hope to address in a year-end deal as well: Congress still needs to reauthorize the lapsed Children's Health Insurance Program and decide whether to enact a bipartisan bill to shore up the Affordable Care Act's insurance markets.
The odds of a shutdown have certainly increased in the last several weeks. After all, Trump did say back in the spring that the country "needs a good shutdown." And although he did strike a spending deal with "Chuck and Nancy" in September, that brief kumbaya moment probably raised the likelihood of a subsequent confrontation. Trump is undoubtedly sensitive to the perception that he was rolled by the Democrats, and he has only grown more angry at their refusal to bow to his demands on health care and tax cuts.
Yet Schumer and Pelosi's pitch to leave Trump out of this round of spending talks must be tempting for Ryan and McConnell. The four leaders largely ignored the White House in striking their own agreement in April, and Republicans on Capitol Hill have frequently chafed at Trump's habit of using his Twitter feed to muddy delicate negotiations. But Ryan and McConnell don't have much of a choice: They've hitched their sails to Trump, and they know that not only is the president's signature constitutionally necessary (short of a veto override) for a bill to become law, but his support for an agreement drives more Republican votes in Congress than their own.
So on Tuesday, the GOP leaders dutifully sided with the president. "We have important work to do, and Democratic leaders have continually found new excuses not to meet with the administration to discuss these issues," Ryan and McConnell said in a joint statement. "Democrats are putting government operations, particularly resources for our men and women on the battlefield, at great risk by pulling these antics. There is a meeting at the White House this afternoon, and if Democrats want to reach an agreement, they will be there."
Sarah Huckabee Sanders, the White House press secretary, echoed that message in her own statement. "The president's invitation to the Democrat leaders still stands and he encourages them to put aside their pettiness, stop the political grandstanding, show up, and get to work. These issues are too important," she said. "If the Democrats believe the American people deserve action on these critical year-end issues as we do, they should attend."
Democrats still have leverage over Trump in a number of respects. As the party in power, and one that's associated with antagonism toward government, Republicans have more to lose politically from a shutdown. Their standing in the polls is low as it is, and a fight over spending could delay their top priority of passing a tax bill. Both the president and many GOP leaders have already shown their hand on the question of DACA, giving Democrats another edge in the talks. And most importantly, any spending bill needs 60 votes to defeat a filibuster in the Senate, so Republicans can't keep the government open alone. But while Schumer and Pelosi may find Trump more of a nuisance than a good-faith negotiator, he's shown himself to be a president who's not so easy to ignore.