Democrats Embrace Ethics Committee Inquiry for Senator Franken
The Minnesota lawmaker's colleagues are kicking the controversy over his sexual misconduct during a 2006 USO tour to the panel.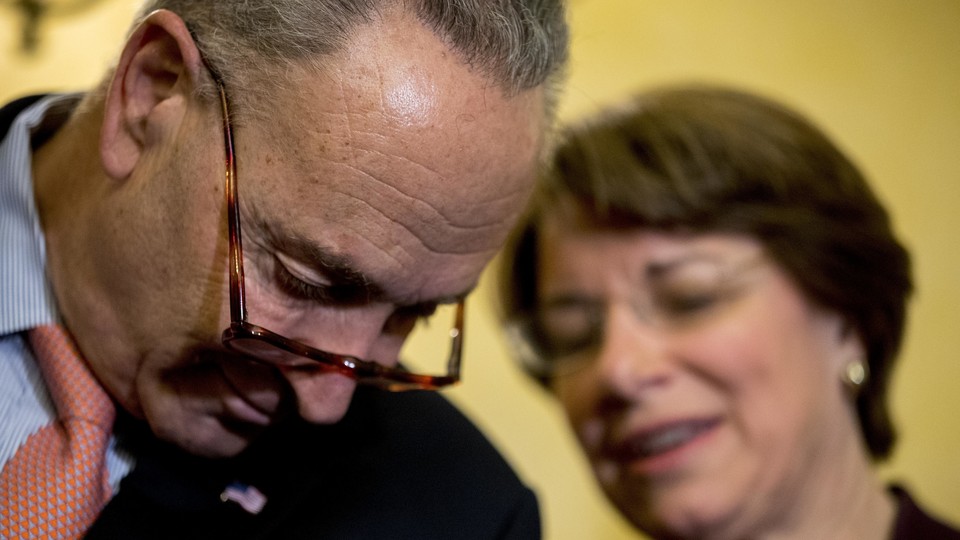 Let the Ethics Committee decide.
That's the message Senate Democrats sent Thursday in response to a report that one of their own, Minnesota lawmaker Al Franken, forcibly kissed and groped a woman in 2006.
On Thursday morning, KABC news anchor Leeann Tweeden wrote in a post on her Los Angeles radio station's website that Franken kissed her against her will while rehearsing a skit during a 2006 USO trip to Kuwait, Iraq, and Afghanistan. She included a photo that appears to show the lawmaker groping or pretending to grope her breasts while she's asleep.
Franken apologized to Tweeden in an initial statement, writing that the photo was "clearly intended to be funny but wasn't." Later in the morning, he released a longer message, writing: "I respect women. I don't respect men who don't. And the fact that my own actions have given people a good reason to doubt that makes me feel ashamed."
Franken's colleagues have so far been unified in kicking the matter to the Ethics Committee, a consequence first suggested by Majority Leader Mitch McConnell, but one that also allows Democrats to at least temporarily avoid a politically, and perhaps personally, difficult decision: whether to call on Franken to resign. McConnell said in a statement Thursday that the committee should "review the matter." "Regardless of party," the Republican continued, "harassment and assault are completely unacceptable—in the workplace or anywhere else."
The Franken incident follows in the wake of allegations against Roy Moore, the Alabama Republican Senate candidate accused of pursuing teenage girls while in his 30s. At least two women have also accused Moore of sexual assault. In reaction to those claims, congressional Democrats have repeatedly told Moore to get out of the race. While the Franken case is markedly different, it nevertheless puts Democrats on the defensive at a time when sexual impropriety in both parties is a subject of public interest.
Senate Minority Leader Chuck Schumer said he "hope[s] and expect[s] that the Ethics Committee will fully investigate this troubling incident, as they should with any credible allegation of sexual harassment." Senator Amy Klobuchar, Franken's fellow Minnesota Democrat, added that "this should not have happened to Leeann Tweeden." New York Senator Kirsten Gillibrand, who introduced a bill on Wednesday to reform how sexual harassment is handled on Capitol Hill, called the account "deeply concerning," and said "the Ethics Committee deserves answers from Senator Franken."
Similarly, Senator Patty Murray told reporters that she is "glad Al came out and apologized, but that doesn't reverse what he's done or end the matter." In a statement, Illinois Senator Dick Durbin wrote that "there is never an excuse for this behavior—ever. What Senator Franken did was wrong." And Durbin's fellow Illinoisan, Tammy Duckworth, called for the public to "support" women who come forward with stories like Tweeden's: "Women across America should be able to feel safe in their workplace." In reference to Franken's past work as an entertainer—he famously wrote for and appeared on Saturday Night Live—Missouri Democrat Claire McCaskill said that  "comedy is no excuse for inappropriate conduct."
The Ethics Committee, made up of three Republicans and three Democrats, is responsible for investigating any violations of the body's ethics rules, but it rarely issues sanctions. In 2016, it received 63 allegations of violations, none of which resulted in disciplinary action. According to its own annual reports, the panel has not issued disciplinary sanctions against anyone in nine years.