The Particular Horror of Church Shootings
Twenty-six people were killed in an attack in Sutherland Springs, Texas, adding to the long list of houses of worship hit with gun violence.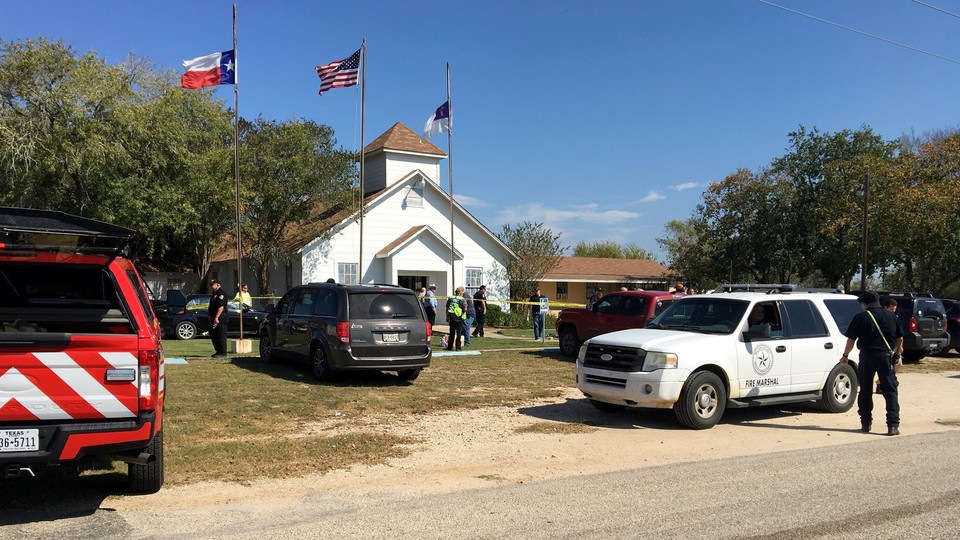 Updated at 9:10 am EST on Monday, November 6
Twenty-six people were killed in a shooting attack on a rural church in Sutherland Springs, Texas, said Texas Governor Greg Abbott, who called it "the largest mass shooting in state history."
The alleged gunman was identified by the Texas Department of Public Safety as Devin Patrick Kelley, a 26-year-old from New Braunfels, Texas, a suburb of San Antonio.
The attack comes in the wake of another church shooting, in September, outside of Nashville, Tennessee, where a 25-year-old man allegedly opened fire on Burnette Chapel Church of Christ at the end of its Sunday service, killing one woman and injuring seven others. Taken together with the deadly attacks in Las Vegas and New York City, the shooting at First Baptist Church in Texas is part of a disorienting wave of mass violence this fall.
Details of the Texas shooting are still emerging, but initial reports suggest the attack resulted in a large number of deaths. Albert Gamez Jr., a Wilson County commissioner, told MSNBC that "there was one shooter who came in and started shooting inside that little church," adding that "there are a lot of fatalities." KSAT 12, a local news station, reported that both the FBI and the Texas Rangers were on the scene, and that police have confirmed the shooter's death.
Frank Pomeroy, the church's pastor, told ABC News that his 14-year-old daughter is among the dead. A video of last week's church service shows a small congregation gathered for song and prayer. "Keep your eyes up, keep your head up, and focus on Christ this week," the pastor says.
Shootings at houses of worship can be particularly disorienting for both parishioners and community members—attacking during prayer is a way of hitting people at a moment of vulnerability, and exploiting the openness on which many communities pride themselves.
"Churches, you don't lock the doors," Joey Spann, the minister of Burnette Chapel Church of Christ, told The Tennessean after the shooting attack on his church. "But we may have to. It's sad."
The list of attacks goes on and on. In 2015, when Dylann Roof opened fire in the Mother Emanuel A.M.E Church in Charleston, South Carolina, the victims felt their welcoming of a stranger had been rewarded with violence. "Every night somebody else gets killed in this country, and I have to relive that pain," Sharon Risher, the daughter of Ethel Lance, one of the people who died, told Time. "I know what these people are going through."
In 2012, a gunman murdered six people worshipping at a Sikh temple in Oak Creek, Wisconsin. "That day shattered my world," Prabhjot Singh Rathor, the young son of one of the victims, recently told The Washington Post.
In 2008, a man shot eight people, killing two, during a play at the Tennessee Valley Unitarian Universalist Church in Knoxville, Tennessee. "This guy does not realize how many lives he totally destroyed," said Amira Parkey, a teen who was in the play, in an interview with The New York Times. "People who do this, they think they've got problems, but they destroy so many other people's lives."
And in December 2007, a gunman, Matthew Murray, shot up two separate Colorado churches. The dead included two teenage girls. "I knew this was one of life's indelible moments," one of the church's pastors later told Christianity Today. "As horrible as it was, I knew God was there."
On Sunday, a pastor at a neighboring church in Texas told KSAT 12 that "we're just standing on the fact that we know that all those who were in that church … were believers." The pastor, Paul Buford of River Oaks church, said his congregation was in the middle of its own worship service when he got the call about what had happened at First Baptist. "That's the thing that's going to keep us strong," he said, "is knowing in our faith that they're with their Lord and savior right now."
President Trump tweeted his support for the church's community shortly after the attacks, saying that he is "monitoring the situation from Japan." Later, he condemned the attack on "a place of sacred worship" and said that "Americans will do what we do best: We pull together and join hands and lock arms and through the tears and sadness we stand strong."
An Air Force spokesperson told CNN that Kelley had been court-martialed in 2012 on two counts, for assaulting his spouse and their child. He received a bad-conduct discharge, 12 months confinement, and was reduced in rank. Kelley drove away from the scene, Abbott said, and was found 11 miles away at an intersection, in his vehicle.
The fall has seen mass killings at music concerts and on American city sidewalks—and now another church has joined that list.
This story will be updated.