Capitol Hill's Sexual-Harassment Problem
Congress has all the necessary elements for a perfect storm of predation.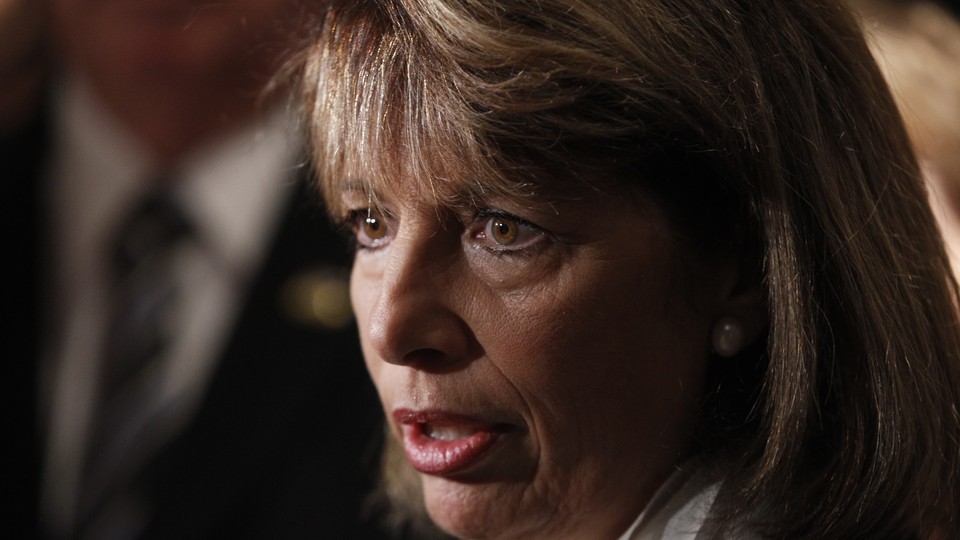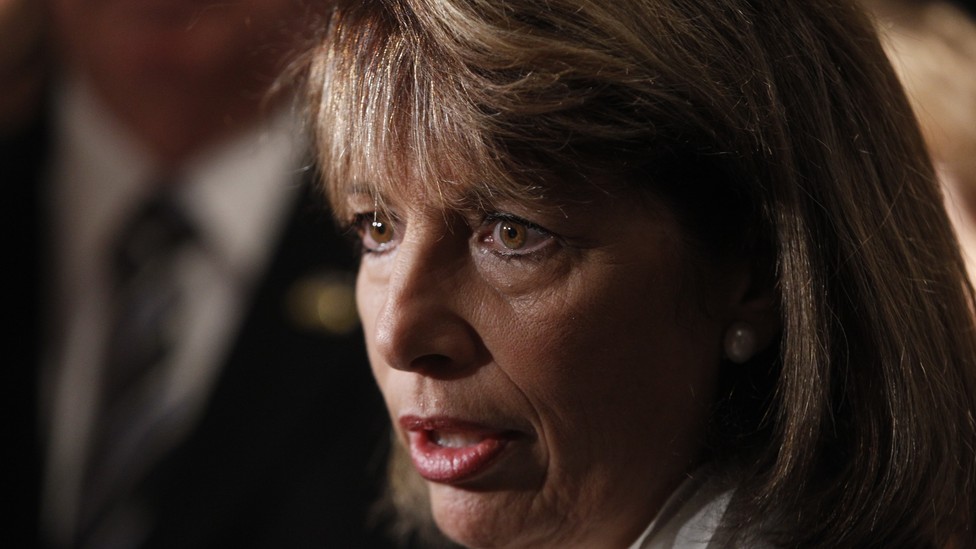 Representative Jackie Speier knew the sexual-harassment situation on Capitol Hill was bad, but she didn't realize it was this bad.
"Some of these members, they're just so blatant about it! You can't imagine."
Consider the male lawmaker who asked a young female fellow whether, on an upcoming congressional delegation they were both attending, she planned "to be a good girl or a bad girl." Fumed Speier, "And if she wasn't going to be a 'bad girl,' there was no point in her coming!"
Or how about the former House aide frequently subjected to skeezy comments from openly leering members a la, "Oh, we don't need a second cab to get to that event. She can just ride on my lap!"
The bawdy talk, the come-ons, the inappropriate touching—Speier and her people have heard it all in recent days, following the California Democrat's October 27 revelation that, as a young Hill aide in the 1970s, she herself had been man-handled by a senior staffer who grabbed her face and slipped her some tongue. (Feel free to gag now. Go on. I'll wait.) In recalling the experience, Speier urged other Hill women to share their #MeToo stories as well. And so the phone calls began.
The fall of Hollywood uberpig Harvey Weinstein has dragged the topic of sexual harassment to center stage of late. A long-time crusader on the issue, Speier is seizing the opportunity to press Congress to tackle its own problem with bros behaving badly.
And make no mistake: It is a problem. As the women of the Hill will tell you, Congress has all the necessary elements for a perfect storm of sexual predation—an abundance of powerful, self-important men; a relatively small, closed system that runs according to its own rules; a career ladder based on personal relationships; fierce tribal loyalties; an endless stream of young, eager-to-please interns and aides. And that's not to mention the late nights, long hours, and absent spouses.
"Politics has the culture of empowering men to think they can do anything because of their influence," a Republican House aide told me. "With the unique nature of working on the Hill (very relationship-based, non-corporate employee standards, etc.) and with so many other important things going on, episodes [of sexual misconduct] are overshadowed and silenced. I've always thought that the Hill sometimes can be like a college campus."
More troubling still: Those targeted often feel as though they have nowhere to turn.
For starters, in what is still largely a boys club, there are often, even among senior staffers, all the usual concerns about fitting in. "You don't want to be the girl that can't hang," said a former House Democratic aide. "A lot of women, myself included, just kind of brushed it off. You'd tell yourself, 'Well I wasn't physically assaulted. It wasn't like they were kissing me in an alley.' I'd just think, 'Well, I'm tough enough to deal with it.'"
The costs of not quietly "dealing" can be steep in a field where personal relationships trump all. "Many women still feel like it will be the death of their career, whether they work on the Hill or in some other capacity in politics," an aide in Speier's office said of the women she's been talking with, pretty much all of whom requested confidentiality. "They feel like they can't come forward."
Partisanship only makes the situation worse. "The way the atmosphere is, people are expected to pull together for the party," said Speier's aide. "You don't want to draw blood on your own team."
On top of all this—and what really makes Speier herself crazy—is Congress's lack of policies and procedures for discouraging harassment and supporting its targets.
Oh, sure, in 1995, Congress adopted a variety of workplace protections and established the Office of Compliance, which, among its myriad duties, offers voluntary sexual-harassment training and oversees complaints lodged by Hill employees ranging from custodial workers to legislative directors. (But not interns or fellows. They aren't covered.) More than two decades on, however, vanishingly few Hill women even know that a procedure for reporting harassment exists. (In a recent survey, Roll Call put the number at around 10 percent.) And those who do know, see the ordeal as prohibitively confusing, onerous, and endless.
"The actual process for a victim is indefensible," said Speier. "First, they have to submit to 30 days of legal counseling." Afterward, they have to decide whether to go forward with 30 additional days of mediation.  If so, said Speier, "they have to sign a [non-disclosure agreement] that is ironclad, and it is in perpetuity." During mediation itself, said Speier, "often the perpetrator has an attorney who can do things—and has done things—like tell the woman, 'If you pursue this, this is going to ruin your career.'" Post-mediation, the complainant must wait 30 more days (but not more than 90!) before she can file a lawsuit or request an administrative hearing. "Meanwhile," said Speier, "they are still sitting in this office in an unbearable situation."
"The existing process is shockingly biased in favor of the harasser," said Speier.
Small wonder that women often seek alternative channels for handling problematic men. You're expecting some junior legislative assistant to go head-to-head with a sitting member of the U.S. Congress, scoffed the former House Democratic aide. "Who's gonna do that?"
"What happens sometimes is that there is this sub rosa network of staffers who talk about who you should not go to work for or, if you do, never be alone with them," said Speier.
"I know we all tried to be protective of junior staffers," confirmed the former House aide. "We'd be like, 'Hey, watch out for so-and-so. He's a letch.'"
In her experience, said the former aide, women didn't have problems with their own bosses so much as with other members. On multiple occasions, she recalled her boss intervening on her behalf to tell his colleagues to "knock it off." Other women were advised to have their bosses do the same.
Of course, that only works if one's boss is a stand-up guy. "You would say to the woman, 'So, have you told your boss?' In some instances they wouldn't have, because they knew the complaint would fall on deaf ears or that the their boss was just as bad."
At that point, the issue would be handed over to an informal network of senior women who were in positions to do something about it. "Or at least they could say, 'We'll protect you from that circumstance occurring again.'"
This, needless to say, is not the ideal way for the United States Congress to handle sexual predation among its ranks. But, as with so much in Congress, even the tiniest of baby steps can take forever.
Since 2014, Speier has repeatedly introduced legislation to make sexual harassment training mandatory—as it is in most of the federal government. So far, no luck.
But this year, the atmosphere feels different, she told me. "Thank God for Hollywood," joked the congresswoman, noting that all the recent scandals have gotten lawmakers increasingly interested in cleaning up their own house. "I think some of them are like, 'There but for the grace of God go I,'" she laughed.
Before the spotlight moves on, Speier plans to introduce two pieces of legislation on this topic. The first (due any day now) would simply mandate annual training for staff and members on this delicate issue. The second, still being fine-tuned, aims higher: streamlining the reporting process, giving the Office of Compliance the power to investigate complaints, improving transparency in terms of settlements, clarifying members' and top staffers' responsibilities in preventing and responding to misbehavior, introducing a biannual survey to gauge what progress is being made and which tools are effective, and extending protections to unpaid Hill workers.
"What's jaw dropping is the fact that the interns and fellows are the most vulnerable, and they don't even have access to the process," said Speier.
The Harvey Effect notwithstanding, what are the chances that Congress will finally act on this?
Even Speier acknowledges that any move to retool the OCC will take a while. But she expressed optimism that her quest for mandatory training would finally be realized. That requires only a basic amendment to House rules, she said, "and that can happen relatively quickly."
Her office is reaching out to Republicans in particular to build bipartisan momentum. "I believe we're going to have the support from both the chair and ranking member of the House Administration Committee," she said, citing the committee with jurisdiction over the matter.
Nancy Pelosi's office said the Democratic leader is all in with both of Speier's bills. (Paul Ryan's office offered a more noncommittal response: "The speaker believes the House Administration Committee is right to review the standing procedures and resources available to staff.") Meanwhile, over in the Senate, Democrat Kirsten Gillibrand is putting together her own bill on the issue. Even more notably, Republican Chuck Grassley, head of the powerful Judiciary Committee, voiced his support this week for mandatory training.
Improved education, or even a total overhaul of the OCC, will not fix the Hill's longstanding sexual predator problem. But it would be a sorely belated start—and a welcome signal for many women on the Hill that members are at least starting to recognize the need for change.