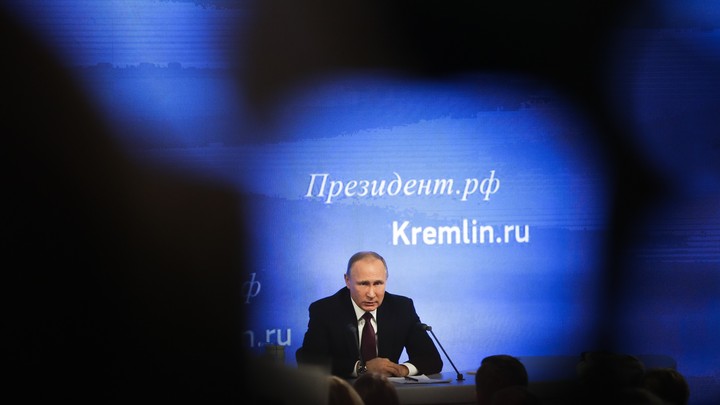 Special Counsel Robert Mueller's two big moves to start the week have, rightly, dominated headlines about the 2016 election. But Mueller's indictments of Paul Manafort and Rick Gates, and a guilty plea from George Papadopoulos, have focused attention on actors within the United States, and on whether the Trump campaign was colluding with Russians. While that is important, there remains the more fundamental question of Russia's interference, irrespective of whether anyone attached to the Trump campaign was assisting. And it's also been an important week on that front.
Three days of testimony by representatives of major tech companies before the Senate Intelligence Committee have, as Alexis Madrigal writes, provided the most complete information yet available to the public about the ways apparent Russian agents used the internet as a tool to meddle in American elections, all paid in rubles. Meanwhile, a clever Associated Press story matched up data from an inadvertent link by the hacking entity known as Fancy Bear that provides some of the strongest evidence yet that the group is Russian. The Wall Street Journal also reports that the Justice Department (separate from Mueller's probe) is weighing whether to charge Russian hackers with breaking into the Democratic National Committee's computers.
Regardless of whether they had American accomplices, the specter of an influential foreign intervention in the election is rightly concerning. But some people refuse to accept that there was a Russian interference effort. The most influential of them, of course, is President Trump, who has at times said he accepted the conclusion of Russian involvement—as most of his aides do—but at other times has continued to reject it as a "hoax" and an excuse used by Democrats to explain their loss.
He has been aided by the fact that accepting the charge of Russian involvement has largely required trusting the Intelligence Community's conclusions. The IC's assessment is based on lots of vague information—references to common approaches, or similar use of the same suite of software. In other cases, it appears to be based on information that the IC says, reasonably, it cannot disclose lest it reveal sources and methods. Just as reasonably, there are people who are reluctant to accept the IC's assessment based mostly on faith, pointing to examples of intelligence failures and chicanery.
The AP story is interesting because it provides a raft of fresh, circumstantial, public evidence of Russian involvement. It's based on data from Secureworks, a cybersecurity firm, which found a public account on bit.ly, the link shortener, which Fancy Bear was using to disguise malicious links to send in phishing emails between March 2015 and May 2016. Using that data, the AP was able to derive 4,700 Gmail addresses that Fancy Bear had targeted. The inventory of people targeted reads like a hit list of Russian government targets: American diplomats; retired American generals; current and former Ukrainian officials, including the president and his family; the exiled Kremlin-critical oligarch Mikhail Khodorkovsky; a member of Pussy Riot; and so on.
Most of the targets were in countries that are the focus of intense Russian interest—Russia, of course, as well as the U.S., Ukraine, Georgia, and Syria. Within the U.S.:
the list skewed toward workers for defense contractors such as Boeing, Raytheon, and Lockheed Martin or senior intelligence figures, prominent Russia watchers, and—especially—Democrats. More than 130 party workers, campaign staffers, and supporters of the party were targeted, including [Clinton campaign chairman John] Podesta and other members of Clinton's inner circle.
"Many of the targets have little in common except that they would have been crossing the Kremlin's radar," the AP noted. There was another intriguing clue: More than 95 percent of the links were generated during the hours of the workday in Moscow.
The Journal story does not deliver quite the same immediate satisfaction, but the prospect of charges, which it says could come next year, implies that the Justice Department has evidence that it can present publicly, going beyond the IC's vague assurances. "If filed, the case would provide the clearest picture yet of the actors behind the DNC intrusion," the paper notes.
That's not to say that any federal charges are expected to end with hackers in prison. Russia, which continues to strenuously deny allegations of interference, would not extradite suspects, so the main effect of charges would be to make it impossible for suspects to travel abroad, where they could be arrested.
The problem of actually holding Russians accountable will remain an intractable one. That's also why the Senate hearings have seen lawmakers grilling American tech companies (an appellation that's the subject of some dispute) on what they're doing to insulate their platforms from foreign interference. Nonetheless, the last few days have produced an explosion in the publicly available information that points ever more clearly to Russia's interference.
We want to hear what you think about this article. Submit a letter to the editor or write to letters@theatlantic.com.