Bannon's Senate Insurgency Hits a Stumbling Block in Utah
The Breitbart chair's effort to recruit populist challengers hits a snag, as the most plausible such candidate for Orrin Hatch's seat bows out of the race.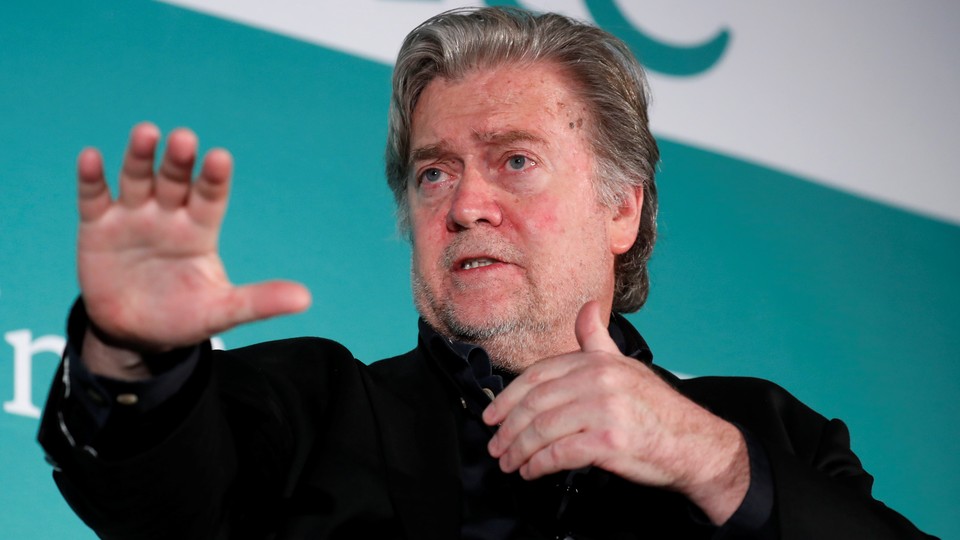 Steve Bannon's widely hyped war on the Republican establishment hit a setback Monday in Utah, when a prominent conservative he'd been courting to mount an insurgent Senate bid in the state announced he wouldn't run.
Boyd Matheson—a prominent Utah Republican who heads the conservative Sutherland Institute think tank—met with Bannon during a recent trip to Washington, D.C., while exploring a potential bid for Orrin Hatch's senate seat. When the meeting was first made public last month, many cited it as proof that Bannon's pledge to overthrow entrenched Republican incumbents should be taken seriously. Matheson is well-regarded in Utah political circles, and was generally viewed as a credible candidate to take on Hatch in a primary. What's more, it appeared he would have the backing of several influential conservative pressure groups.
"He is going to be the consensus conservative candidate among all the outside groups and will have a lot of the financial support that's out there," Citizens United president David Bossie told Politico at the time. "He's going to be someone people coalesce around very quickly."
But Utah's political landscape has shifted meaningfully in recent weeks. As I reported recently, Hatch has been privately telling allies that he plans to retire at the end of his term. And if the veteran senator does decide not to run for reelection (Hatch's office says he hasn't made a final decision), Mitt Romney is planning to seek his seat.
Matheson told me he thinks it's unlikely Bannon will be able to field another serious candidate in Utah. "I think this kind of clears the last of the path for Mitt," he said.
That sentiment was echoed by other Utah politicos I heard from Monday. "If Mitt Romney enters the Senate race, it is hard to imagine any other candidate, hand picked by Bannon or otherwise, who could beat him," said Jason Perry, director of the University of Utah's Hinckley Institute of Politics. "Romney is political royalty in Utah and his brand of politics resonates with Utah voters."
But even if Romney weren't part of the conversation, Utah likely would have proven inhospitable terrain for Bannon's project. For one thing, Bannon himself is not an especially popular figure in the state. During last year's election, local media outlets seized on remarks he had made in 2012 criticizing Romney's five sons for making time to serve as Mormon missionaries without having served in the military. Unlike in other red states—where outsider candidates welcome and even court Bannon's support—Matheson's ties to the former White House chief strategist were seen as an electoral liability.
Bannon's ideological agenda and political style, meanwhile, are poorly suited to Utah's electorate. Hard-edged nationalism is a tough sell in a state full of former missionaries who have spent significant time overseas. Populist rancor doesn't have the same visceral appeal to a population with income inequality that's lower than average and levels of education that are above average. And the kind of harsh rhetoric aimed at immigrants, Muslims, and refugees on display at the Bannon-led Breitbart News is decidedly out of step with the positions of the Church of Jesus Christ of Latter-day Saints.
Utah does have an anti-establishment streak that Bannon could try to exploit. In 2010, for example, incumbent Senator Bob Bennett was defeated by Tea Party insurgent Mike Lee at the state's Republican nominating convention. But recent changes to the state's primary process have deemphasized the convention system that's long empowered right-wing activists. And even in that crowd, the dominant ideology tends more toward social conservatism and small-government libertarianism than Bannon-style populism.
Indeed, Utahns have already shown their aversion to the particular kind of politics Bannon is pushing. During the Republican presidential primaries in 2016, Trump came in dead last in Utah. And while Trump ultimately carried the state in the general election, it was with a meager plurality of the vote. As Perry told me, "Bannon's style, approach, and brand of politics has not resonated with Utah voters."
It remains possible, of course, that Bannon could pluck a state lawmaker out of obscurity and fill his war chest with enough money to mount a credible campaign. But most Republicans in Utah aren't holding their breath. In an interview with The Salt Lake Tribune last month, Utah's Republican Party Chairman Rob Anderson called the notion that Bannon could swing the state's Senate race "ridiculous."
"Who does this guy think he is?," Anderson said. "He doesn't know Utah."