Assange Claims WikiLeaks Was Trying to 'Beguile' Donald Trump Jr. Into Leaking
The president's son posted his exchanges with the organization on Twitter after The Atlantic disclosed their contents.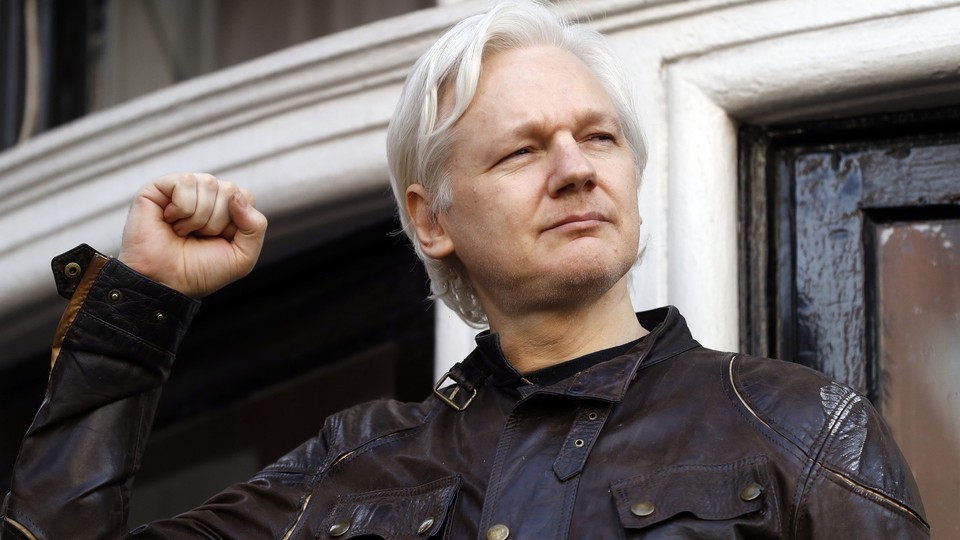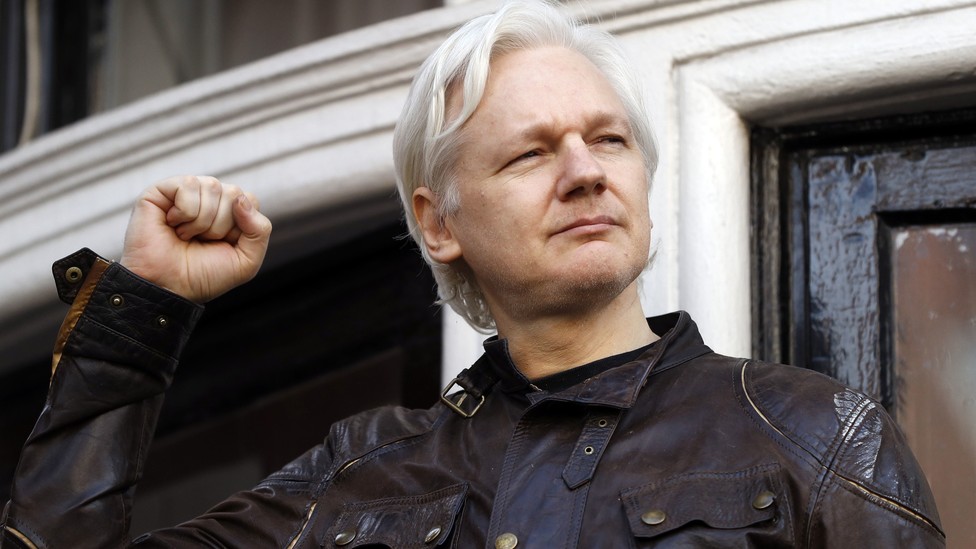 Julian Assange, the founder of WikiLeaks, responded to The Atlantic's disclosure of private communications between his group and Donald Trump Jr. by praising his organization for its "chutzpah" in attempting to take advantage of the president's son.
On Monday afternoon, my colleague Julia Ioffe reported on the direct messages exchanged on Twitter between WikiLeaks and Trump Jr. WikiLeaks attempted to convince the president's son to promote the hacked emails it had published, share his father's tax returns, and, on Election Day, challenge the U.S. election results. A few hours later, Trump Jr. confirmed the report by posting the full chain of messages to Twitter, while downplaying its importance.
Assange, for his part, insisted that his organization was merely attempting to solicit leaks. "WikiLeaks appears to beguile some people into transparency by convincing them that it is in their interest," Assange wrote on Twitter on Monday. He added that the message encouraging Trump to reject the election as rigged was intended "to generate a transformative discussion about corrupt media, corrupt PACs, and primary corruption."
The Twitter conversation between WikiLeaks and Trump Jr., which began in late September 2016 and lasted through July 2017, showed the radical transparency organization soliciting Trump Jr.'s cooperation. It made requests of him multiple times, from asking him to share links to proposing that Assange be appointed as the Australian ambassador to the U.S. Twice, the organization implored Trump Jr. to give it his father's tax returns, as well as his email conversations related to a 2016 meeting with Russian lawyer (which Trump Jr. posted to his own Twitter account in July). Trump Jr. initially responded, but the messages disclosed on Monday include no replies after early October to WikiLeaks's increasingly bold requests.
Some Democratic lawmakers dismissed the explanations proffered by Assange and Trump Jr. Senator Richard Blumenthal of Connecticut wrote that the messages "seem to indicate Pres. Trump's son was actively engaged and may have coordinated strategy with a known agent of the Russian government, WikiLeaks." He called on Senate Judiciary Chairman Chuck Grassley to subpoena Trump Jr.'s public testimony. "There seems to be no reasonable explanation for these messages," Blumenthal told the AP.
Representative Adam Schiff of California, the ranking member on the House Intelligence Committee, wrote that the correspondence "demonstrates again a willingness by the highest levels of the Trump campaign to accept foreign assistance."
The Trump administration, meanwhile, found itself facing another round of unwelcome questions. Vice President Mike Pence was asked in October 2016 whether the Trump campaign was "in cahoots" with WikiLeaks. "Nothing could be further from the truth," he replied at the time. On Monday, his press secretary, Alyssa Farah, said, "The vice president was never aware of anyone associated with the campaign being in contact with Wikileaks. He first learned of this news from a published report earlier tonight."