A Conservative Uprising Confronts GOP Deficit Hawks
A group of Republican senators is fighting for tax-hike "triggers" that the right doesn't want.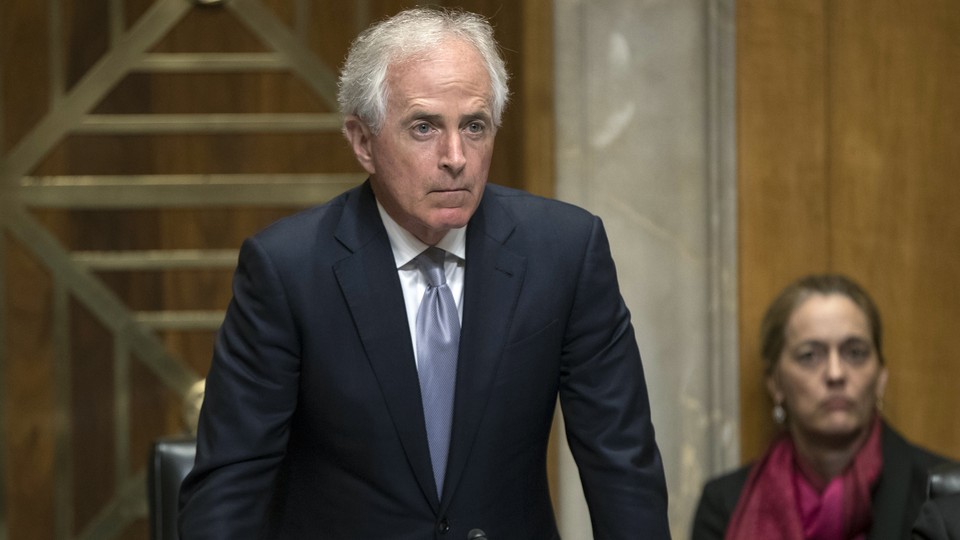 Updated on November 29 at 6:13 p.m. ET
The fate of the Republican tax overhaul is coming down to a confrontation between the Senate's few remaining deficit hawks and the GOP's most ardent tax-slashers.
It's a fight that has been building for months and now centers on a proposal from Senators Bob Corker of Tennessee and James Lankford of Oklahoma for the Republican tax bill to include a provision triggering tax increases if the cuts in the rate for corporations don't produce promised economic growth. Corker, who has vowed not to support a bill that he viewed as adding to the deficit, provided a decisive vote to advance the $1.4 trillion tax cut out of the Budget Committee on Tuesday only after securing what he said was a "verbal agreement" from GOP leaders that the final legislation would include a fiscal trigger. On Wednesday, all 52 Senate Republicans voted to begin floor debate on the tax bill, which the party hopes to pass by the end of the week. But important changes, including the expected addition of a trigger provision, are still to come, and the GOP's show of unity in Wednesday's procedural vote does not necessarily mean final passage will go as smoothly.
With the bill gaining steam, conservative lawmakers and outside activists are now mobilizing in opposition to a fiscal trigger. They warn it'll prove counterproductive to the GOP's goal of unleashing business investment and could saddle the nation with an automatic tax hike if the economy takes an unexpected dip. "It's a bad idea," said Tim Phillips, the president of Americans for Prosperity, the advocacy group funded by the Koch brothers. "The last thing you'd want to do if there were some kind of economic downturn would be to raise taxes. It also leads to uncertainty for businesses, because you don't know what your tax rates are going to be from year to year." In an interview, Andy Roth of the conservative Club for Growth called the proposal "a dumb idea," and Grover Norquist, the veteran anti-tax activist, slammed it as "a self-fulfilling threat to kill jobs."
In a sign of just how sensitive the topic has become for Republicans, neither Corker nor Lankford has publicly detailed how their proposal would work—despite the fact that Senate leaders plan to amend and pass their far-reaching bill as early as Thursday. And while conservatives are trying to ensure a trigger stays out of the measure, they aren't yet threatening to abandon legislation Republicans desperately want to enact. During a meeting of House Republicans on Wednesday morning, according to a senior GOP aide, party leaders urged rank-and-file members not to criticize the emerging Senate bill until after it passes the upper chamber. In exchange, House members were assured they'd have the opportunity to fight for changes in a conference committee to reconcile the two bodies' competing bills.
Conservative lawmakers in both chambers are instead pushing for a mechanism that would trigger automatic spending cuts rather than tax increases, although that might be even harder to pass through the Senate. And the Senate bill would already set off cuts to Medicare that Congress may quickly try to undo.
Trying to head off a conservative revolt, Lankford has been talking for weeks about a possible trigger with his former colleagues in the House, where he served for four years before moving to the Senate. The Senate plan, like a House bill approved earlier this month, would reduce the corporate tax rate to 20 percent from 35 percent. Under one proposal floated by Lankford, that rate would rise to 21 percent after five years if the economy doesn't grow at a fast enough clip.
Some GOP senators are uneasy with even that modest change. "Personally, I don't support triggers," Nevada's Dean Heller said at a Wednesday press conference. Senator Thom Tillis of North Carolina argued that the mere threat of a future tax increase would discourage businesses from taking advantage of the lower taxes to begin with. "The perverse consequence of having a trigger in here could potentially be that we won't achieve the economic gains that we would otherwise have if the trigger were not," he said.
For now, the trigger debate isn't a deal breaker for many Republican senators, who don't want to jeopardize the broader tax bill over a provision that might not survive the legislative process. Republicans can't lose more than two of their members and pass the bill. Corker and Lankford have each drawn a hard line on the issue to this point, and Senators Jeff Flake and John McCain of Arizona have voiced similar concerns about the bill. "I don't want to see this bill destroyed because of a pursuit for perfection," Senator David Perdue of Georgia said.
The trigger mechanism could run afoul of the Senate's budget rules, analysts have said, causing the provision to be stripped out before a final vote. Or it could be watered down in negotiations with the House to a point where conservatives don't see it as an actual threat to their tax cuts. The decision would then swing back to the deficit hawks, who would face tremendous pressure not to topple a landmark Republican bill at the very last moment.
Corker and Lankford have received little support from advocates of fiscal restraint outside of Congress—not to mention Democrats, who already see their proposal as one more "gimmick" in a bill loaded with them. To comply with Senate budget limits, Republicans set most of the tax cuts for individuals to expire even as they promised to extend them later on. "Instead of designing a backstop in case a policy fails, lawmakers should just pass tax legislation that's fiscally responsible and permanent in the first place," said Michael Peterson, president of the Peter Peterson Foundation. "They can do that by using reasonable assumptions for economic growth and being realistic about the effects on the budget."
Given the GOP's slim Senate majority, Corker, Lankford, Flake, and McCain could use their votes as leverage to demand a trigger in the final bill. But unless and until they do, conservatives have the edge.