Why Trump Accused Obama of Not Consoling Families of Fallen Soldiers
The president touched off a brief firestorm with the unfounded charge, but real answers about why four service members were killed in Niger remain elusive.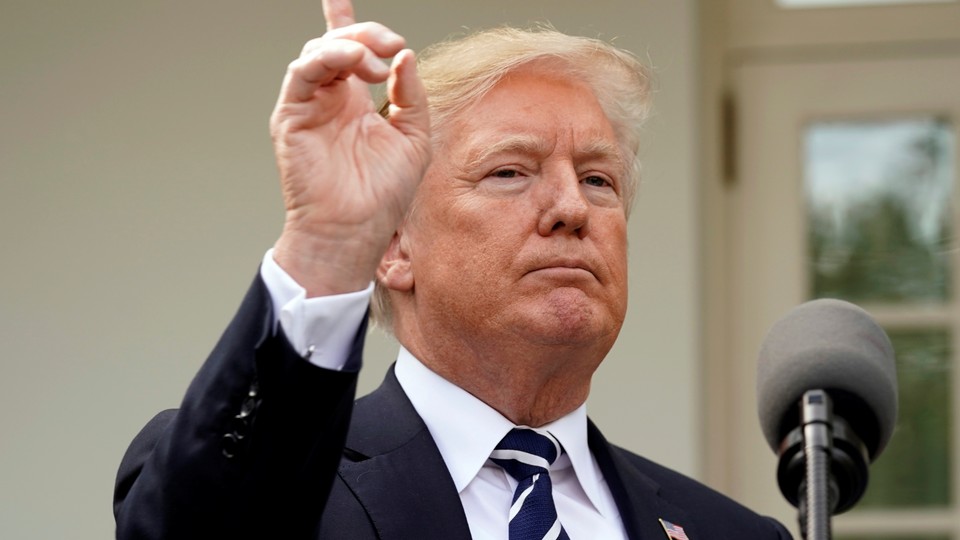 On October 4, four American Special Forces soldiers were killed during an operation in Niger. Since then, the White House has been notably tight-lipped about the incident. During a press conference Monday afternoon, 12 days after the deaths, President Trump finally made his first public comments, but the remarks—in which he admitted he had not yet spoken with the families and briefly attacked Barack Obama—did little to clarify what happened or why the soldiers were in Niger.
Trump spoke at the White House after a meeting with Senate Majority Leader Mitch McConnell, and was asked why he hadn't spoken about deaths of Sergeant La David Johnson and Staff Sergeants Bryan Black, Dustin Wright, and Jeremiah Johnson.
"I've written them personal letters," Trump said. "They've been sent out or they're going out tonight, but they were written during the weekend. I will at some point during the period of time call the parents, or the families. Because I have done that traditionally. I felt very, very badly about that. It's the toughest call—the toughest calls I have to make are the calls where this happens. Soldiers are killed. It's a very difficult thing. Now it gets to a point where you make four or five of them in one day, it's very very tough. For me that's the toughest."
Those comments join Trump with many of his predecessors, who have also spoken publicly about the burden of sending troops into battle, and the wrenching process of speaking with the families of slain servicemembers. But then Trump went on to suggest that other presidents hadn't done what he did.
"The traditional way, if you look at President Obama and other presidents, most of them didn't make calls, a lot of them didn't make calls," he said. "I like to call when it's appropriate, when I think I'm able to do it. They have made the ultimate sacrifice, so generally I would say that I like to call. I'm going to be calling them. I like a little bit of time to pass."
NBC's Peter Alexander challenged Trump on that claim a few minutes later in the press conference, and the president softened his claim, at least with regard to Obama.
"I don't know if he did. I was told that he didn't often. A lot of presidents don't. They write letters. I do a combination of both. Sometimes it's a very difficult thing to do," he said.  "President Obama I think probably did sometimes and maybe sometimes he didn't, I don't know, that's what I was told. Other presidents did not call, they're write letters, and some presidents didn't do either."
This is classic Trump rhetoric. Any time he is challenged on any action, he promptly compares his own record to past presidents. He doesn't require that the comparison be true. Having claimed that Obama didn't call families of slain soldiers, Trump promptly backed down—he didn't argue that Alexander was wrong, he just changed his claim.
There was immediate outcry, from aides to various former presidents. Ari Fleischer, press secretary to President George W. Bush, told HuffPost's Amanda Terkel that Bush wrote letters to families and often met with them in person. Alyssa Mastromonaco, a former aide to Obama, tweeted that it's "a fucking lie … to say President Obama (or past presidents) didn't call the family members of soldiers" killed in action. Tommy Vietor, a former Obama spokesman, wrote in an email that the 44th president "spent time with families of the fallen and wounded warriors throughout his presidency through letters, calls, visits to section 60 at Arlington and regular meetings with gold star families."
It's not hard to see where Trump might have gotten this idea. He has on multiple occasions repeated false information disseminated through bogus news outlets, including the claim that Obama was not born in the United States and did not have a birth certificate. In 2012, for example, the Trump-friendly blog The Gateway Pundit claimed that Obama used an autopen to sign letters to the families of slain soldiers, a claim the White House denied.
Whether Trump intended it this way or not, his strange, untrue, and apparently unpremeditated attack on past presidents was a diversion from the issue at hand: Why were the soldiers in Niger, and why hadn't he spoken about it sooner? This is a pattern with Trump, in which he manages to say something so inflammatory, or so untrue, or both, that it obscures the central question.
Trump did, in a roundabout way, acknowledge the administration's slowness to respond. When the body of the fourth slain soldier returned to Delaware's Dover Air Force Base, Trump was golfing with Senator Lindsey Graham. On October 5, Press Secretary Sarah Sanders told reporters, "As many of you are aware, U.S. forces are in the country to provide training and security assistance to the local armed forces in their efforts to counter violent extremist organizations." The following day, asked why Trump had not yet spoken, she said, "We're continuing to review and look into this."
Even as he attacked predecessors for their supposed inaction, Trump was acknowledging that nearly two weeks after the attack, he had still not contacted the families. "I actually wrote letters individually to the soldiers we're talking about and they're going to be going out today or tomorrow," he said.
The broader question, of what the soldiers who were killed were doing and what went wrong, remains unaddressed by the president, and Trump's jab at other presidents may, unfortunately, help to keep it that way. The Special Forces soldiers were deployed to Niger, as Sanders mentioned, in an advisory role. The government has been spare with details about what they were doing or why troops who were supposedly only working in an advisory and training role would have been out on a patrol where they were ambushed. CNN reported that the ambush occurred as they exited a meeting with local leaders. This is not the first time that U.S. service members have been killed in combat while supposedly not in combat roles. The Obama administration appeared to blur the lines between training and combat for such deployments, and the Niger case raises the possibility that the Trump administration is doing the same.
But U.S. Africa Command has formally said only that the four slain soldiers were working on a counter-terrorism mission, without more details. Trump, meanwhile, is happy to talk out of school about former presidents, but he remains tight-lipped about why the slain soldiers were in harm's way.