Who Will Lead the Republican Moderates?
The retirement of Pennsylvania's Charlie Dent puts his like-minded colleagues in a tough position.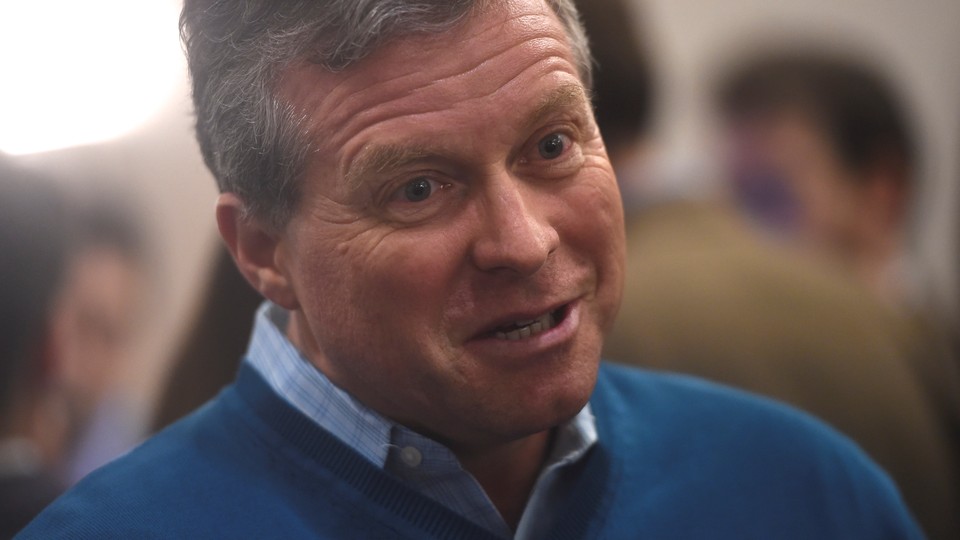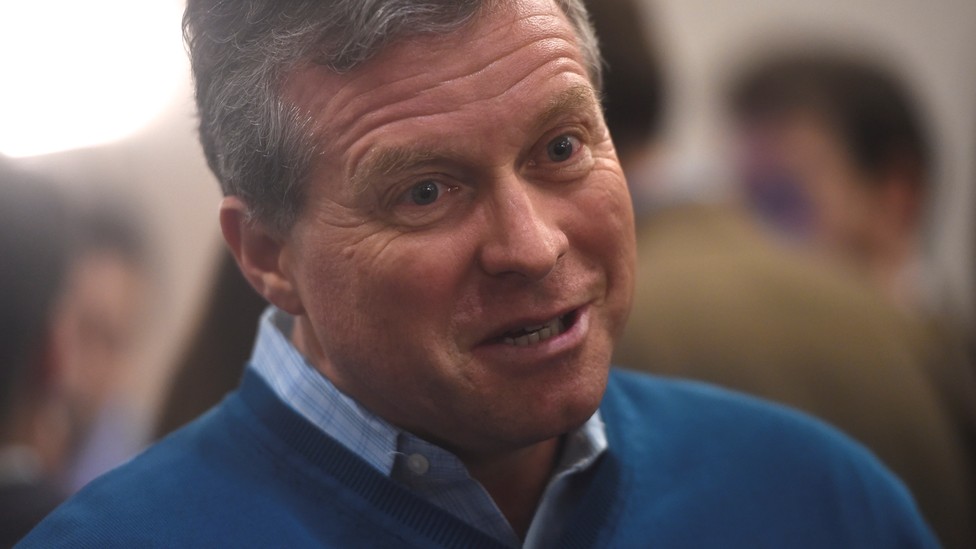 These are ulcer-inducing times for moderate Republicans in Congress. With frenzied nationalism, populism, and Trumpsanity dominating the politiscape, displaying centrist tendencies in today's GOP is like wearing a Taylor Swift T-shirt to Kim and Kanye's house for dinner: You should expect things to get nasty.
Complicating matters, any criticism of the party's president or his policies will prompt a brutal backlash from miffed Trumpkins and from the loyalty-obsessed POTUS himself. At the same time, with Trump's popularity languishing, the midterm elections promise to be particularly hairy for Republicans from purplish, swingy districts. Small wonder GOP moderates are becoming the stuff of folklore—like unicorns or leprechauns or men who look good in jorts.
Now, in the midst of all the turmoil, Representative Charlie Dent is calling it quits.
For years, Pennsylvania's Dent has served as the lonely voice of the center-right—what he calls "the governing branch" of his conference. Be it the 2013 shutdown showdown or conservatives' fragging of Speaker John Boehner or infighting over Obamacare repeal, Dent has invariably been the guy standing atop the battlements waving the flag for the politics of the possible. Often, he appeared to be the only one up there.
Not that there aren't other like-minded House Republicans. (No, really!) Dent is, in fact, co-chair of the moderate Tuesday Group, which, with 50-odd members, is comfortably larger than the ultra-conservative Freedom Caucus. But unlike Freedom Caucus rowdies, Tuesday Groupies are a low-key, low-profile bunch. (Quick! Name two members besides Dent.) Even the coalition's co-chair, Elise Stefanik, rarely ventures into the political fray.
Of late, Dent's profile has been edging ever higher as he has challenged Trump's immoderation on issues ranging from the budget to the anti-Muslim travel ban to the spiraling Russia probe. In July, Politico spotlighted the mild-mannered congressman's newly in-your-face style and suggested he was poised to increase the Tuesday Group's clout.
Then, early last month, Dent dropped the bombshell: He will not seek reelection next year. Who's to say why? Maybe he got sick of being called a traitor. Maybe he didn't have the heart—or stomach—to take on the state lawmaker who recently launched a primary challenge, slamming Dent as the party's "number-one turncoat." Maybe he's tired of being called on every single time a journalist needs a spokesman for moderate Republicanism. (A person can spend only so much time in studio green rooms without losing his soul.) Or maybe, as Dent told me, after seven terms in the House (on top of several in the state legislature) he's looking "to go out at the top of [his] game" and try something else for a while. "That doesn't mean I can't get back into it," he stressed. "I'm young enough. I'm only 57!"
Whatever his motivations or plans, Dent is out the door next year. But what of the moderate colleagues he's leaving behind? Who among the Tuesday Groupies has the nerve (and rhino's hide) required to be the new champion of this beleaguered political breed?
"I don't want to divulge too much, but we have been talking about succession plans," Dent assured me. Quick as a jackrabbit, he ticked through over a half-dozen Tuesday Groupies ready to rise to the occasion: Elise Stefanik, Ryan Costello, Leonard Lance, Carlos Curbelo, John Katko, Brian Fitzpatrick, and Patrick Meehan.
And that's just for starters.
"We have some really good people ready, willing, and able step up," said Dent. "They will take on greater roles—not necessarily as chair or co-chair—but in leadership roles providing a stronger voice for the pragmatic, governing wing of the party."
Dent expressed confidence that his colleagues will grow into their new duties. "I was co-chair with Mark Kirk before he left in 2010 for the Senate," he recalled. "Back then, people tended to talk to Mark about matters more than me. Which was fine. He was a little more senior, a little more experienced. When he left, I became the face. And when I leave, people like Elise, Carlos, Ryan, Leonard—they're more than ready to step up. They're very smart, very quick. They'll do a good job. I'm not at all concerned."
Still, Dent's colleagues say it will take serious work to fill the hole.
"Charlie was the best at this in part because of his experience on the Appropriations Committee," said Ryan Costello. "He just speaks this language. He's dealt with same type of fight in the past two, three, four sessions of Congress. That gives him some battle wounds and expertise. He can sort of go back in time to say, 'See, this what happened last time you guys tried to do that.'"
"Much more than his title, it's that he takes questions, he owns what he says, he knows what he's talking about, and he's very quotable," added Costello, noting that  there's no single "heir apparent" at the ready. "With all due respect to my colleagues, no one is going to wake up tomorrow when Charlie Dent is gone and all of the sudden they are the new, outspoken Charlie Dent."
"We rely heavily on him," agreed Leonard Lance. "We want to make sure that our voice continues to be heard."
The prevailing assumption is that, starting out, different Tuesday Groupies will pick up different pieces of the job. At this early stage, no one wants to name names, but the sorting has already begun. Caucus members note on background that Lance and John Katko are looking to join Stefanik as official co-chairs. ("I think it's premature to discuss leadership," Lance demurred, "But I will say that I intend to be heavily involved—perhaps more heavily involved than in the past.")
Multiple other Groupies, meanwhile, could take over as public faces of the coalition, working the cameras and giving good quote. (Costello and Martha McSally are considered promising possibilities.) And, of course, individual lawmakers have pet interests and areas of expertise they'll take the lead on. (Think McSally on military matters or Carlos Curbelo on immigration.)
All of this, mind you, depends on what happens in November of next year. "First things first," stressed Lance, "the election comes before any new co-chairs."
Dent acknowledged the trickiness of the midterms. "Our people tend to be from more marginal swing districts that are affected by the national political environment more than others," he noted. But they are prepared for battle, he insisted. "I do believe a large number of them will pull through."
Besides, said Dent, it's not like he's going to vanish from the game altogether. "You never really leave," he said. "I'm not going anywhere. I'm gonna be around."