How Will Democrats Respond to the Harvey Weinstein Allegations?
The film mogul has been a major donor and fundraiser for Democratic causes and candidates, including Barack Obama, Hillary Clinton, and several possible 2020 candidates.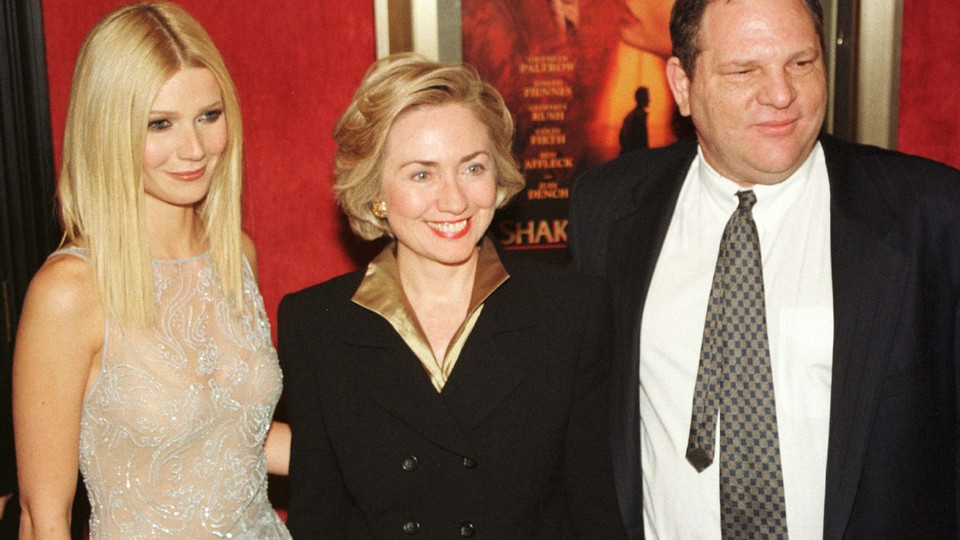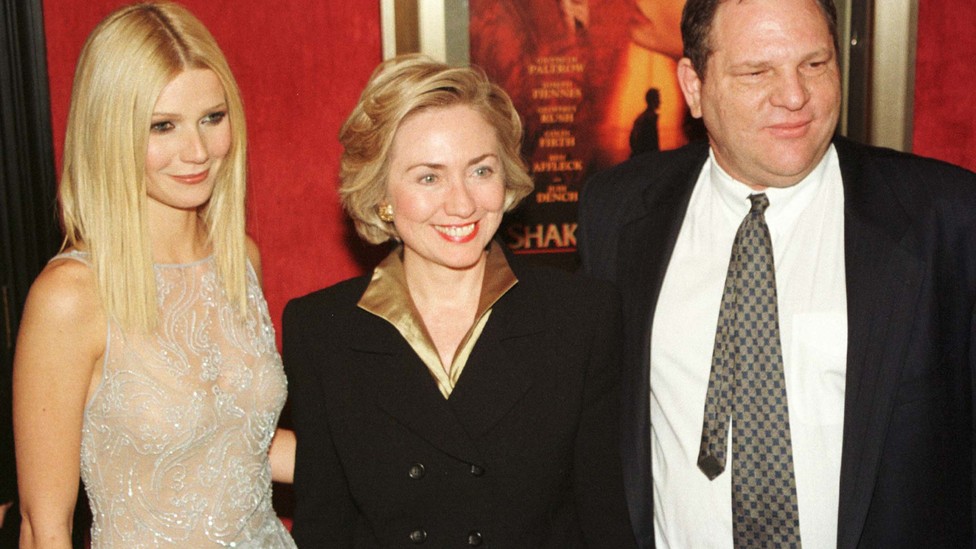 Updated on October 6 at 4:13 p.m.
A devastating New York Times story on Thursday, outlining a long history of sexual-harassment accusations about film mogul Harvey Weinstein, raises a series of difficult questions—for Weinstein; for the colleagues and employees around him; and for the film business writ large.
But it also poses awkward questions for the Democratic Party, for which Weinstein has been a prolific fundraiser and donor. Weinstein has written many checks over the years, hosted fundraisers for Hillary Clinton and Barack Obama, and rubbed elbows with leading Democrats. The accusations against him come at a time when American society is somewhat less tolerant of such behavior by powerful men, but also when the president of the United States has been recorded boasting privately about committing sexual assaults, in an incident that brought widespread Democratic condemnation.
As Sonny Bunch of the Washington Free Beacon writes, Weinstein's statement in reaction to the Times story essentially reads as a series of signals pleading with progressives to give him a pass because he's one of them: He cites Jay-Z's soul-baring 4:44, trumpets work on an anti-Trump film, and promises to take on the National Rifle Association. (Jay-Z admitted to marital infidelity, not sexual harassment.)
Weinstein's fundraising and giving on behalf of Democrats began in the early 1990s, when he gave to Senator Patrick Leahy of Vermont, former Representative Joe Kennedy, and the Democratic Congressional Campaign Committee, which supports Democrats running for the U.S. House. Since then, his list of recipients reads like a who's who of prominent Democrats: Senators Barbara Boxer, Tom Harkin, Chris Dodd, Chuck Schumer, Dick Durbin. His contributions span the party's ideological breadth, from strong progressives like Elizabeth Warren and Rosa DeLauro to centrist Democrats like Erskine Bowles and Rahm Emanuel. They include party institutions like Russ Feingold and candidates who lost their races, like insurgent 2006 Connecticut Senate hopeful Ned Lamont.
On Thursday, Leahy also became the first Democrat to return or give away a donation, saying he would give to charity $2,700 that Weinstein has donated to his reelection effort. On Friday, the Democratic National Committee called the allegations against Weinstein "deeply troubling" and said it would donate more than $30,000 in donations from the mogul to EMILY's List, Emerge America, and Higher Heights, organizations that support progressive women candidates.
All told, the website Political Moneyline, drawing from FEC records, finds more than $660,000 in donations to Democratic causes and candidates. The largest recipients of his largesse have been the Democratic National Committee and the Democratic Senatorial Campaign Committee, each of which has received more than $100,000. (Under federal law, committees can accept much greater amounts than individual candidates.) He also gave $50,000 to the liberal group MoveOn in 2004.
Over her career as a candidate for both the U.S. Senate and the presidency, Hillary Clinton received $17,400 from Weinstein. Schumer, who like Clinton hails from Weinstein's home state of New York, received $16,200. "Senator Schumer is donating all of the contributions to several charities supporting women," a spokesman said. Clinton did not immediately respond to a request for comment.
Weinstein donated $5,200 to Alison Lundergan Grimes, who was the Democratic nominee for Senate in Kentucky in 2014. One of Grimes's rivals for the nomination was Ashley Judd, the actress and Kentucky native, who is one of the women who reported on Weinstein's abuse. "Women have been talking about Harvey amongst ourselves for a long time, and it's simply beyond time to have the conversation publicly," she told the Times. (Grimes ultimately lost the general election to Mitch McConnell.)
Among possible 2020 candidates on the Democratic slate, Warren took in $5,000 from Weinstein. Senator Al Franken of Minnesota took in $10,000. Senator Cory Booker of New Jersey received $7,800. Kirsten Gillibrand, another New Yorker and a prominent advocate for stronger sexual-assault laws in the military and on campus, has received $9,800 from Weinstein.
Yet these numbers on their own do not tell the full story of Weinstein's impact on the Democratic Party. While federal laws cap individual donations, a powerful figure with a large rolodex like Weinstein's has the power to bring more money in by organizing star-studded fundraisers.
In October 2016, Weinstein co-produced a fundraiser at Broadway's St. James Theatre, emceed by Billy Crystal and streamed online. Performers included Lin-Manuel Miranda, Sarah Jessica Parker, and Lena Dunham. A Weinstein-hosted June 2016 fundraiser made headlines for the strict no-social-media rules reportedly set for performers. The cost of attendance was reportedly $33,000.
Weinstein also raised money for President Barack Obama. In August 2011, Obama spoke at a $35,800 per guest dinner at Weinstein's West Village home. In February 2012, Weinstein was one of several co-hosts for a $10,000 per plate fundraiser in New York City. Several months later, in August 2012, he hosted a $35,800 per head fundraiser at his home in Connecticut. In 2013, Obama was back at Weinstein's house for another fundraiser, during which he praised Weinstein's films. Malia Obama, Obama's eldest daughter, interned for Weinstein this year. A spokesman for Obama declined to comment on the allegations.
But Weinstein wasn't always so pro-Obama. In 2008, he was a staunch Hillary Clinton backer during the acrimonious Democratic primary. During that cycle, the Democratic National Committee docked Michigan and Florida delegates for trying to jump the queue in scheduling primaries—a move that hurt Clinton's chances against Obama. CNN reported that Weinstein threatened then-Speaker Nancy Pelosi, saying he would not give to congressional Democrats unless Pelosi backed a plan to hold revotes in those two states. Weinstein confirmed his pressure in a statement to Nikki Finke, but Pelosi did not budge and Obama won the primary. Notably, Pelosi does not appear on the list of candidates to whom Weinstein has given, though he did give to the DCCC after the clash.
In 2012, while guest-hosting Piers Morgan's CNN show, Weinstein yukked it up with former President Bill Clinton, himself the subject of sexual-harassment claims. A request for comment from Clinton was not immediately answered.
"The Democratic party condemns all forms of sexual harassment and assault," Xochitl Hinojosa, the communications director for he Democratic National Committee, said in a statement Friday. "We hope that Republicans will do the same as we mark one year since the release of a tape showing President Trump bragging about sexually assaulting women followed by more than a dozen women who came forward to detail similar experiences of assault and harassment. "
BuzzFeed reported that Anita Dunn, who served as White House communications director under Obama, and Lanny Davis, a former attorney to Bill Clinton and frequent crisis-communications consultant, were both advising Weinstein.
The litany of accusations against Weinstein laid out in Thursday's Times story is reminiscent of the similar accusations made against Donald Trump in Times stories before the election. Both stories record a catalog of behavior, similar in type, over the course of several decades, and the reports come from women who did not know each or know of each other's accusations. The Trump case showed new willingness to speak out about abuses, but his success showed that such accusations, even when multiple and even buttressed by the tape in which Trump boasted that as a famous person he could sexually assault women without consequence, could not prevent his election.
Weinstein, in his reaction to the Times story, seems to be taking a Trumpian stance of defiance. In part, Trump deflected attention by discussing Bill Clinton's own misdeeds, including his acknowledged affairs and other accusations. The Weinstein story could prove a clarifying moment about the tolerance for sexual harassment by powerful men in America, both in the Democratic Party and in American culture overall.