Why a Congressional Ban on Bump Stocks Is Unlikely
Some Republican lawmakers and the National Rifle Association are calling for more regulation of the devices used in the Las Vegas massacre. But party leaders have no plans yet to act.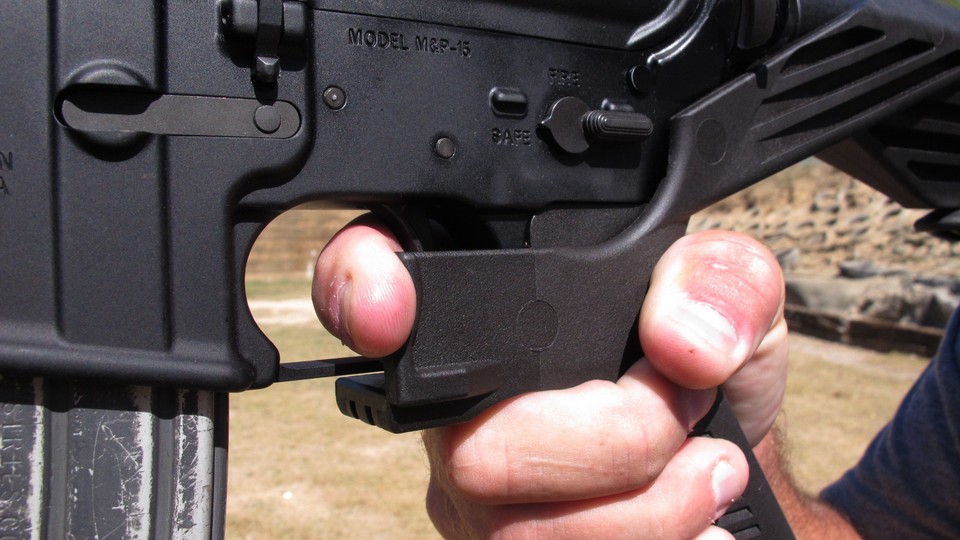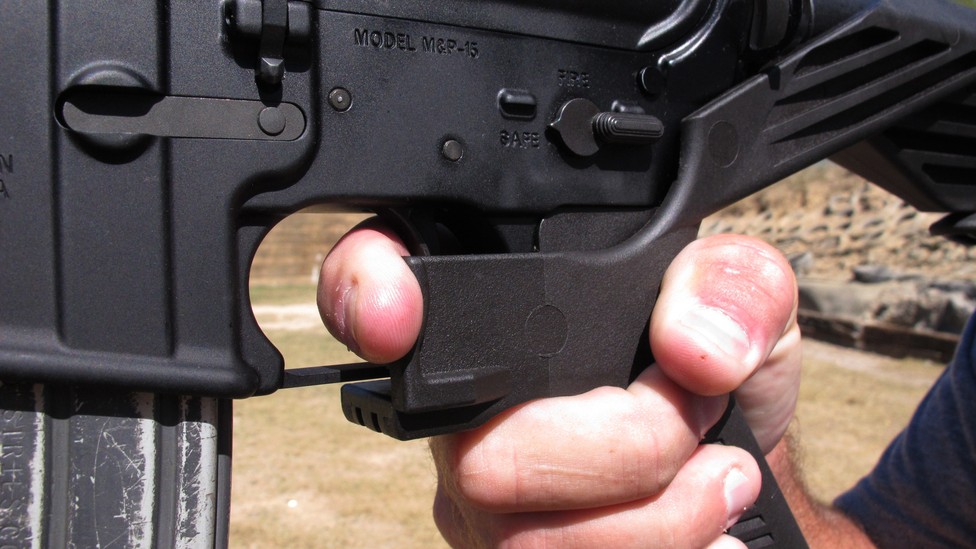 Just when it seemed that even the deadliest mass shooting in U.S. history could not shake the immovable stalemate over gun rights in Congress, a strange thing happened: Republicans started talking about tightening regulations on firearms.
In the days since a gunman identified as Stephen Paddock killed 59 people and injured hundreds more at a Las Vegas outdoor concert, a surprising number of GOP lawmakers have voiced support for taking action against the device known as a bump stock, which allowed Paddock to fire off bullets from his semiautomatic at a much faster—and therefore more lethal— clip.
Some, like Representative Carlos Curbelo of Florida, have called for legislation banning bump stocks altogether, while more senior Republicans like House Speaker Paul Ryan and Senate Majority Leader John Cornyn have said Congress should investigate their legality but proceed more cautiously. The most significant statement, however, came on Thursday afternoon from the leaders of the National Rifle Association, who said that "devices designed to allow semi-automatic rifles to function like fully automatic rifles should be subject to additional regulations."
Taken together, the flurry of interest in bump stocks has raised the possibility that the Las Vegas massacre might spur congressional action where previous atrocities of gun violence, from the 2012 killing of 27 schoolchildren at Sandy Hook Elementary School to the 2015 slaughter of nine worshippers inside a Charleston church, have not.
Should advocates of gun control be optimistic that this time might actually be different?
Not yet.
Republicans indeed expressed genuine alarm after watching videos of the shooting that showed the apparent capability of bump stocks to turn a gun that is legal in the United States—a semiautomatic rifle—into something resembling a fully automatic weapon, which is illegal. And the NRA's statement seemed to grant permission to its allies in Congress to take at least a modest step toward additional restrictions. "I think they should be banned," Representative Bill Flores of Texas, a former chairman of the conservative Republican Study Committee, told The Hill. "There's no reason for a typical gun owner to own anything that converts a semi-automatic to something that behaves like an automatic."
But there are no plans for Congress to move quickly on legislation, nor is there consensus within the GOP that the House and Senate should act at all. In part, that's because most Republicans, many of whom own guns, had no idea what bump stocks were before Sunday's shooting. "A lot of us are just coming up to speed," Ryan told reporters on Thursday. "We just need to do more research to make sure the spirit of the law is being upheld."
A spokeswoman for the speaker offered no information on what steps Republicans might take next. In the House Judiciary Committee, Chairman Bob Goodlatte of Virginia, a staunch supporter of gun rights, is "looking into the issue," a committee aide said. But he has not decided whether even to hold hearings on bump stocks. Senate Majority Leader Mitch McConnell, meanwhile, told reporters on Tuesday that it was "premature to be discussing legislative solutions" after Las Vegas and has said nothing since.
The NRA's position is also subject to misinterpretation. In its statement, the powerful gun lobby put the onus on the Department of Alcohol, Tobacco, and Firearms—not Congress—to immediately review whether bump stocks comply with federal law. And in an appearance Thursday night on Fox News, NRA President Wayne LaPierre made clear that the organization supported "additional regulation" of bump stocks, not an outright ban.
Some Republicans, including White House counselor Kellyanne Conway, have pointed to decisions made by the ATF during the Obama administration that allowed for the legal sale of bump stocks. But a bureau spokesman said in an email Friday that ATF does not approve the devices; it merely determines what classification they fall under—a firearm, a part, a silencer, and so on. The ATF in 2010 determined that bump stocks are an attachment to a gun that replaces its grip and suppresses its recoil, but doesn't on its own cause the gun to fire automatically. As such, the bureau said they were not subject to regulation under either the Gun Control Act or the National Firearms Act.
Some Republicans quickly followed the NRA's lead and suggested it was ATF's job to regulate bump stocks. They included House Majority Whip Steve Scalise, the Louisiana congressman who just returned to the Capitol after being shot on a baseball field in June. "I think they should, and they are," he told NBC News in reference to the ATF, while warning lawmakers against a "rush to judgment." On Friday, a group of nine Republican senators led by Dean Heller of Nevada wrote to ATF's acting director, Thomas Brandon, asking him to review the Obama administration's decision on bump stocks and "issue your own interpretation."
And there remain plenty in the party who don't want either the ATF or Congress to act at all on bump stocks. "Republicans in Congress asking the ATF to create more (and stricter) gun laws from existing laws is a bad idea," tweeted Representative Thomas Massie of Kentucky, who leads the Second Amendment Caucus. A ban on bump stocks, he wrote, "is a red herring that would lead to ban of other firearms and accessories."
Democrats are unsure what to make of the Republicans' willingness to consider action against bump stocks. They believe much more is needed to adequately combat gun violence and reduce the frequency of mass shootings, including universal background checks, a ban on high-capacity magazines, and the renewal of a ban on assault weapons that Congress allowed to lapse in 2004. But most would jump at the chance to enact even a modest change like prohibiting bump stocks. "I think it's too early to tell," a top Democratic congressional aide told me on Friday when I asked about the likelihood of congressional action. "On the one hand, Republicans are talking about this issue differently than they usually do in the wake of mass shootings, so maybe they are serious."
Indeed, it is certainly possible that the frightening accumulation of mass shootings over the last several years has begun to move Republicans off their ironclad opposition to increased restrictions on guns. Children murdered at a school in Connecticut. The race-fueled massacre in the sanctity of a church in South Carolina. The astonishing body count in Las Vegas. Perhaps, too, they increasingly fear for themselves after watching Scalise, one of their own, targeted in a shooting that could have been infinitely worse had the gunman been able to fire off rounds as rapidly as Paddock did on Sunday.
Still, the Democratic aide was skeptical.
"On the other hand," the aide continued in an email, "they have all the incentive in the world to appear to want to do something, because what happened in Las Vegas was so horrific. So the cynical but potentially accurate take on it is that they're saying the right things to look reasonable in the immediate aftermath, but as the headlines about the shooting begin to fade, so too will their interest in actually doing anything."
This is not the first time Republicans have cracked open the door on gun-control legislation. After the school shooting at Sandy Hook, GOP Senator Pat Toomey of Pennsylvania and Democratic Senator Joe Manchin of West Virginia proposed a compromise to expand background checks. But despite aggressive lobbying by then-President Barack Obama and polls indicating public support, the amendment could not overcome a Senate filibuster.
A ban on bump stocks would be an even more limited change to the law. But until Congress can prove otherwise, and Republicans in particular move from rhetoric to legislation, it's reasonable to expect this latest bipartisan opening to meet a similar fate.