The Problem With Electing Prosecutors
The Manhattan district attorney has come under fire for campaign donations he received—one from Harvey Weinstein's lawyer and others from a Trump family attorney.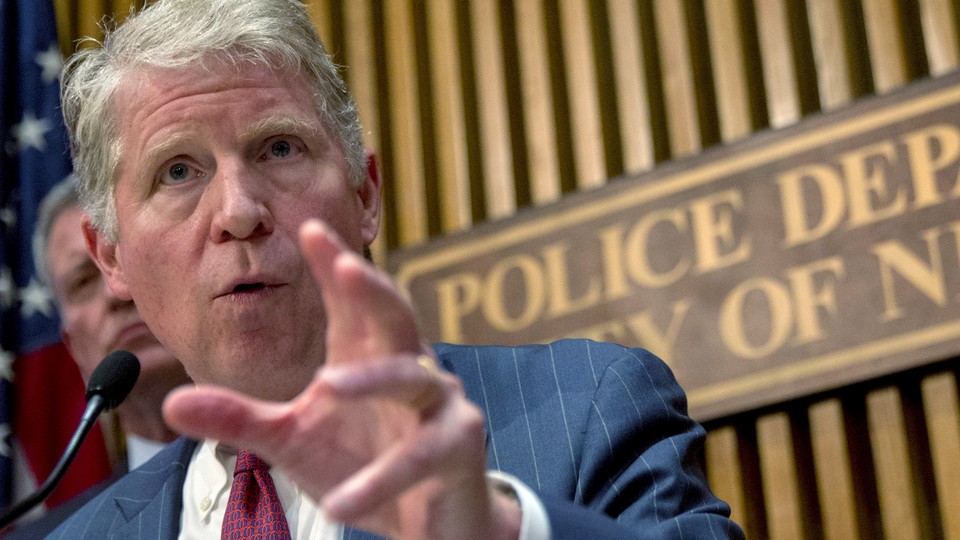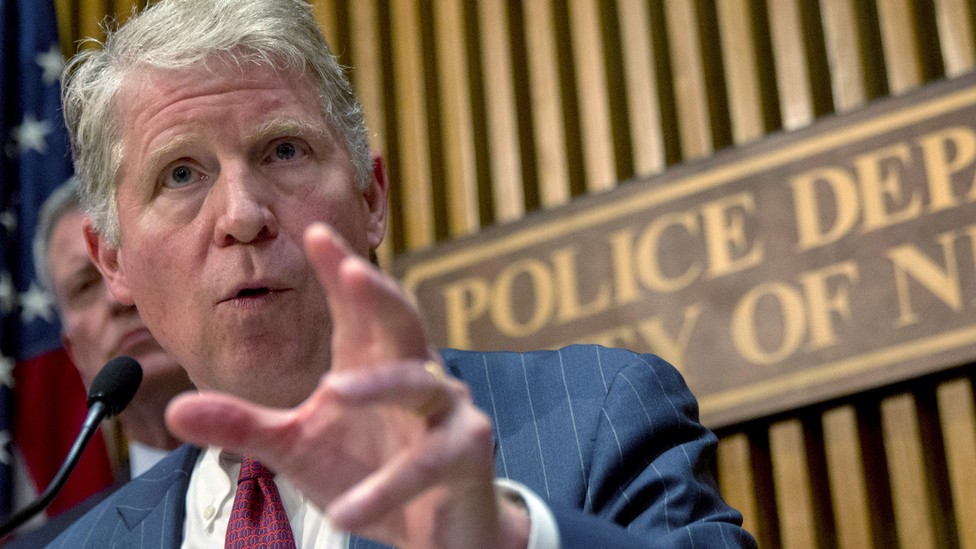 Cyrus Vance Jr., Manhattan's district attorney, is facing intense public scrutiny for a series of prosecutorial decisions in cases involving the Trump family and Hollywood producer Harvey Weinstein. Multiple stories have emerged about how lawyers connected to those figures have donated to Vance's campaigns, along with the implicit suggestion that those funds may have played a role in his deliberating.
Such is the paradox of America's unusual habit of electing its prosecutors. Proponents of the tradition defend it as a check to ensure the most powerful players in the criminal-justice system are accountable to the people they represent. But as Vance's situation underscores, forcing prosecutors to campaign for votes and glad-hand for dollars can also undermine the faith in the system that elections are meant to restore.
His situation isn't unique. The Manhattan DA's office is one of more than 2,000 prosecutor offices nationwide, according to the federal Bureau of Justice Statistics.
Voters in 45 states directly elect the top prosecutors for those offices, whether they are state's attorneys, district attorneys, or county attorneys. State attorneys general in Alaska, Delaware, and Rhode Island appoint prosecutors in their respective states. Local prosecutors in Connecticut are appointed by a commission, while New Jersey's governor appoints both the state attorney general and the county prosecutors.* Virtually no other country elects its prosecutors like the United States does.
Manhattan voters first elevated Vance in 2009. He replaced the retiring Robert Morgenthau, who had ruled the DA's office since 1975. The post is a highly visible one, thanks to the city's global reach, the high concentration of media outlets, and the presence of major financial and cultural institutions. New York's status as a Democratic stronghold also means the party's primary is often the de facto election in DA contests. (Morgenthau, for example, was a Democrat who often ran as the joint candidate for the Democratic and Republican parties.)
While Vance has occasionally drawn national attention, his profile grew significantly over the last fortnight. Recent news reports drew connections between donations made to his campaigns and two major cases he oversaw in 2012 and 2015. In both instances, he declined to bring charges.
Last week, ProPublica and The New Yorker reported that Vance's office came close to filing felony fraud charges in 2012 against Ivanka Trump and Donald Trump Jr.; afterward, their father's longtime legal fixer donated money to Vance's reelection coffers. Similarly, contributions from one of Weinstein's lawyers were scrutinized after the International Business Times reported on them this week. Weinstein, now facing allegations that he sexually harassed and assaulted more than two dozen women, was the focus of a DA investigation in 2015.
Taken together, the public implication was that Vance let both cases go because he'd been given money. He strongly denied those allegations throughout the week, saying the donations had "no impact on his thinking." He also hinted that he might change his personal policy on accepting money from attorneys he may someday battle in court. But by having to raise money in the first place, prosecutors like Vance will always be vulnerable to such suspicions, whether or not they are based in reality.
One former opponent of Vance isn't as quick to draw conclusions—in part because she, like the rest of the public, has incomplete information about each case. Leslie Crocker Snyder, a former judge who had also served in the Morgenthau-era DA's office, ran against him in 2009. "Even though Cy and I were adversaries in running for DA, I happen to have a high opinion of him," Snyder told me, calling him a "person of integrity."
When she worked as an assistant DA for Morgenthau, Snyder founded the first sex-crimes division in the United States. Although she refrained from invoking specific cases, Snyder underscored the balancing act prosecutors face when deciding whether to bring sex-crime allegations before a judge and jury.
"It's very difficult for other people to make judgments about cases involving sex crimes because you have to be in a position to know all the facts," Snyder told me. "And while I tend to generally be highly supportive of victims, I know that a lot goes into making judgments about sex-crimes cases and whether they're prosecutable." She added that she had "no opinion" about the two Vance decisions now under scrutiny because she doesn't have all the facts.
What's publicly known about those decisions comes largely from recent media reports. Last week's joint story from ProPublica and The New Yorker described how Vance's office investigated Ivanka Trump and Donald Trump Jr. for allegedly making intentionally false claims to prospective investors in Trump SoHo, one of their real-estate projects in the city. Among the evidence prosecutors had against them, according to the report, was an email chain in which Donald Jr. said nobody would find out about what they'd done because nobody would see the emails.
The chain of events from there becomes thorny. First, Marc Kasowitz, President Trump's longtime legal fixer, donated $25,000 to Vance's reelection campaign sometime in early 2012. He then met with Vance and his legal team in May 2012 to discuss the case. Three months later, Vance dropped it, and "less than six months" after that, Kasowitz donated another $50,000, the publications reported. Responding to this timeline, Vance said he returned the initial donation before meeting with Kasowitz, and said he would give back the second one. He also strongly denied that the contributions had any influence on the investigation's outcome.
On Tuesday, Vance's record resurfaced again after The New Yorker published a lengthy feature story on Weinstein detailing the assault and harassment allegations. (Through a representative, Weinstein told the magazine that he denied "any allegations of non-consensual sex" and that he thought any encounters were consensual.)
One of his accusers, Ambra Battilana Gutierrez, told the magazine she reported Weinstein to the New York City Police Department in March 2015 shortly after he groped her. When Weinstein asked to meet her the next night, investigators with the department's Special Victims Division asked Gutierrez to wear a wire to record their conversation, audio The New Yorker later obtained. On it, Weinstein can be heard unsuccessfully cajoling her into joining him in his hotel room; he also seems to confirm that he had previously groped her. NYPD officers took the recording and their investigation to Vance's office, and he declined to prosecute Weinstein two weeks later.
That decision has received negative reviews from other law-enforcement officials in the city. The magazine quoted anonymous NYPD officers who expressed their frustration with it. And Slate also interviewed two former prosecutors who said the tape was likely enough to bring charges. Vance's office, for its part, denounced Weinstein's alleged conduct and defended its actions in the two-year-old inquiry.
"If we could have prosecuted Harvey Weinstein for the conduct that occurred in 2015, we would have," Karen Friedman Agnifilo, Manhattan's chief assistant district attorney, said in a statement. She then took the rare step of explaining why the DA declined to prosecute him at the time:
After the complaint was made in 2015, the NYPD—without our knowledge or input—arranged a controlled call and meeting between the complainant and Mr. Weinstein. The seasoned prosecutors in our Sex Crimes Unit were not afforded the opportunity before the meeting to counsel investigators on what was necessary to capture in order to prove a misdemeanor sex crime. While the recording is horrifying to listen to, what emerged from the audio was insufficient to prove a crime under New York law, which requires prosecutors to establish criminal intent. Subsequent investigative steps undertaken in order to establish intent were not successful. This, coupled with other proof issues, meant that there was no choice but to conclude the investigation without criminal charges.
It's unusual for a prosecutor to discuss a case like this when no charges were filed, since doing so could risk tainting someone who could not defend themselves in court. Without more information, the public's knowledge gap can be filled by suggestions of other motivations—as in Vance's case. Soon after the Weinstein news broke, the International Business Times reported that David Boies, a high-profile Democratic litigator who once argued Bush v. Gore before the Supreme Court and occasionally represents Weinstein, donated $10,000 "in the months after" Vance chose not to file charges against the Hollywood producer.
Upon further examination, the contribution itself is hardly damning. Boies's firm said he wasn't representing Weinstein in the Gutierrez case and had never spoken to Vance before about him. He'd also previously fundraised for and donated to Vance's campaign, reducing the likelihood of a direct connection between this specific case and the check. Yet multiple news outlets still noted the contribution—laden with connotations—in subsequent coverage of the story.
Were Vance not an elected official, his decisions to not prosecute the Trump children and Weinstein would still receive public scrutiny and attention—as the justice system should, and as cases involving celebrities in particular often do. But the fact of the Vance campaign changes the nature of the scrutiny. It's inevitable that some will question prosecutors' judgment from time to time; campaign fundraising invites additional questions about their ethics. That, in turn, undermines public faith in the legal system and the rule of law.
In Citizens United v. FEC, the landmark 2010 Supreme Court case that struck down some limits on independent spending during political campaigns, Justice Anthony Kennedy downplayed fears about the role of money in political decision-making. "The appearance of influence or access, furthermore, will not cause the electorate to lose faith in our democracy," he wrote at the time. The practical realities of American politics suggest otherwise.
---
* This article originally stated that Connecticut's attorney general appoints prosecutors in that state, and that prosecutors in Rhode Island are elected. We regret the error.