Trump's Assault on Obamacare Could Revive a Deal in Congress
A pair of lawmakers are nearing a bipartisan agreement on health care, but it's not the one the president wants.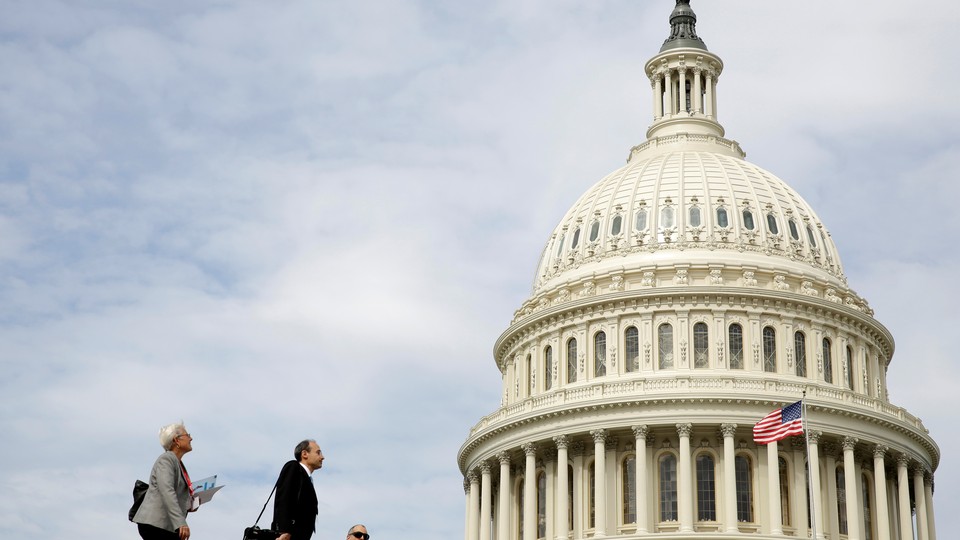 If there's a kernel of bipartisan agreement in the polarizing politics of health care, it's that President Trump's decision to withhold subsidy payments to insurance companies that cover low-income Americans under Obamacare will jeopardize affordable health coverage for millions of consumers.
What's not yet clear is how many people could be immediately affected, nor whether Congress has the willpower to step in and mitigate the damage.
"It's one of the worst things the president could do to sabotage the Affordable Care Act," declared Senate Minority Leader Charles Schumer in words that summed up the view of the entire Democratic Party. A number of Republican lawmakers were dismayed as well, both out of concern for their constituents and the fear that voters would punish them for higher prices and the chaos the move could sow in the health-insurance system. Senator Susan Collins of Maine, Governor Brian Sandoval of Nevada, and Representative Ileana Ros-Lehtinen of Florida were among the Republicans criticizing Trump on Friday.
"It's going to hurt people. It's going to hurt kids. It's going to hurt families. It's going to hurt individuals. It's going to hurt people with mental health issues. It's going to hurt veterans. It's going to hurt everybody," Sandoval told The Nevada Independent on Friday morning.
Democrats immediately put the onus on GOP leaders on Capitol Hill to allow a vote on legislation that would authorize the payments to insurance companies and end a years-long legal dispute over whether Congress appropriated the money in the first place. The Trump administration had couched its decision on a court ruling that Congress never explicitly authorized the payments, even though it had been making them for months before the president moved to cut them off Thursday night.
"Republicans in the House and Senate now own the health-care system in this country from top to bottom," Schumer told reporters, "and their destructive actions, and the actions of the president, are going to fall on their backs."
Trump's move could increase the chances of a government shutdown in December, when Democrats might demand the inclusion of insurer payments in exchange for their votes on legislation to fund federal departments and agencies through next year. And it heightens the pressure on Republican Senator Lamar Alexander of Tennessee and Democratic Senator Patty Murray of Washington State, who have spent weeks trying to negotiate a bipartisan compromise that would guarantee the insurer payments for one or two years while allowing states some flexibility to relax insurance regulations under Obamacare. The two senators, who are leaders of the Health, Education, Labor, and Pensions Committee, are "pretty close" to a deal, a senior Democratic aide told me on Friday. "We feel optimistic that we can get one," the aide said, adding that an agreement could be reached in a matter of days.
The bigger, and still unanswered, question is whether Republican leaders would endorse that kind of deal and whether Trump would sign it into law. At their heart, the Alexander-Murray talks are about propping up the Affordable Care Act, while the president's actions are aimed at unraveling the law with the hopes of bringing about its repeal.
Trump's move to terminate what are known as "cost-sharing reduction" payments comes just three weeks before the beginning of the open enrollment period for coverage on the individual insurance market. Insurers had already locked in their rates for 2018, and Trump's decision does not take away subsidies for people eligible for government assistance.
But because companies in many states were relying on those federal payments to make a profit, lawmakers in both parties on Friday voiced concerns that the president's decision would prompt a last-minute rush to the exits by insurers, which could leave people in counties across the country without options to buy insurance. That would depress enrollment in the exchanges, which would likely spur more insurers to leave next year, further reducing choices and driving prices even higher.
Trump has telegraphed his intentions repeatedly, and did so again in a tweet Friday morning. Republicans have been unable to repeal Obamacare on their own, but by tipping the law into collapse, the president wants to force Democrats to the negotiating table on a replacement measure. "Dems should call me to fix!" Trump said on Twitter.
Democrats, however, are adamantly against anything that smacks of repeal and are only willing to discuss changes that would improve the current system rather than rip it out entirely. And with Trump's approval rating low and polls showing voters will blame Republicans for the health-care mess in 2018, Democrats feel the political wind at their back. "In this, politically, he's in much worse shape than we are," Schumer said. "So I don't think he has much leverage to threaten or bully."
Many rank-and-file Republicans tend to agree with Schumer's assessment. When Trump threatened to stop payments to insurers earlier in the year, GOP lawmakers—even some that support repealing Obamacare—began calling for him to keep them going or for Congress to approve them legislatively. That continued on Friday. "We can't wait any longer. The time to act is now,"said Representatives Tom Reed, a Republican of New York, and Josh Gottheimer, a New Jersey Democrat, in a joint statement.
Those that back the cost-sharing reduction payments are up against conservatives who view them as bailout for insurers. And that view has found a sympathetic ear in Trump. "That money is going to insurance companies to lift up their stock price, and that's not what I'm about," the president told reporters outside the White House on Friday. "Take a look at who those insurance companies support, and I guarantee you one thing, it's not Donald Trump." Still, he said multiple times that he wanted to strike a deal with Democrats to deliver "great health care" for the country.
The chief obstacle is that when Trump and Democrats talk about an agreement on health care, they're still talking about two vastly different solutions to the problem, and in the eyes of Democrats and a sizable number of Republicans, the president's move against insurers on Friday made it even worse.