How the White House's Week Went Off the Rails
On Monday, Trump set out to emphasize honor and integrity—and then he made a series of unsubstantiated claims.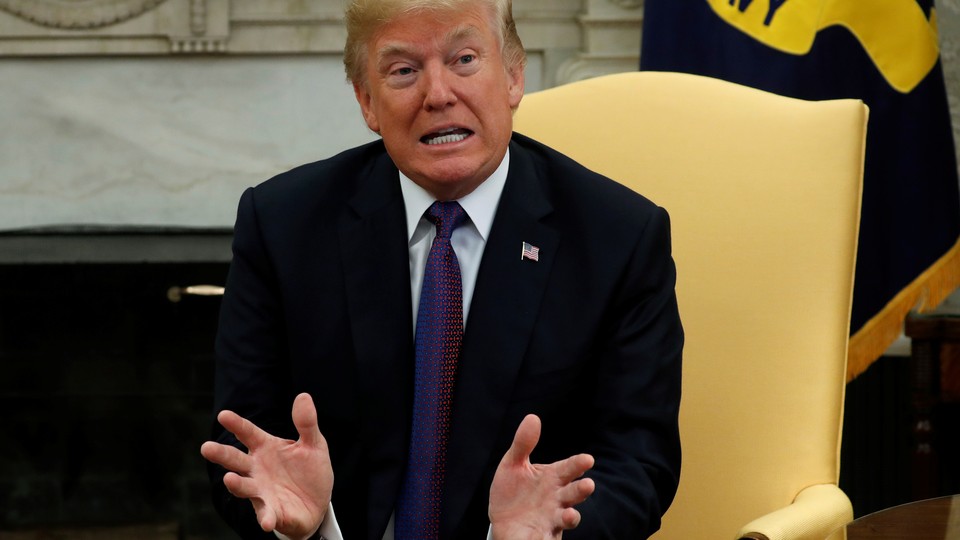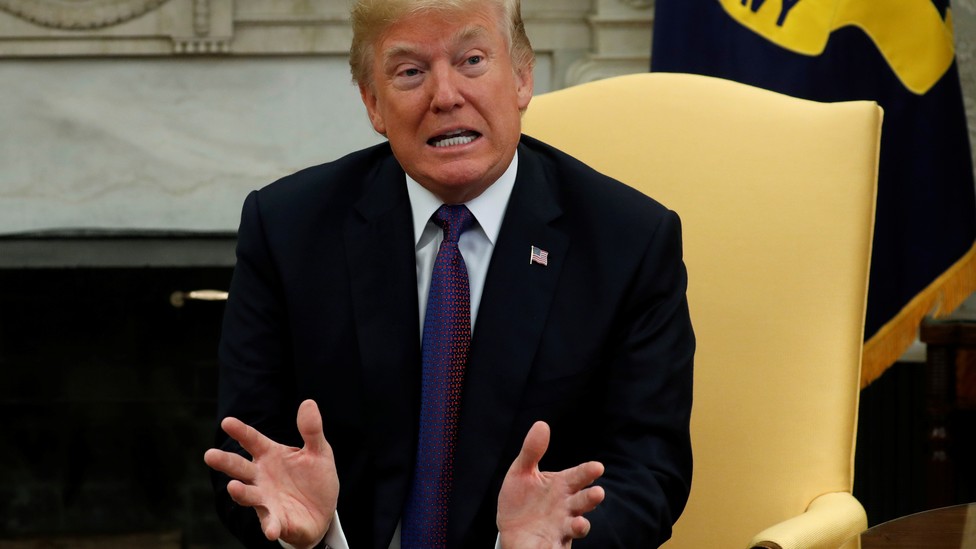 The week of October 15 was supposed to be set aside to reflect on character.
"We celebrate National Character Counts Week because few things are more important than cultivating strong character in all our citizens, especially our young people," President Trump said in declaring it. "The grit and integrity of our people, visible throughout our history, defines the soul of our Nation. This week, we reflect on the character of determination, resolve, and honor that makes us proud to be American."
There hasn't been much time to talk about character. Instead, politics this week has been dominated by a peculiar scandal, beginning with one off-base remark from the president on Monday, that has managed to somehow leave everyone it touches worse off than they were at the start of the week—including the president, his chief of staff and spokeswoman, a member of Congress, and the family of a Special Forces soldier killed in Niger earlier this month.
The mess began on Monday, when Trump hastily called a press conference at the White House. The president made several noteworthy statements, some of them deeply dubious, but the one that grabbed the most attention was his unusual response to a question about the deaths of four U.S. soldiers in Niger in early October, about which the White House had been strangely quiet. For whatever reason, Trump took that as a personal attack on how effectively he had offered condolences to the families—not an attack that anyone had made, though one about which, as the next few days would show, Trump had reason to be defensive. Trump made two statements: First, that he had tried to call the family of every servicemember killed on his watch, and second, that previous presidents had not been so generous in their consolations.
The second of those claims was immediately debunked. Even within the course of the press conference, Trump was induced to tone it down, but the following day he doubled down on the claim, demanding that reporters ask whether President Obama had called John Kelly, the White House chief of staff and a former general, after his son was killed in Afghanistan. This was a surprising step because Kelly had in the past strenuously tried to avoid discussing his son's death publicly. On the narrow question, Trump was truthful: Obama didn't call Kelly, though Kelly himself later said this was not a sign of negligent consolation. The first of Trump's claims was only a little slower to fall apart. Reporters found that Trump had not called around half of the families of fallen servicemembers; in some cases, he hadn't even written, and in one, he had offered $25,000 but never delivered.
Meanwhile, Trump, now under pressure, hastened to call the family of Sergeant La David Johnson, one of the soldiers killed in Niger. The Tuesday night call didn't go well. In an apparent attempt at honoring the call of duty soldiers feel, Trump told widow Myeshia Johnson that her husband knew what he was signing up for. His hamfisted condolence upset the family, and left them feeling "disrespected," per Johnson's mother. The contents of the call became public when Representative Frederica Wilson revealed them on TV.
That set off a new battle between Johnson and the administration. Trump called her account a "total fabrication" and said he had proof. Wilson stood by her story and told Trump to produce his proof. The White House, in a moment of either irony or disingenuousness, accused Wilson of "politicizing" an issue Trump had made a political centerpiece two days earlier.
Then on Thursday, Kelly showed up at the White House press briefing—an unusual appearance. During his time at the lectern, he defended Trump and took responsibility for his words to Myeshia Johnson—in effect acknowledging that Wilson's account was basically right. He also slammed Wilson for politicizing the matter, overlooking his own boss's central role. Finally, he delivered a broadside against Wilson, describing the dedication of an FBI building in 2015 and claiming the congresswoman—whom he called an "empty barrel"— had bragged about obtaining funding for the building from President Obama.
Wilson, known for her loud hats, is no shrinking violet, but as it turned out, Kelly's version of what happened was not any more true than the things Trump had said earlier. Florida newspapers promptly turned up video that showed Kelly was wrong, and that Wilson had said nothing about funds—though she had noted her role in getting the Miramar, Florida, building named for two slain FBI officers.
It's entirely possible that Kelly, who was clearly emotional about the question of Gold Star families, innocently misremembered what had happened in Florida. But rather than accepting that Kelly had been wrong, Press Secretary Sarah Huckabee Sanders tried to claim that he'd been right all along.
"General Kelly said he was stunned that Representative Wilson made remarks about her own action in Congress, including lobbying President Obama for funding. General Kelly said if you are making it about yourself you are an empty barrel," Sanders said. "What General Kelly referenced yesterday, exactly what he said, there was a lot of grandstanding."
Disturbingly, Sanders also suggested that it was inappropriate to even question Kelly, because of his military service. "If you want to get into debate with a four-star marine general, I think that is highly inappropriate," she said Friday. It's easy to read warnings about military coups as hysterical, but the implications of Sanders's statements are dark.
Sanders had a somewhat tone-deaf response to criticism of the president's call to the Johnson family. "If the spirit in which those comments intended were misunderstood, that is very unfortunate," she said. "But as the president has said, as General Kelly said, who has a very deep understanding of what that individual will be going through, his comments were very sympathetic, very respectful, and that was the spirit in which the president intended them. If they were taken any other way that's an unfortunate thing."
So that was Character Counts Week. First the president, and then his chief of staff, made a series of easily disprovable false claims. Trump, by needlessly calling attention to his condolences to soldiers, revealed himself to have been negligent. Meanwhile, his untruths about both calling the soldiers and, based on Kelly's account, the content of his call have managed to somehow even further degrade his honesty.
Kelly, too, has besmirched himself. Like H.R. McMaster, he entered the Trump administration enjoying nearly universal respect. As with McMaster, after his flimsy spin for Trump disclosing classified information in May, Kelly is demonstrating how quickly the job of defending Trump can destroy a carefully earned reputation. Between his own inaccurate account of the Florida event and Sanders's doubling down on his version, reporters will now know just how seriously to take Kelly when the White House next sends him out to try to clean things up.
Sanders, with her dubious defense of Trump and Kelly and her "politicization" attack has also undermined her credibility. Wilson has been dragged into a public fight with the president. And perhaps most sadly, the Johnson family—whatever Trump's intentions—has come out feeling disrespected.
"Character can be hard to define, but we see it in every day acts," Trump wrote in his declaration for the week. "It is refined by our choices, large and small, and manifested in what we do when we think no one is paying attention." In the days that followed, the nation has been treated to a display of how choices great and small, made when everyone is paying attention, can lead to fiasco.