Puerto Rico's Recovery Is More Uncertain Than Ever
As the island continues to face dire conditions, President Trump suggested Thursday he may pull back on federal aid.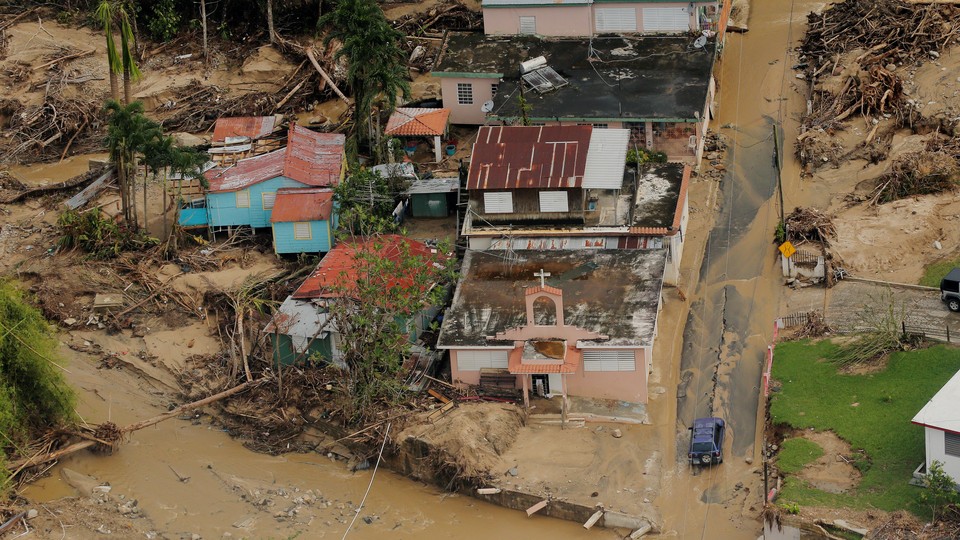 Updated at 12:20 p.m. ET
SAN JUAN, P.R.—The Luis Muñoz Marín Airport here is bustling even in the earliest hours of the morning. People wheel around elderly relatives in need of dialysis, hoping to get a spot on flights that have been overbooked, even though many airlines have resumed full menus of flights to the mainland. Several other people are visitors with no intent at all of flying out—it's just that the airport is one of the few stable sources of power and cell signal in the city, where street lights and turn signals are all completely dark through the day and night, and where hundreds of people queue in front of government buildings for a spot of WiFi or a phone charge to call relatives.
These conditions represent the best-case scenario right now on the island of Puerto Rico, which is still in need of immediate relief three weeks after the landfall of Hurricane Maria. While some of the worst-hit areas in San Juan have suffered catastrophic damage—the La Perla neighborhood where the music video for Luis Fonsi's "Despacito" was shot has been almost completely destroyed—the situation elsewhere is much more dire.
Interior towns like Utuado and Barranquitas face total isolation, landslides, and dwindling supplies. FEMA estimates that over a third of the islanders are in need of water, a fact underscored by alarming reports that some people have tried to obtain drinking water from contaminated EPA Superfund sites. In all, millions of people are struggling to find basic necessities, and the presence of federal aid has been tenuous or lacking in rural areas. People are dying, and people will likely continue to die from worsening illnesses.
It's with this slow recovery ongoing that President Trump began a series of tweets on Thursday morning that seemed to imply he might pull the plug on federal aid to Puerto Rico. "We cannot keep FEMA, the military & the first responders, who have been amazing (under the most difficult circumstances) in [Puerto Rico] forever," Trump said. He cited a financial crisis "largely of their own making," as well as the island's crumbling infrastructure before the storm—suggesting he would seek to place more of the burden of saving Puerto Rico on Puerto Ricans.
That implication is in line with previous statements Trump has made about the island's people. In tweets late last month, he attacked the mayor of San Juan, Carmen Yulín Cruz, for her "poor leadership ability"; said Puerto Ricans "are not able to get their workers to help" with the recovery effort; and alleged that "they want everything to be done for them when it should be a community effort."
His comments Thursday also come as the future of aid to the island remains uncertain. Both the local and federal governments will have to contend with Puerto Rico's crushing debt, which Trump floated canceling in a Fox News interview earlier this month. Since then, however, the administration has reversed course, promising to hold Puerto Rico to its obligations.
The exact shape of an initial relief package from Congress is as-yet unknown, but it could echo the White House's position. The Intercept has reported that early versions of the debt-relief bill would appropriate few funds directly to Puerto Rico, instead creating a general relief fund that it would share with states affected by hurricanes Harvey, Irma, and Maria. Most of the funds earmarked specifically for the territory would come in the form of a $5 billion loan, not a grant, which would only add to its staggering debt. Puerto Rico—which already turned down a similar loan principle from its bondholders—might not have room to negotiate or outright reject any deal. It's expected the territorial government will run out of money this month.
This message out of Washington amounts to a doctrine of personal responsibility and culpability applied only to Puerto Rico and its people—not the other areas of the United States affected by recent storms. The federal government appears willing to forgive some of the debt of the National Flood Insurance Program, and it has provided much more comprehensive relief support for states hit by hurricanes. That doctrine has developed as federal and charity aid has been slow or has failed to materialize in some of the most desperate places. And it flies in the face of best practices for disaster relief, practically promising a punitive end: The federal government could pull back its support while still charging interest on any loan Congress approves.
One piece of good news for people on the island is that Trump—despite his threat—isn't entirely in charge of relief. Acting Homeland Security Secretary Elaine Duke is visiting the island Thursday, and FEMA is bound by an aid request from Governor Ricardo Rosselló, as well as by disaster-assessment and -grant guidelines. And Puerto Ricans—often in the absence of help from authorities—have created their own support networks, taking in victims with destroyed houses and ferrying supplies in their own cars to communities in the interior.
But the situation will continue to be deadly for some time. Electricity, water, gas, and other basic necessities will be in short supply for months. Hospitals will struggle, trash and debris will mount, and environmental issues will continue. And Puerto Rico looks poised to contend with a White House that deprioritizes its recovery. Rosselló put it this way in a tweet Thursday morning: "The U.S. citizens in Puerto Rico are requesting the support that any of our fellow citizens would receive across our Nation."