What's Still Missing From Trump's Plan to Tackle the Opioid Crisis
The president declared a public-health emergency in an empathetic speech—but left some crucial questions unanswered.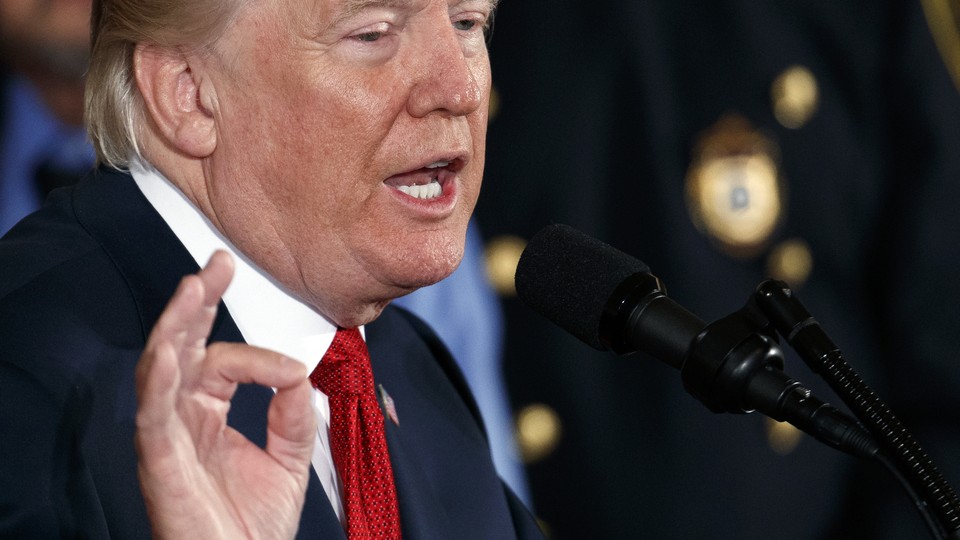 "Together, we will face this challenge as a national family."
On Thursday, President Trump gave a forceful—and at times surprising—speech outlining the White House's new response to the opioid crisis and the announcement of a national public health emergency. The speech, delivered in tandem with a speech from First Lady Melania Trump to survivors of drug abuse, at times featured uncharacteristic signaling of empathy from the president on the issue of drug use. But whether those displays of empathy and the new national public-health emergency can actually deliver on Trump's promises to beat the epidemic remain to be seen.
In the speech, the president focused heavily on recommendations handed down by his commission on opioids, which will be released in a public report next week. The commission, chaired by New Jersey Governor Chris Christie, recommended that Trump declare a national public-health emergency, an action that he outlined during the speech. Other elements of those recommendations that Trump endorsed include relaxing rules requiring in-person doctor's appointments for medication-assisted drug abuse treatment, requiring special training for prescribers, and providing substance-abuse technical assistance to states.
In addition to those proposals, Trump also outlined some initiatives already underway by the federal government. One piece of the opioid puzzle included a public-private partnership from the National Institutes of Health and pharmaceutical companies to develop safe and non-addictive alternatives to opioid medications. "I will be pushing the concept of nonaddictive painkillers very, very hard," Trump said of that effort.
The president also mentioned an $81 million initiative from the Department of Health and Human Services and the Department of Defense, announced in September, to award grants for research on pain management for service members and veterans. Additionally, Trump mentioned a separate Pain Management Best Practices Inter-Agency Task Force and the Drug Enforcement Administration's Prescription Drug Take Back Day, which is next observed on October 28.
During his enumeration of those federal anti-opioid policies, Trump employed anti-drug rhetoric that has often been missing from his usual criminalization-heavy approach, even floating some surprising policies like harm-reduction initiatives for inmates and increasing the availability of naloxone and other pharmaceuticals for medication-assisted treatment. He also used the example of his brother Fred's struggle with alcoholism, and its influence on his own teetotalism, to stress the importance of social messaging about drugs. He expressed optimism: "We can be the generation that ends the opioid epidemic, we can do it."
But Trump seemed more animated when returning to old promises about building border walls, forcing China to crack down on fentanyl smuggling, "taking the fight directly to criminals in the places that they are producing this poison," and directing the Justice Department to aggressively pursue drug dealers and gangs. He also used some of the classic language of the War on Drugs. "Illegal drug use is not a victimless crime," Trump said in the closing turn of his speech. "There is nothing admirable, positive, or socially desirable about it. There is nothing desirable about drugs. They're bad."
It's unclear where those conflicting messages leave federal drug policy—compassionate and punitive approaches are the opposing compass points of the opioid policy debate—but the main takeaway from Trump's speech may be that it seems unlikely to change very much. Many of the policies that Trump outlined in his speech are already underway, and have been for some time. For those recommendations from the opioid commission that haven't yet been implemented, there's not yet a funding mechanism. Former Rhode Island congressman Patrick Kennedy, also a member of the commission, told The Washington Post on Monday that "to implement the recommendations that we'll offer, it will require hundreds of billions of dollars." In that same interview, Kennedy expressed doubts that the recommendations would be implemented at all.
The most concrete new policy measure announced by Trump on Thursday was the declaration of a federal public-health emergency, a 90-day renewable measure that allows state and federal public-health assets more flexibility in deployment of anti-opioid resources and funds. But even that measure has been made at least partially toothless—especially when compared to the beefier national declarations of general emergencies—because of the fact that the Public Health Emergency Fund has been virtually defunded for years, even after President Obama requested its reauthorization after the Zika outbreak in 2016. That means that in the near-term, there will be few funds available for any significant changes in opioid policy at all.
In this push to prioritize the opioid epidemic and its dire public-health implications, the White House has indicated that it will press Congress to authorize more public-health funds, but like most policy measures dependent on congressional action, that may be easier said than done. Until Congress acts, ongoing opioid policy—including a newly-punitive slate of tough-on-drugs laws from the DOJ and Attorney General Jeff Sessions—will still carry the day. And that regime doesn't yet appear to be making significant progress in curtailing the epidemic.