A Remarriage of Convenience Between Donald Trump and Mitch McConnell
The president and the Senate majority leader make nice at the White House after a summer of bickering and ahead of a crucial period for the Republican agenda.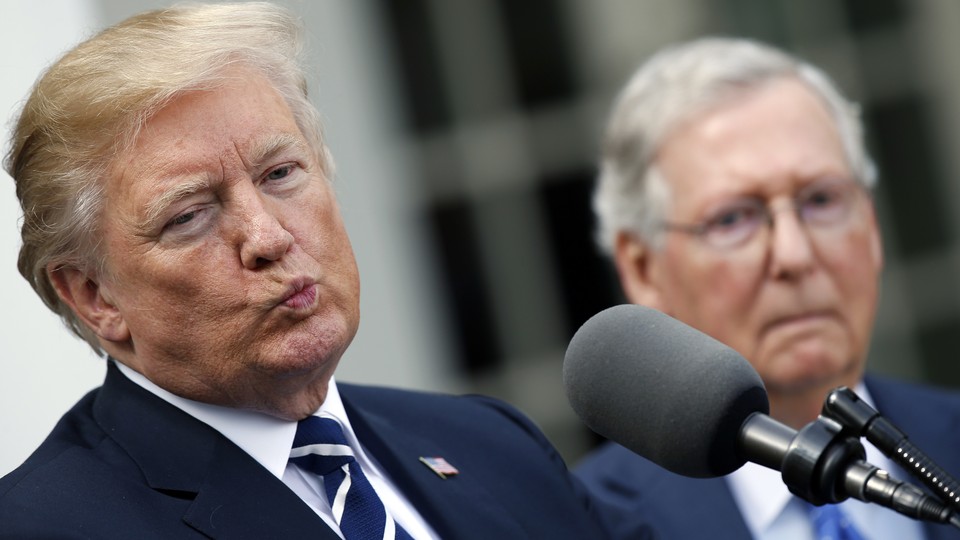 The drab White House briefing room is no place for a wedding, so on Monday afternoon, President Trump and Mitch McConnell headed to the Rose Garden to renew their vows.
"My relationship with this gentleman is outstanding, has been outstanding," the president said about the Senate majority leader whom he had spent the late summer attacking and who his former chief strategist is now trying to depose. "This man," Trump said, pointing to McConnell, "is going to get it done."
For 40 minutes, the two Republican men stood side by side outside the White House, sharing a microphone and a message—and even, once or twice, smiling at each other. Trump praised McConnell for delivering to him the unsung success of his presidency with the confirmation of a Supreme Court justice and several more young conservative jurists who likely will extend his legacy decades beyond the end of his term. McConnell returned the compliment in a way the president in particular would appreciate: by countering the rampant media reports about acrimony between them. "We've been friends and acquaintances for some time," the Kentuckian asserted. "Contrary to what some of you may have reported, we are together totally on this agenda to move America forward."
Never in modern times has a president had to so publicly make amends with a congressional leader of his own party. But then again, rarely has a president gone so far out of his way to antagonize an ally who is so crucial to his own success.
"Mitch, get back to work," Trump snapped at McConnell over Twitter in August, blaming him for the Senate's repeated failure to repeal and replace the Affordable Care Act. When a reporter asked if McConnell should be replaced as the GOP leader, the president offered far less than a fulsome endorsement and encouraged the press to ask him again in a few months. The next month, Trump abandoned McConnell and House Speaker Paul Ryan to strike a fiscal deal with Democrats.
The Trump-McConnell marriage was always one of convenience, linking the blustery and impulsive businessman with the tight-lipped D.C. insider and political tactician.  So, too, is this rapprochement.
Having failed repeatedly to keep their promise to repeal Obamacare, Republicans are launching an equally arduous effort to rewrite the tax code in which party unity will be just as critical. The first major test comes this week, when the slim Senate GOP majority will try to pass a budget setting the parameters for the tax cuts and approving the use of the reconciliation process that will allow the party to circumvent a Democratic filibuster if and when the final bill comes to the floor. The House approved its version earlier this month, and if the Senate succeeds this week, the two chambers will have to reconcile the differences in a conference committee.
As with health care, McConnell will need at least 50 out of the 52 Republicans to vote for the budget, which would allow tax cuts to increase the deficit by $1.5 trillion over a decade. But just hours before his meeting with Trump, the majority leader learned that his margin would be even slimmer due to the absence of ailing Senator Thad Cochran of Mississippi. Cochran has been homebound with what his office says are urological problems, and though he was due back in the Capitol this week, his chief of staff announced Monday morning that his absence would continue indefinitely.
With Cochran out, McConnell can afford to lose no more than one Republican on the party-line budget vote. Senator Susan Collins of Maine, a frequent defector on health care, said Sunday she was likely to support the measure. But Senator Rand Paul of Kentucky could vote no, as he did on the Senate's budget resolution in January. Trump played golf with Paul on Sunday, and afterward the Kentucky conservative had some kinder words for the tax plan he had previously criticized. "We think we're in good shape for the budget. We hope," Trump said, perhaps wishfully, as he stood next to McConnell on Monday.
Yet if the Trump-McConnell relationship is transactional, and McConnell's job is to deliver votes for the president's agenda, what does he get in return? Trump offered a possible hint in the Rose Garden, but not quite a commitment. Steve Bannon, the president's former chief strategist, has declared an open war on McConnell's leadership and on just about all of his members up for reelection next year. He's currently meeting with and backing primary challengers who will vow to oppose McConnell as leader in 2019.
"I can understand fully how Steve Bannon feels," Trump said earlier Monday before a Cabinet meeting. But after his lunch with McConnell, the president's tune changed a bit. He said most GOP senators were onboard with his agenda and he suggested he might try to persuade Bannon to stand down in some races. "Steve is doing what Steve thinks is the right thing," Trump said. "Some of the people he may be looking at, I'm going to see if I can talk him out of that." Then, in a fit of overstatement, the president added: "Just so you understand, the Republican Party is very, very unified."
Though he is a cautious public speaker, McConnell is openly disdainful of primary challenges to incumbent Republicans. Taking the microphone on Monday, he reminded reporters—and perhaps the president—that in his view, the party lost its shot at a Senate majority in 2010 and 2012 because Tea Party activists had succeeded in nominating Republicans who proved to be unelectable in November. That changed in 2014, when McConnell and the GOP establishment took a much stronger hand in contested primaries. "The goal here is to win elections in November," McConnell said. "Winners make policy, and losers go home."
If Trump disagreed with the majority leader, he kept uncharacteristically quiet. But the makings of an arrangement for this second, loveless marriage had become clear. Trump gets his tax cuts, and maybe another shot at repealing Obamacare. McConnell gets some job security—first for his campaigning incumbents next year, and then for himself.