Trump: 'An Act of Pure Evil' in Las Vegas
In somber remarks, the president drew on scripture to console the nation, steering clear of any discussion of the shooter's motives.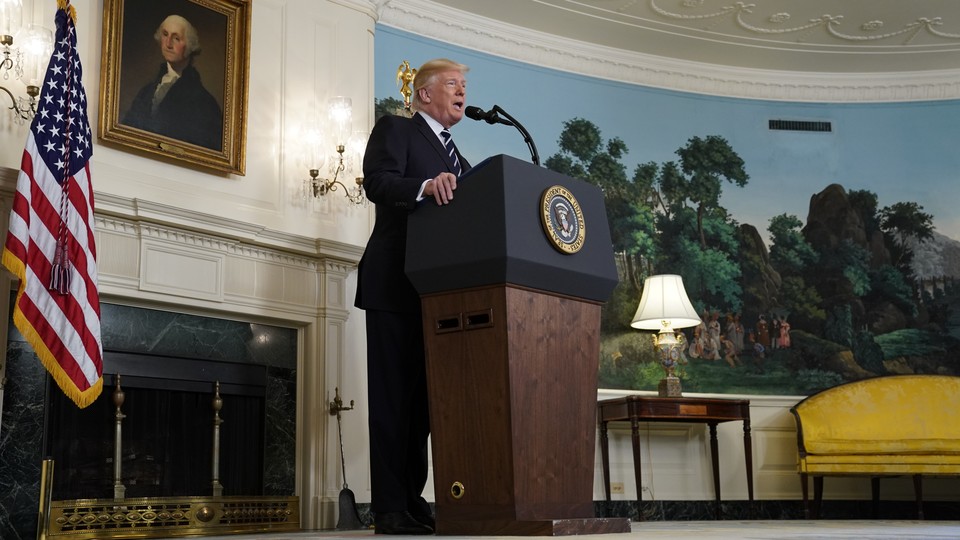 A somber President Trump mourned the victims of the Las Vegas attack and called it "an act of pure evil" during brief remarks at the White House late Monday morning.
Speaking directly from a prepared statement, the president reached for unity and struck a religious tone that is unusual for him, though more common when he reads prepared remarks. He ordered flags around the nation lowered to half-staff, and said he would travel to Las Vegas on Wednesday. Trump neither offered new information nor speculated on the motivation of the shooter, and he did not discuss the political or policy ramifications of the attack.
"Hundreds of our fellow citizens are now mourning the sudden loss of a loved one, a parent, a child, a brother, or sister," Trump said. "We cannot fathom their pain, we cannot imagine their loss. To the families of the victims, we are praying for you and we are here for you, and we ask God to help see you through this very dark period. Scripture teaches us the Lord is close to the brokenhearted and saves those who are crushed in spirit. We seek comfort in those words, for we know that God lives in the hearts of those who grieve."
While Trump, like many politicians, often offers prayers, he seldom speaks about God in such explicit terms, and even less often quotes from scripture. Though he drew votes from many evangelicals, he is one of the least religiously steeped presidents in memory.
Trump added: "In times such as these, I know we are searching for some kind of meaning in the chaos, some kind of light in the darkness. The answers do not come easy. But we can take solace knowing that even the darkest space can be brightened by a single light and even the most terrible despair can be illuminated by a single ray of hope."
The role of uniter does not come naturally to Trump. He often seems happiest when verbally jousting with rivals, even when they are the victims of a natural disaster like Hurricane Maria. After violence in Charlottesville, Trump infamously condemned violence "on all sides," before emerging to deliver a carefully scripted statement two days later proclaiming, "Racism is evil." (Within a day, he had veered back off script, endorsing a soft white supremacy.) But he has on occasion hit the note, as he seemed to do Monday.
"Our unity cannot be shattered by evil, our bonds cannot be broken by violence, and though we feel such great anger at the senseless murder of our fellow citizens, it is our love that defines us today, and always will forever," he said.
A visit to Vegas adds to a busy week for the president, who had already announced plans to visit Puerto Rico on Tuesday, welcomes the prime minister of Thailand Monday, and is pushing tax reform on Capitol Hill.
The president praised the quick actions of the Las Vegas Metropolitan Police Department and other first responders, but he did not offer any new information about the motive of the man, named by police as Stephen Craig Paddock, who killed at least 58 people and injured hundreds more when he opened fire Sunday night. On Monday, ISIS claimed responsibility for the attack, though U.S. officials initially said they did not have any evidence connecting the shooter with the group. Trump has on occasion proved extremely eager to connect violence to motive, and especially to Islamist terrorism, both as a candidate and more recently as president. His quick attribution of attacks in London to Islamist terrorism have earned him rebukes from British officials. But Trump avoided the topic on Monday.
He also did not speak about gun violence per se. There were many mass shootings during Barack Obama's presidency, and Obama, an advocate for tighter gun laws, often spoke about what he saw as the need for more regulation of guns. As I wrote in 2015, Obama's sadness—he wept during a statement after 26 children and adults were slaughtered at a Sandy Hook Elementary School in Newtown, Connecticut, in 2012—gradually became mixed with anger and despair. As the prospects for material changes to gun laws dimmed, Obama took on the role of social critic, advancing a theory of gun violence in the U.S. as a singular, unique phenomenon—the dark side of American exceptionalism. Trump, in contrast, has positioned himself as a staunch defender of gun rights. It is less obvious what policy prescription he might offer in the situation.
By the time Obama left office, he'd had so many opportunities to speak after mass shootings that he had become a de facto consoler-in-chief to the nation. That is a less natural role for Trump, who is loath to demonstrate empathy, but the president seemed to be striving for it Monday morning. He is certain to have plenty more opportunities to practice his response to shootings during his time in office.