'President Trump Did Disrespect My Son'
Despite claiming he was better at consoling the families of slain servicemembers than his predecessors, Trump offended the family of La David Johnson and skipped calls and letters to other grieving loved ones.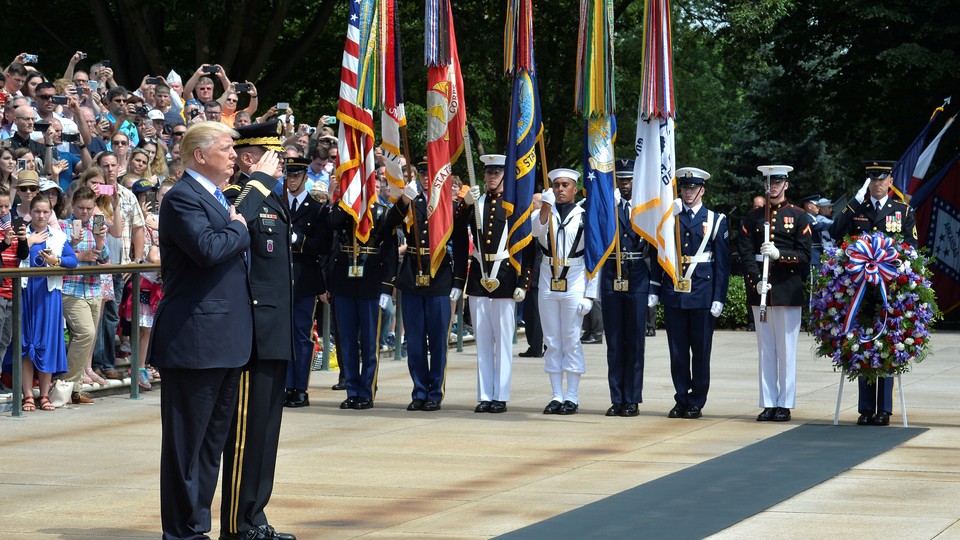 Thirteen days after Sergeant La David Johnson was killed in Niger, and a day after Donald Trump boasted about his actions to console grieving families in contrast to his predecessors, the president called Johnson's family Tuesday night.
It didn't go well.
Representative Frederica Wilson, a Florida Democrat, was with widow Myeshia Johnson when Trump called. "She was crying the whole time, and when she hung up the phone, she looked at me and said, 'He didn't even remember his name.' That's the hurting part," Wilson told MSNBC.
"He said, 'Well, I guess you knew'—something to the effect that 'he knew what he was getting into when he signed up, but I guess it hurts anyway.' You know, just matter-of-factly, that this is what happens, anyone who is signing up for military duty is signing up to die. That's the way we interpreted it. It was horrible. It was insensitive. It was absolutely crazy, unnecessary. I was livid."
Trump disputed that account in a morning tweet, claiming he had proof that Wilson was not telling the truth:
Democrat Congresswoman totally fabricated what I said to the wife of a soldier who died in action (and I have proof). Sad!

— Donald J. Trump (@realDonaldTrump) October 18, 2017
Trump did not say what his proof was; on several occasions, he has promised to produce recordings of conversations, only to fail to do so or admit he had none.
But Johnson's mother Cowanda Jones-Johnson, who was also in the car, told The Washington Post, "President Trump did disrespect my son and my daughter and also me and my husband." She declined to elaborate but told the Post that Wilson's account was accurate.
In Trump's defense, comforting people who have just lost a family member is difficult. They are, reasonably, upset and angry. (Dana Perino tells a story of George W. Bush being moved to tears by an angry mother.) Perhaps the president intended to say something about the sense of duty soldiers feel, and it was simply taken the wrong way.
But it's difficult to give Trump too much benefit of the doubt, or to take seriously the White House's statement that "the president's conversations with the families of American heroes who have made the ultimate sacrifice are private." By taking a question on Monday about his response to the Niger attacks as an invitation to brag about his outreach to military families, the president chose a fight about his methods of consolation, and chose to make it a public one.
On Monday, Trump told reporters he had written letters to the families of the four men who were killed in Niger, and that he intended to call them. He explained the delay, saying, "I'm going to be calling them. I want a little time to pass."
Trump also claimed that his predecessors hadn't done anything like that. "If you look at President Obama and other presidents, most of them didn't make calls, a lot of them didn't make calls," he said. Later in the press conference, he backed off a little. "President Obama I think probably did sometimes, and maybe sometimes he didn't. I don't know. That's what I was told. All I can do—all I can do is ask my generals. Other presidents did not call. They'd write letters. And some presidents didn't do anything," he said.
On Tuesday, Trump returned to the fight, saying Obama had not called John Kelly, then a Marine general and now White House chief of staff, after Kelly's son Robert was killed in Afghanistan. "I think I've called every family of someone who's died," Trump said.
It is not just that Trump claimed, falsely, that his predecessors had insufficiently consoled grieving families of servicemembers. He also spent most of the last month wrapping himself in the flag while waging a fight with NFL players and other athletes who have kneeled or undertaken other protests during the National Anthem. The athletes say these protests are a way of bringing attention to police violence and racism. But Trump has insisted that the kneeling "has nothing to do with race. It is about respect for our Country, Flag and National Anthem." The president has used his powerful Twitter account to pass along the idea that players who kneel are slighting the American military.
Even as he insists that NFL players are disrespecting the military, Trump did not make any public comment about the deaths in Niger until he was asked about it at a public press conference. Only after this prodding, and his bragging that he called every family he could, did Trump make a call to La David Johnson's family. And when he did, he botched the call badly enough that he left Johnson's widow in tears and his mother feeling disrespected. The president cannot be both the foremost patriot and the utmost consoler while at the same time dragging his feet on calls and angering military families.
What's more, the Associated Press reports that despite Trump's claims, he has not actually called the family of every fallen servicemember. In some cases, he has been very attentive. During a speech to a joint session of Congress in February, Trump celebrated Carryn Owens, widow of slain Navy SEAL Williams Owens, in a widely praised moment. Aldene Lee told the AP she had a touching call with Trump after her son Weston Lee was killed in Iraq.
But not everyone had that experience, the AP found:
After her Army son died in an armored vehicle rollover in Syria in May, Sheila Murphy says, she got no call or letter from President Donald Trump, even as she waited months for his condolences and wrote him that "some days I don't want to live."… The Associated Press found relatives of two soldiers who died overseas during Trump's presidency who said they never received a call or a letter from him, as well as relatives of a third who did not get a call.
In summary, Trump spent weeks portraying himself as the defender of the flag and the military, then dragged his feet on responding to the deaths of soldiers, then lied about how he handles deaths, and then offended the family of a slain soldier. Meanwhile, intentionally or not, Trump has entirely derailed any conversation about the mission the soldiers were conducting in Niger.
Having decided to push his line on Tuesday and then attacked Wilson on Wednesday, the president now has a choice on whether to escalate or to try to calm matters. Trump has picked a fight with Gold Star families before, after Khizr Khan's dramatic speech at the Democratic National Convention. (Notably, one common thread between the Khan and Johnson cases is that both cases involve families of color.) At the time, that seemed like political suicide, and Trump was the target of widespread bipartisan condemnation. Yet a few months later, he was elected president. And now, serving as commander in chief, the AP revelations and the Johnson family's anger suggest he may soon again be feuding with the families of servicemembers killed in action.