Trump Returns to the Script in Las Vegas
The chief executive was unusually solemn and empathetic after meeting with first responders and victims of Sunday's mass shooting.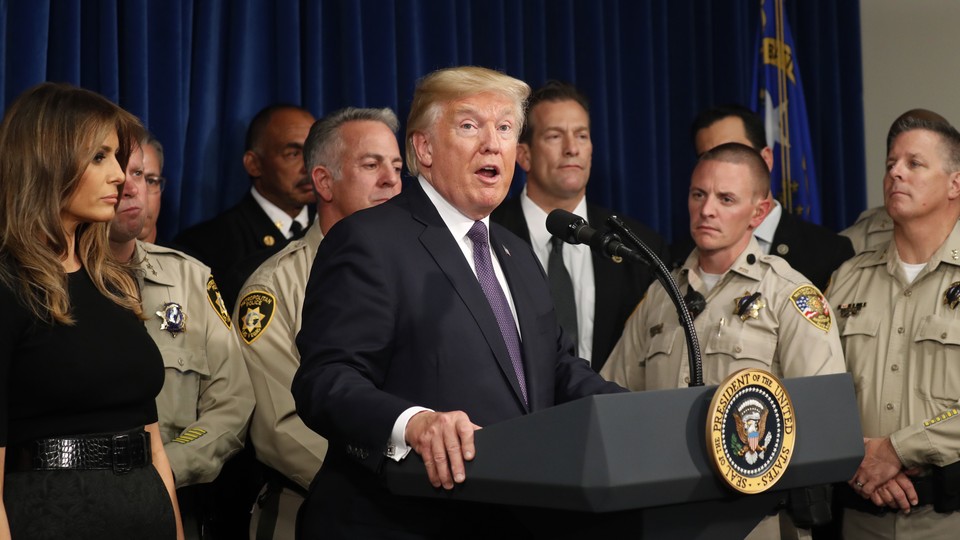 President Trump, visiting Las Vegas on Wednesday, struck a solemn tone, consoling victims and celebrating the first responders in Sunday night's massacre at a country music festival.
"Many families tonight will go to bed in a world that is suddenly empty," Trump said. "The people they so dearly love were torn away from them forever. Our souls are stricken with grief for every American who lost a husband or a wife, a mother or a father, a son or a daughter. We know that your sorrow feels endless. we stand together to help you carry your pain. You are not alone. We will never leave your side."
The president read carefully, and occasionally ploddingly, from prepared remarks, likely written by aides. As in his first comments on the massacre Monday morning, he used far more religious language than he has typically employed in public remarks.
"The mass murder that took place on Sunday night fills America's heart with grief,"
he said. "I visited the hospital earlier today where many victims are still recovering from their wounds. And we ask God to ease their suffering and to speed their healing."
Trump spoke at length about the bravery of police officers who worked to stop alleged shooter Stephen Paddock and to save others at the concert.
"The example of those whose final act was to sacrifice themselves for those they loved should inspire all of us to show more love every day for the people who grace our lives," he said.
He did not share any new information about the shooter, nor did he open up the messy question of what policy choices should emerge from the massacre.
Though Trump remains stiff in this mode, and appears to prefer speaking off-the-cuff, these were among his best moments of speaking as president. It is true that he has lowered the bar with frequent, cringeworthy comments, but his speech at Vegas stuck narrowly to unifying themes and a goal of consoling the nation. Communicating this kind of empathy is a task that has often eluded Trump, whether after violence in Charlottesville or in the wake of natural disasters.
This was particularly apparent in Trump's disastrous appearance in Puerto Rico on Tuesday, where he appeared more interested in celebrating himself, downplayed the scope of Hurricane Maria, underestimated the death toll, and delivered a boastful digression about the F-35. Later, he was photographed tossing paper towels into a crowd at an aid-distribution center.
The idea that Trump can "become presidential" has become a deservedly mocked cliché of presidential punditry. But as in other situations, there is and will be no Trump pivot. He is not obviously growing into the role of president, as many Republicans and pundits optimistically hoped he would. Trump is Trump. The difference is simply whether he sticks to prepared remarks or prospects into murkier territory. The key Wednesday was that for Trump, what happened in Vegas stayed on script. When Trump stays on script, his remarks tend to go smoothly, even if he does not reach for the soaring oratory of a Reagan, Clinton, or Obama. When he goes off script or works without a script, it can get turbulent. (Earlier in the day, he said at the Las Vegas police department, "It could have been a whole lot worse," which is both true and a little tone-deaf, given the scale of death.)
Perhaps it should not come as a surprise that Trump's smooth and poised reaction in Vegas came the day after the mess in Puerto Rico. The president has established a loose pattern, on display after Charlottesville in particular, in which his more disciplined appearances are followed by improvised, sometimes sloppy ones, and vice versa.
"We struggle for the words to explain to our children how such evil can exist, how there can be such cruelty and such suffering," Trump said Wednesday. "But we cannot be defined by the evil that threatens us or the violence that incites such terror. We are defined by our love, our caring, and courage." Trump himself often struggles for the right words, but in Las Vegas, he found them by emphasizing love and caring.