Arpaio Tells Bannon He Wants to Head the Marshal's Service
The former Maricopa County Sheriff—convicted of criminal contempt, and then pardoned by the president—is still seeking the limelight.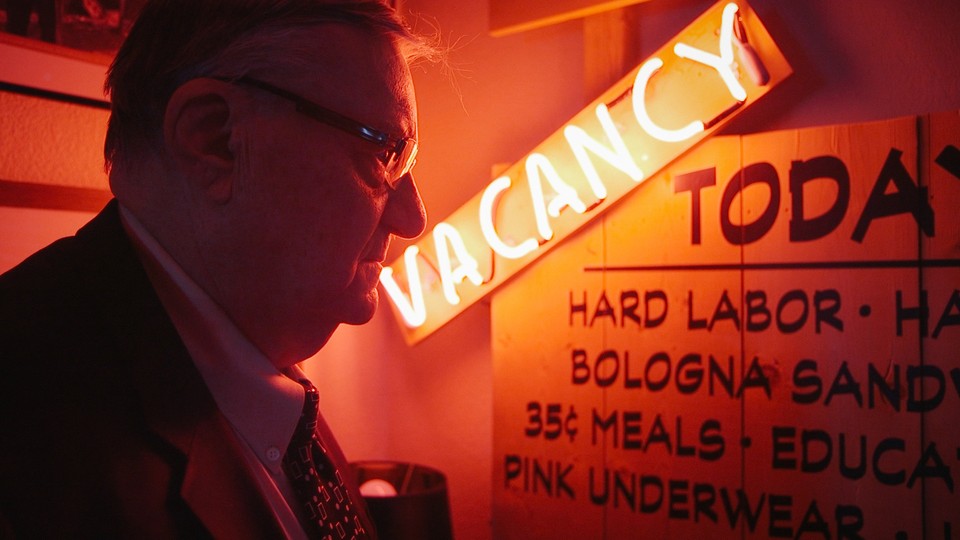 FOUNTAIN HILLS, Ariz.—Almost as soon as Senator Jeff Flake announced that he would not seek reelection, reporters began calling Joe Arpaio. As Flake took a stand against Trumpism, Frank Sinatra's "My Way" blared from the former Maricopa County Sheriff's flip phone, the song Trump danced to at his Inauguration. All day, reporters called to ask if he could win Flake's seat. "Of course," said Arpaio.
A few weeks before, he'd taken a phone call from Steve Bannon, and asked him to put in a word for him as a prospective head of the U.S. Marshal's Service. "Can you imagine me being Marshal," he asked Bannon, "and your main job is to lock up fugitives, including illegals?"
"Think of that," he went on. "I would have a gun and badge" in case "the president wanted to put me on a special assignment."
After more than a decade as sheriff, Arpaio lost his bid for reelection last year, and with it his spacious office overlooking the Phoenix skyline. But he's not ready to cede the spotlight. At his new place, in a modest suburban strip mall, framed news stories about his exploits line the walls. Versions of the headline "America's Meanest Sheriff" appear above three articles. He no longer has a press office, but the calls keep coming, and he seems to relish the attention. He keeps two thick stacks of reporters' business cards held together with rubber bands in his desk drawer—one for national news outlets, and the other for international. He keeps track of his media appearances on a ledger he updates with a Smith Corona typewriter.
Why consider a run for senate at 85? "You think I have an ego, that I'd do it for media?" he asked. "Come on, I don't need that to get media."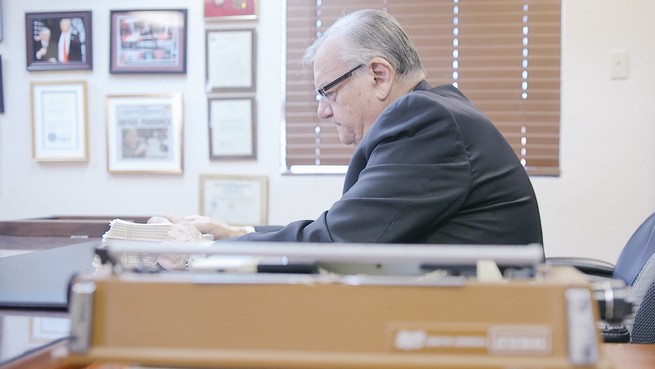 Indeed, Arpaio had made fresh headlines just days earlier when a federal judge refused to vacate his contempt-of-court conviction, despite the fact that Arpaio had been formally pardoned by President Trump. Arpaio dismissed the conviction as a mere "misdemeanor" blemish, "same as a barking-dog conviction," though it stems from another judge's ruling that as sheriff he refused to stop racially profiling Latinos.
Arpaio is no stranger to floating trial balloons for runs at higher office. He's suggested he'll run for Arizona governor at least four times. His pattern is to "float it on his own as an idea he isn't saying no to … then do a series of television interviews and appearances building speculation as he watches dollars flow into his reelection campaign account," Politico wrote back in 2010 as Arpaio hinted at a presidential run. "This round appears no different."
On September 29, Arpaio thrilled Republicans in Fresno County, California, where he was the keynote speaker for a fundraiser. The local GOP served enchiladas and piped in mariachi music. Arpaio took questions after his speech. A woman sporting a white pixie cut asked, "Was Barack Obama born in a hut in Kenya like his grandmother said he was?"
"I don't know," said Arpaio, the last of the birthers, who spent years trying to prove Obama's birth certificate was fake. "All I care about is his fake government document," he added, emphasizing, "Nobody wants to touch this—nobody!" There were a couple of uneasy glances, but mostly the crowd applauded.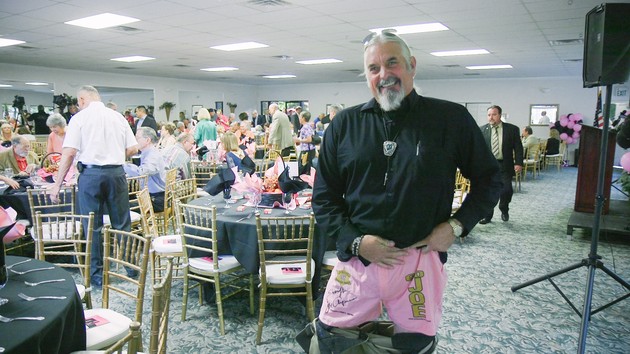 If the Senate election doesn't work out, Arpaio has privately floated his name for prominent posts in the Trump administration. It was before the Fresno fundraiser that Bannon called Arpaio. "Listen," Arpaio said, "I really don't want to go to Washington, but for the president I'll go to the moon." The Drug Enforcement Administration had "finally fired the shit-head in charge," said Arpaio. (Chuck Rosenberg stepped down as head of the DEA earlier this month after criticizing Trump for encouraging law-enforcement officers to not be "too nice" to suspects.) "He bad-mouthed the president," Arpaio said to Bannon.
But Arpaio seemed to dream of a more classic job in law enforcement. Maybe it's no surprise that a guy who appreciates vintage typewriters, yellowed news clippings, and old-west style jails would want to lead the oldest federal law-enforcement agency of them all: the United States Marshals Service. He urged Bannon to "keep it in mind" before hanging up. "I love you, and I love the president," Arpaio said.
But would his criminal conviction hurt his chances of being confirmed by the Senate? "They're going to have a pretty big problem saying no when they look at my background," Arpaio said at his office in Fountain Hills, a couple weeks after the fundraiser. But he insisted that only the desire to serve Trump, his "hero," could convince him to leave Arizona for Washington.