The Rules of the Gun Debate
The rules for discussing firearms in the United States obscure the obvious solutions.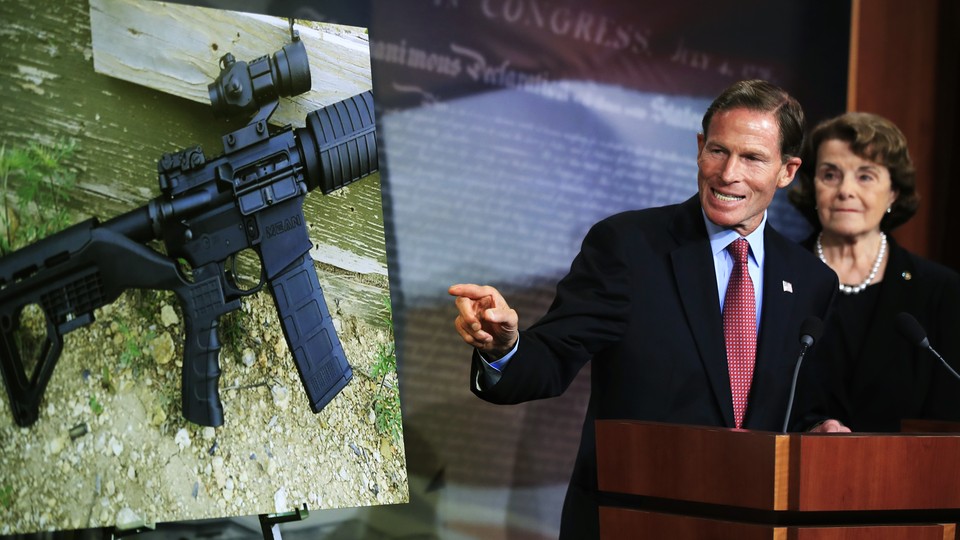 A parable:
A village has been built in the deepest gully of a floodplain.
At regular intervals, flash floods wipe away houses, killing all inside. Less dramatic—but more lethal—is the steady toll as individual villagers slip and drown in the marshes around them.
After especially deadly events, the villagers solemnly discuss what they might do to protect themselves. Perhaps they might raise their homes on stilts? But a powerful faction among the villagers is always at hand to explain why these ideas won't work. "No law can keep our village safe! The answer is that our people must learn to be better swimmers - and oh by the way, you said 'stilts' when the proper term is 'piles,' so why should anybody listen to you?"
So the argument rages, without result, year after year, decade after decade, fatalities mounting all the while. Nearby villages, built in the hills, marvel that the gully-dwellers persist in their seemingly reckless way of life. But the gully-dwellers counter that they are following the wishes of their Founders, whose decisions two centuries ago must always be upheld by their descendants.
The deadliest mass shooting in American history has restarted the long debate whether something can be done to impede these recurring slaughters. That debate is conducted pursuant to rigid rules.
Rule 1. The measures to be debated must bear some relationship to the massacre that triggered the debate. If the killer acquired his weapons illegally, it's out of bounds to point out how lethally easy it is to buy weapons legally. If the killer lacked a criminal record, it's out of bounds to talk about the inadequacy of federal background checks. The topic for debate is not, "Why do so many Americans die from gunfire?" but "What one legal change would have prevented this most recent atrocity?"
Rule 2. The debate must focus on unusual weapons and accessories: bump stocks, for example, the villain of the moment. Even the NRA has proclaimed itself open to some regulation of these devices. After the 2012 mass shooting in an Aurora, Colorado, movie theater, attention turned to large capacity magazines. What is out of bounds is discussion of weapons as in themselves a danger to human life and public safety.
Rule 3. The debate must always honor the "responsible gun owners" who buy weapons for reasonable self-defense. Under Rule 1, these responsible persons are presumed to constitute the great majority of gun owners. It's out of bounds to ask for some proof of this claimed responsibility, some form of training for example. It's far out of bounds to propose measures that might impinge on owners: the alcohol or drug tests for example that are so often recommended for food stamp recipients or teen drivers.
Rule 4. Gun ownership is always to be discussed as a rational choice motivated by reasonable concerns for personal safety. No matter how blatantly gun advocates appeal to fears and fantasies—Sean Hannity musing aloud on national TV about how he with a gun in his hands could have saved the day in Las Vegas if only he had been there—nobody other than a lefty blogger may notice that this debate is about race and sex, not personal security. It's out of bounds to observe that "Chicago" is shorthand for "we only have gun crime because of black people" or how often "I want to protect my family" is code for "I need to prove to my girlfriend who's really boss."
These rules are powerful, and I myself have sometimes played the game according to them. I suggested here in The Atlantic back in 2015:
A requirement that gun owners carry insurance would not only protect potential accident victims—including gun owners, since many gun accidents are self-inflicted—against economic loss. An insurance requirement would create incentives for more responsible gun behavior. Just as insurance companies offer better rates to those who install burglar alarms, so they might offer better rates to those who install secure gun safes. Just as a prior accident raises the future cost of car insurance, so careless gun owners will be encouraged to exercise better care in the future.
I still think this is a good idea. But I've come around more and more to the gun advocate point of view that there is something artificial and even dishonest about the technocratic approach to gun control. There's nothing wrong with, say, Nick Kristof's list of ideas in an October 2 New York Times column of proposals such as
Limit gun purchases by any one person to no more than, say, two a month, and tighten rules on straw purchasers who buy for criminals. Make serial numbers harder to remove.
But once you have accepted that it's reasonable for citizens to accumulate firearms at the rate of 24 a year, it's hard to imagine that there is really anything else you can do that will prevent a lot of gun deaths. Americans die from gunfire in proportions unparalleled in the civilized world because Americans own guns in proportions unparalleled in the civilized world. More guns mean more lethal accidents, more suicides, more everyday arguments escalated into murderous fusillades.
It's of course imaginable that by undertaking a vast network of ultra-intrusive interventions into family and personal life, a society could reduce those negative outcomes even without reducing its arsenals of firearms.
Leah Libresco, in a much praised article in the October 3 Washington Post offered just such an alternative.
Instead, I found the most hope in more narrowly tailored interventions. Potential suicide victims, women menaced by their abusive partners and kids swept up in street vendettas are all in danger from guns, but they each require different protections.

…

Older men, who make up the largest share of gun suicides, need better access to people who could care for them and get them help. Women endangered by specific men need to be prioritized by police, who can enforce restraining orders prohibiting these men from buying and owning guns. Younger men at risk of violence need to be identified before they take a life or lose theirs and to be connected to mentors who can help them de-escalate conflicts.
There are many ways to describe such a project, but "narrowly tailored" is not it. There are some 23 million American men over age 65. Identifying which of them are depressed—and then providing access to mental health for that subgroup—would be a social intervention of a very large scale. Even more impressive though is the project to identify young men at risk of violence and then to dissuade them from it. Since one of the most powerful indicator of that risk is race, undertaking such a project while also complying with civil rights laws will be more daunting yet. It is as if we decided that rather than crudely require airline passengers to wear seatbelts during turbulence, we instead would take the "narrowly tailored" approach of mapping all the air pressure variations throughout the planet's atmosphere in order to pilot around them.
There are subtle, sophisticated, and nuanced approaches to the gun problem that balance the rights of gun owners against the imperatives of gun safety. They may well even make some difference at the margin. But they are unlikely to make any significant difference. Americans debate these approaches not because they are likely to be effective, but because the methods that will work—that have worked in every other advanced society—are here politically taboo.
Was there one legal change that could have thwarted Stephen Paddock? Probably not. But the reason crimes like his are so common here, and so rare in western Europe, is not that we are afflicted with more Stephen Paddocks than they, but because their Stephen Paddocks find it so much more difficult to obtain guns, and especially large quantities of guns. It is not impossible there either of course. The jihadist terrorists who killed 130 people in November 2015 carried rifles, as did the Charlie Hebdo killers.
But a society is in a much better position to stop shooting deaths when it can tightly regulate the buying and carrying of weapons long before they are ever used to murder anybody. In all but a half dozen American states, it would be perfectly legal for people like the Charlie Hebdo killers to walk to the very front door of their targets with their rifles slung over their shoulders, lawful responsible gun owners to the very second before they opened fire on massed innocents.
Like the villagers in the flood plain in my parable, Americans are unlikely to see much benefit from their ingenious technical solutions to gun violence so long as guns are easily available to just about everyone who wants them.
So in a limited sense, the gun advocates are right. The promise of "common sense gun safety" is a hoax, i.e. Americans probably will not be able to save the tens of thousands of lives lost every year to gun violence—and the many more thousands maimed and traumatized—while millions of Americans carry guns in their purses and glove compartments, store guns in their night tables and dressers. Until Americans change their minds about guns, Americans will die by guns in numbers resembling the casualty figures in Somalia and Honduras more than Britain or Germany.
It's truly hard to imagine that this change will be led by law. Guns are inscribed into the Constitution of the United States and the individual states. On the other hand, it's also in most states legal for a parent to strap her child into a car seat, roll the windows up tight, and smoke a pack of cigarettes in the vehicle.  Parents almost universally refrain, not because they are compelled, but because they love their children and will not willingly expose them to acknowledged dangers.
Maybe the most decisive first step toward a safer society is to think less, for now, about (comparatively rare) mass shootings—and think more instead about (horrifyingly commonplace) everyday tragedies like this one in Tampa, Florida, on September 21: "A 4-year-old Florida girl has died after accidentally pulling the trigger of a gun when she reached into her grandmother's purse for candy."
Or this one, September 29, in Dearborn, Michigan: "Two three-year-old children have been shot by another toddler at a home daycare facility in the US state of Michigan." Or this, from Kentucky on August 1: "Police said a 2-year-old died Monday after being shot in the head in his Louisville home. … [T]he boy and his 3-year-old brother found the gun in the top of a closet."
The adults who exposed those children to death and injury surely thought they were doing the right thing by having guns in their home. But they were wrong, dead wrong. As Melinda Wenner Moyer writes in the current issue of Scientific American: "The research on guns is not uniform, and we could certainly use more of it. But when all but a few studies point in the same direction, we can feel confident that the arrow is aiming at the truth—which is, in this case, that guns do not inhibit crime and violence but instead make it worse."
And the surest sign that gun advocates know how lethal the science is for their cause is their determination to suppress it: since the mid-1990s, Republicans in Congress have successfully cut off federal funding for non-industry gun-safety research.  That's not what you do when the facts are on your side.
Gun safety begins, then, not with technical fixes, but with spreading the truthful information: people who bring guns into their homes are endangering themselves and their loved ones.
Such a change would not in itself prevent massacres like that in Las Vegas, any more than relocating the village in my parable would stop all drownings. Creeks course down hillsides as well as through valleys. But in an America where guns were viewed as they are in Australia or Canada, the project of moving two dozen of them into a hotel suite would likely be detected somewhere along the way. The person moving those guns would find himself in trouble—not for murder—but for some petty gun infraction. His weapons might be confiscated, or he himself sent to prison for some months. His plan would be interrupted very likely without anyone ever imagining what had been contemplated. Mass shootings so seldom happen in other countries not because they have developed carefully crafted policies against shootings, but because they have instituted broad policies to restrict guns.
Those countries do not restrict gun ownership to zero. According to the Swiss-based Small Arms Survey, rates of gun ownership in Switzerland and Finland are more than half the US rate; in Canada, France, Norway, and Sweden more than one-third the US rate.
But those countries do tightly regulate the movement of guns from place to place. Because they regard gun ownership as a privilege rather than a right, they screen much more carefully not only for criminal records, but for histories of addiction, mental health treatment, and domestic violence. They test whether applicants for gun licenses can in fact, and not just in self-assessment, handle their weapons responsibly. They protect against major gun crime with the same "broken windows" policing philosophy that Americans used to secure their cities in the 1990s: lawbreakers typically commit a lot of petty infractions on their way to bigger crimes, and enforcing against the former can head off many of the latter.
Even more basically: because there are fewer guns and gun owners to track, those who are dangerous stand out more conspicuously, before it is too late. By living above the floodplain, those countries better manage the flood. Americans insist instead on seeking the one technical fix that would save lives without reducing guns. It's an illusion for which Americans annually pay a higher price in blood than they shed in most of the nation's wars.