The Political World Reacts to the Las Vegas Massacre
Thoughts and prayers, but few calls for action, poured in from President Trump and members of Congress after a gunman opened fire on a country-music concert in the worst mass shooting in U.S. history.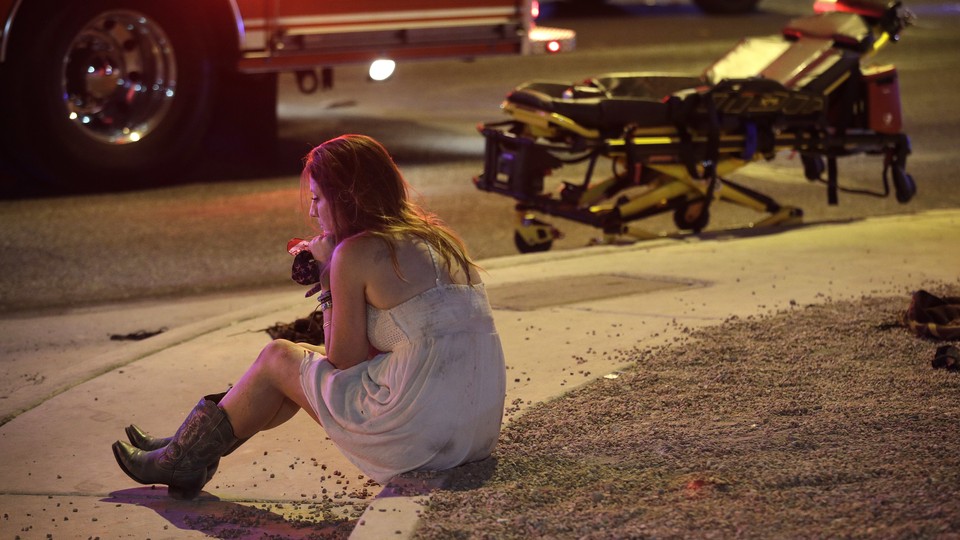 Updated on October 2 at 11:00 a.m. ET
Statements of shock and grief poured in from the White House and Capitol Hill Monday morning in the first hours after a gunman in Las Vegas killed at least 50 people and injured more than 200 others in the deadliest mass shooting in U.S. history.
"My fellow Americans, we are joined together today in sadness, shock, and grief," President Trump said from the White House in televised remarks shortly before 11 a.m. "It was an act of pure evil." The president said he planned to visit Las Vegas on Wednesday, a day after he is scheduled to be in Puerto Rico to assess the government's response to the devastation of Hurricane Maria. In somber, scripted remarks, Trump did not speculate on a motive for the attack and said people were understandably searching "for some kind of meaning in the chaos, some kind of light in the darkness."
"The answers," the president said, "do not come easy."
A gunman identified by police as Stephen Paddock, a 64-year-old Nevada resident, opened fire on an outdoor country-music concert on the Vegas strip from his hotel room on the 32nd floor of the Mandalay Bay Resort and Casino. Clark County Sheriff Joseph Lombardo described Paddock, who began shooting at roughly 10 p.m. local time on Sunday, as a "lone-wolf-type actor," and the department said he was found dead in his room.
"My thoughts and prayers are with the families of those killed and wounded in last night's vicious and senseless attack outside the Mandalay Bay Resort," Nevada Democratic Senator Catherine Cortez Masto said. "I thank the first responders for taking down the gunman and working tirelessly to treat the wounded." Nevada's other senator, Republican Dean Heller, offered similar sentiments.
With little immediate information about a possible motive for the attack, members of Congress in both parties largely avoided overt political statements in their initial reactions other than to bemoan a style of attack that has become all too common in the last decade. "The nation's conscience must be galvanized," said Senator Richard Blumenthal of Connecticut, who along with other Democrats campaigned for stricter gun-control laws after the deadly 2012 shooting at an elementary school in his home state.
Blumenthal's Connecticut colleague, Democratic Senator Chris Murphy, was the exception, calling out Congress in blunt terms for its failure to restrict access to guns. "This must stop," he said in a statement. He continued:
It is positively infuriating that my colleagues in Congress are so afraid of the gun industry that they pretend there aren't public policy responses to this epidemic. There are, and the thoughts and prayers of politicians are cruelly hollow if they are paired with continued legislative indifference. It's time for Congress to get off its ass and do something.
Republicans who advocate for looser gun restrictions are in power on Capitol Hill and in the White House. After recent shootings like the massacre that killed 49 people at the Pulse nightclub in Orlando last year, Democrats have pushed unsuccessfully for laws strengthening background checks and prohibiting assault weapons. Many GOP lawmakers, however, want to go in the opposite direction and make it easier for people to use firearms in self-defense. "Once again a nation mourns and Congress will observe a moment of silence," lamented Representative Gerry Connolly, a Virginia Democrat.
Gabby Giffords, the former Arizona congresswoman who was shot during a district event in 2011, tweeted Monday morning that she was "heartbroken" by the scene in Las Vegas. "No person should endure the horror Las Vegas experienced last night," she said. Representative Steve Scalise of Louisiana, the senior House Republican seriously wounded at a congressional baseball practice in June, had just returned to the Capitol on Friday for the first time since he was shot. "Jennifer and I are praying for the victims of this unspeakable violence in Las Vegas," he tweeted.
Former President Barack Obama, who could not persuade Republicans to budge from their opposition to tighter gun control, said he and former First Lady Michelle Obama were praying for the victims. But he withheld the call for Congress to act that he issued repeatedly during his final years in office. "Our thoughts are with their families & everyone enduring another senseless tragedy," the ex-president tweeted.
Hillary Clinton was not so reluctant. "Our grief isn't enough," the former secretary of state and 2016 Democratic presidential nominee said in a series of tweets. "We can and must put politics aside, stand up to the NRA, and work together to try to stop this from happening again."