The Gun Legislation With the Best Chance of Passing Congress
Advocates for tighter laws renewed their push after the Las Vegas shooting. But any bills that pass under Republican control are likely to expand gun rights, not restrict them.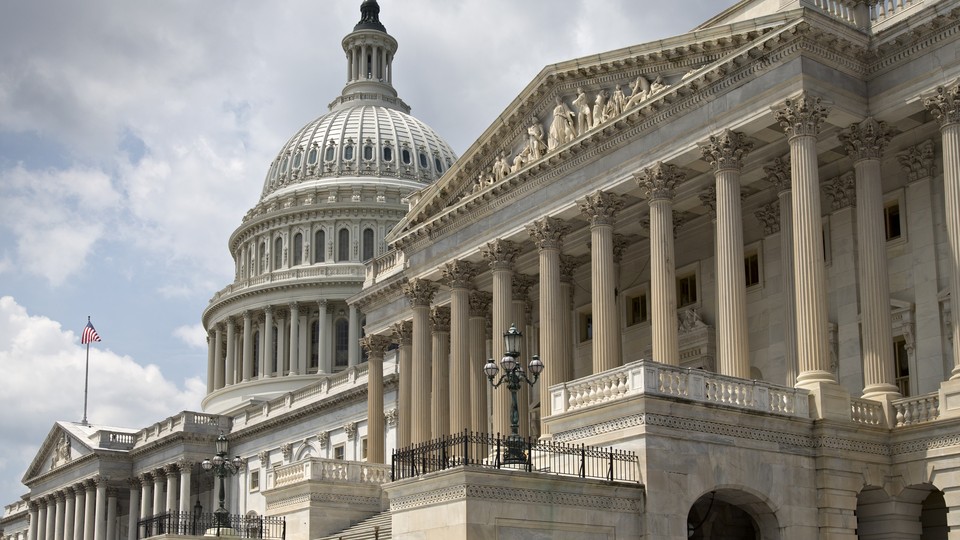 The federal legislation likeliest to advance in Congress following the deadliest mass shooting in U.S. history is not a measure strengthening background checks, banning the sale of assault weapons, or otherwise restricting access to firearms.
Instead, the proposals that stand the best chance of passing are ones that would make it easier for gun owners to buy silencers for their weapons, loosen restrictions on the sale of armor-piercing bullets, and force states with tight gun-control laws to recognize the rights of residents from states with lighter regulation.
Such is the political reality nearly a year after a presidential election that extinguished the hopes of gun-control advocates for even modest action by Congress and gave full control of the federal government to Republicans who support the expansion of gun rights. Late Sunday night, a 64-year-old gunman killed at least 58 people and injured hundreds more by raking concertgoers on the Las Vegas Strip. In the hours afterward, groups like Everytown for Gun Safety and the Brady Campaign to Prevent Gun Violence renewed their calls for Congress to enact a universal background-check law and other measures proposed by former President Barack Obama and endorsed during last year's campaign by Hillary Clinton. But their more immediate priority now is a rearguard action to keep federal gun laws where they are.
Before the Las Vegas shooting brought the gun debate once again to the fore, gun-control advocates were preparing for a House vote as soon as this week on legislation loosening a series of firearms regulations for the benefit of sportsmen and hunters. From their perspective, the most concerning of those measures is a bill dubbed the Hearing Protection Act that would eliminate a $200 federal tax on silencers, streamline the process of obtaining approval to buy them, and preempt any state or local law restricting their sale or possession. "We're working that bill pretty hard. I think today things changed quite a bit," Kris Brown, co-president of the Brady Campaign, told me on Monday. House Republicans already delayed action on the measure once this year, after Majority Whip Steve Scalise of Louisiana was shot at a congressional baseball practice in June.
The silencer bill was added to a broader package of legislation known as the Sportsmen's Heritage and Recreational Enhancement Act, or SHARE, which loosens restrictions on hunting on public lands and prohibits the Department of Alcohol, Tobacco, and Firearms from designating certain ammunition as "armor-piercing." The SHARE Act advanced out of the House Natural Resources Committee in September and appeared to be headed for a full vote on the House floor. But it was not on the schedule for this week, which was released on Friday, and a spokesman for Majority Leader Kevin McCarthy would not say when it might come up.
Supporters argue there's a public-health benefit to silencers, because they suppress the loud noise of a gunshot that could be damaging to the ears of frequent hunters and recreational gun users. But advocates for gun control say there are plenty of headphones and noise reducers already on the market, and they say the legislation is a transparent giveaway to the silencer industry. "This is simply propping up sales for the gun industry, which have flagged since the election of Donald Trump," Brown said. Gun sales spiked during the Obama presidency amid fears—never realized or realistic—that Congress or the administration would enact restrictions on or even seize firearms. Now, gun-control advocates say, the industry is turning to other methods to juice sales. "There's not a bogeyman in the White House right now for the NRA," Everytown spokesman Andrew Zucker said.
The NRA, or National Rifle Association, had no comment on Monday, maintaining the low public profile that has become the norm for the organization in the immediate aftermath of mass shootings. Politico reported that the NRA had delayed by a week the start of TV ads it was set to run in support of the Republican nominee for governor of Virginia, Ed Gillespie. The lead sponsor of the Hearing Protection Act, GOP Representative Jeff Duncan of South Carolina, was not available for an interview, his spokesman said. Though the bill may make it through the House, it seems unlikely to win the support of the at least eight Democrats it would need to overcome a filibuster in the Senate.
The frozen political debate over gun laws was evident in other ways on Monday. After former Representative Gabrielle Giffords of Arizona was shot during a district event in 2011, the Democratic congresswoman and her husband, Mark Kelly, became outspoken advocates for tighter gun control. "Do not let anyone tell you not to talk about politics when we talk about guns," Kelly said on Monday, appearing alongside Giffords at a press conference outside the Capitol building. Giffords, whose speech has been impaired since the shooting, uttered only a single sentence. "The nation's counting on you," she said, as she raised a fist and turned toward the Capitol.
On Friday, Scalise, the third-ranking House Republican, returned to the House chamber for the first time since a rifle bullet shattered his hip. Unlike Giffords, the conservative has said nothing about gun policy since that attack—not during a speech to colleagues on the House floor, nor during an interview with CBS for 60 Minutes, nor in his statement mourning the loss of life in Las Vegas.
The juxtaposition of Giffords and Scalise fits a pattern. As Monday wore on, Democrats issued calls to action in the wake of the massacre. They came from Hillary Clinton and former Vice President Joe Biden, Senator Chris Murphy of Connecticut and Representative Seth Moulton of Massachusetts. The House Democratic leader, Representative Nancy Pelosi, sent a letter to Speaker Paul Ryan urging the creation of a special committee on gun violence and a vote on bipartisan background-check legislation. Several other Democrats urged Ryan to abandon the silencer bill.
Republicans, by and large, skirted the gun debate altogether. "You can't regulate evil," Governor Matt Bevin of Kentucky tweeted. Neither President Trump, nor Ryan, nor Senate Majority Leader Mitch McConnell mentioned guns at all in their public statements, either to rebut Democrats or to advocate a legislative response of their own. "It would be premature to discuss policy," said Sarah Huckabee Sanders, the White House press secretary.