The Department of Justice Takes a Stand Against Transgender Rights in the Workplace
A new memo rescinds an Obama-era policy on gender-identity discrimination, setting the stage for a possible Supreme Court fight.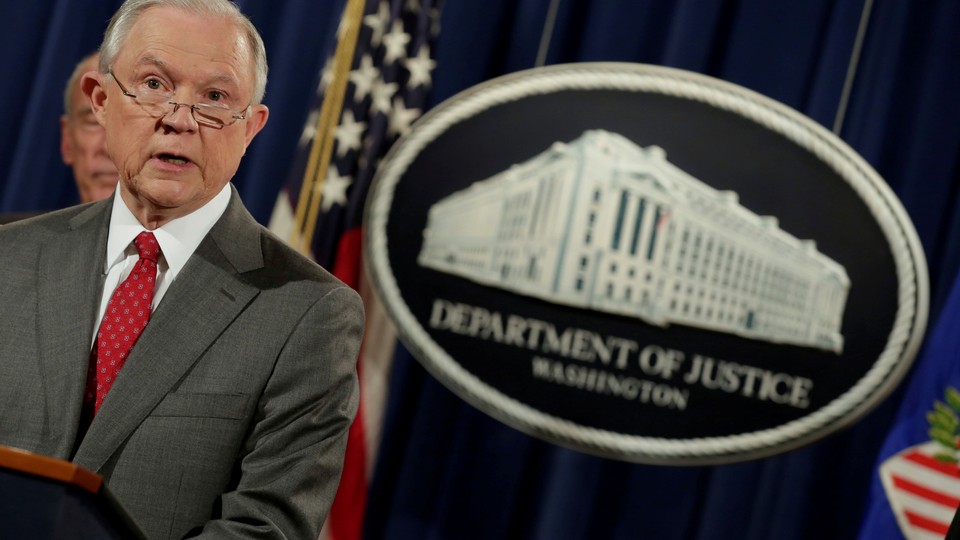 The Department of Justice has issued a new memo on transgender workplace rights, arguing that a major civil-rights law does not cover discrimination on the basis of gender identity.
The memo, first reported by BuzzFeed News, officially withdraws a 2014 memo sent out by then-Attorney General Eric Holder on this issue, reversing the position the Obama administration took late into the former president's second term. This is the latest in a series of moves by the DOJ to undo Obama-era policies on LGBT rights—and one more step toward a possible showdown over gender identity and sexual orientation at the high court. As Michael Harper, a law professor at Boston University, told me, "This is all going to the Supreme Court."
The memo, sent out to U.S. attorneys and the heads of federal agencies, concerns the administration's position on Title VII, the civil-rights statute that outlaws certain kinds of workplace discrimination.  For nearly three decades, courts have been arguing over the definition of sex discrimination, which Title VII and other statutes prohibit. Particularly in recent years, some legal advocates—and government agencies—have argued that discrimination on the basis of sex includes bias against transgender people. Their claim is that discrimination against transgender people solely based on their gender identity is a form of sex stereotyping, which the Supreme Court has long ruled impermissible.
This is the position the Obama administration took in 2014, when Holder released a memo stating that the Department of Justice would no longer argue that gender-identity-based workplace-discrimination claims weren't covered by Title VII. "Although Congress may not have had such claims in mind when it enacted Title VII," Holder wrote, "the Supreme Court has made clear that Title VII must be interpreted according to its plain text." On his reading, the statute could rightfully include discrimination against someone simply because the person is transgender.
This position, however, is controversial. Opponents have argued that the text of the Civil Rights Act of 1964 does not explicitly include gender identity, and the government cannot enforce the law that way. This is the line Sessions took in his new memo. "'Sex' is ordinarily defined to mean biologically male or female," he wrote. "Although Title VII provides various protections to transgender individuals, Title VII does not prohibit discrimination based on gender identity per se." Based on this reasoning, Sessions has withdrawn Holder's previous memo, noting that this is the position the DOJ will take in "all pending and future matters."
"The Department of Justice cannot expand the law beyond what Congress has provided," wrote Devin O'Malley, a DOJ spokesman, in an email. "Unfortunately, the last administration abandoned that fundamental principle, which necessitated today's action."
As it turns out, a lot of cases on this topic currently are pending. A number of high-profile cases deal with Title VII and discrimination based on sexual orientation, including a case about a skydiver recently heard before the Second Circuit Court of Appeals. The Trump administration filed a brief in that case as well, asserting a similar position: It does not see Title VII as prohibiting discrimination against gays and lesbians based on their sexual orientation.
Legal advocates on both sides tend to present the interpretation of sex discrimination under Title VII as a black-and-white issue. "They're starting from different policy views, and when people are strongly committed to a policy view, they put a gloss on words that are more ambiguous," said Harper. Sessions stated in his memo that the change is "a conclusion of law, not policy," arguing that his is simply the straightforward interpretation of the statute.
The National Center for Transgender Equality and other advocacy groups, on the other hand, claim the opposite: Theirs is the correct interpretation of the law. "According to Sessions, an employer is free to hang a 'Transgender Need Not Apply' sign in their window," wrote the executive director, Mara Keisling, in an emailed statement. "Fortunately, he is dead wrong on the law."
This divide is reflected in the courts, which are split on the question of whether sex discrimination covers sexual orientation. Eventually, "the interpretation of Title VII will be decided by the Supreme Court," Harper said.
Until the right case successfully petitions the court, however, the Department of Justice may weigh in on a number of pending matters. Sessions's letter states that "the Justice Department must and will continue to affirm the dignity of all people, including transgender individuals." Nothing in the memo should be interpreted as "[condoning] mistreatment on the basis of gender identity," it goes on, and notes that transgender individuals are protected under federal hate-crime statutes. If someone is fired for being transgender, however, the Department of Justice likely won't help.