The Atlantic Politics & Policy Daily: 'An Act of Pure Evil'
At least 58 people have died after a gunman opened fire on a crowd of concertgoers in Las Vegas on Sunday night.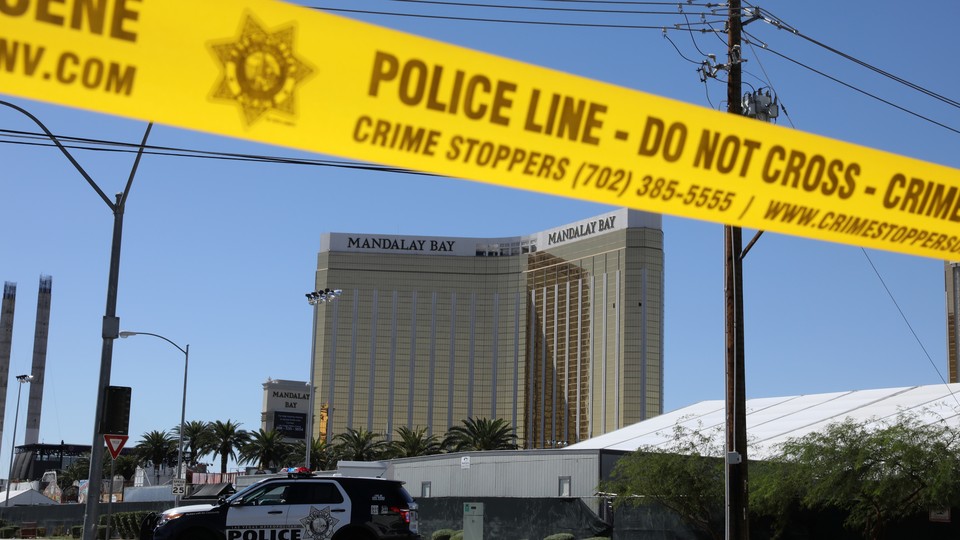 Today in 5 Lines
At least 58 people have died and 515 have been injured after a gunman opened fire on a crowd of concertgoers in Las Vegas on Sunday night. The Las Vegas Police Department identified the suspected shooter as 64-year-old Stephen Paddock, who is dead. President Trump, who is expected to visit Las Vegas on Wednesday, condemned the massacre as "an act of pure evil." In the wake of the tragedy, Democratic lawmakers forcefully called for tougher gun laws, while White House Press Secretary Sarah Huckabee Sanders said it was not the time to engage in a policy debate. The Interior Department's inspector general's office has launched an investigation into Secretary Ryan Zinke's travel, following reports that Zinke used taxpayer-funded charter planes.
---
Today on The Atlantic
'This Is Who We Are': James Fallows offers two dark American truths in light of the tragedy in Las Vegas: The shootings will go on, and the media's response is predicated on the shooter's identity.

'Nobody's in Control': Following Roy Moore's victory in Alabama's GOP Senate primary, Republican leaders have had to contend with a new reality: "They have lost all control and comprehension of the populist movement they were supposed to be marshaling—and they may soon be facing a mutiny." (McKay Coppins)

All in the Emails: Emails obtained by The Atlantic suggest that Paul Manafort, Trump's former campaign chair, tried to please an oligarch tied to the Kremlin. (Julia Ioffe and Franklin Foer)
Follow stories throughout the day with our Politics & Policy portal.
---
Snapshot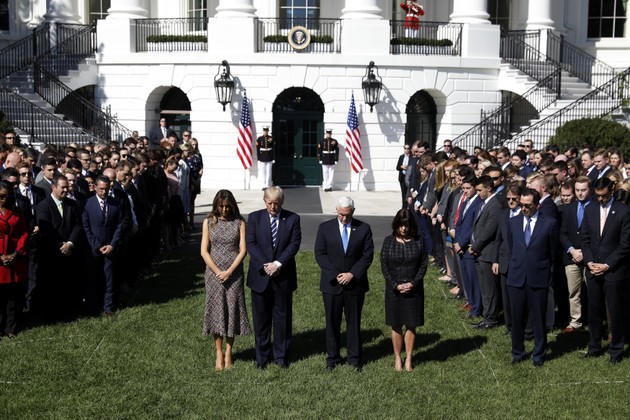 ---
What We're Reading
Few Red Flags to Trace: The suspected gunman behind the mass shooting in Las Vegas drew almost no negative attention from people that knew him before Sunday's attack. (Jose A. DelReal and Jonah Engel Bromwich, The New York Times)
'I Had Angels': Steve Scalise, the Louisiana representative who was shot at a congressional baseball practice in June, returned to the House last Thursday. Tim Alberta discussed the near-death experience with Scalise, who maintained that it's "not going to define" him going forward. (Politico)
Four Democrat-Friendly Ideas in the Tax Plan: Jeff Spross lays out four ideas in the latest GOP tax-reform plan that Democrats should support. Number one? Encouraging businesses to invest more. (The Week)
How to Protect Workers: Three cases being heard at the Supreme Court Monday raise the issue of workers' complaints vis-à-vis the National Labor Relations Act, which established America's current system of union bargaining. (David Freeman Engstrom, The New York Times)
A Familiar Line in the Sand: Sunday's shooting in Las Vegas rekindled the debate over gun legislation, though it's unlikely this time will be any different. (Susan Davis, NPR)
---
Visualized
An American Problem: Look at gun violence in the U.S., 17 different ways. (German Lopez, Vox)
In Remembrance: Here are the stories of the lives lost in the Las Vegas massacre. (The Washington Post)
---
Question of the Week
After the deadly protests in Charlottesville, Virginia, in August, we asked you to share what you read to keep things in perspective and make sense of uncertain times. We return to that question this week in light of the mass shooting in Las Vegas: What books or readings do you turn to for comfort and reflection?
Share your response here, and we'll feature a few in Friday's Politics & Policy Daily.
-Written by Taylor Hosking (@Taylor_Hosking), Lena Felton (@lenakfelton), and Elaine Godfrey (@elainejgodfrey)