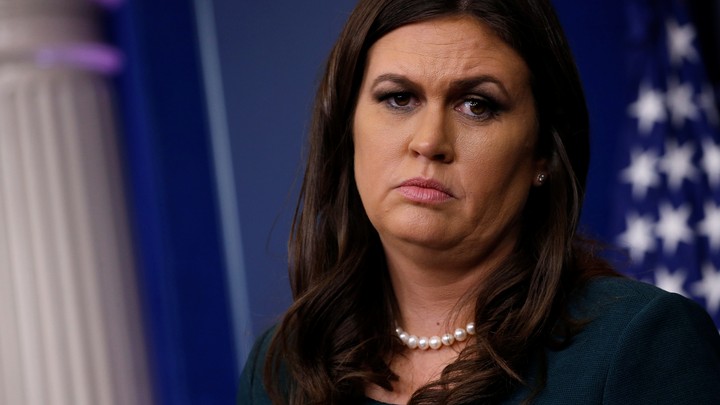 Today in 5 Lines
President Trump pledged to pass the "biggest" tax cut in American history the day after the Senate passed a $4 trillion budget paving the way for tax reform. White House Press Secretary Sarah Huckabee Sanders defended Chief of Staff John Kelly after his remarks criticizing Representative Frederica Wilson, who said Trump had disrespected a Gold Star family during a condolence call. "I think that if you want to get into a debate with a four-star Marine general, I think that's something highly inappropriate," Sanders told reporters. Three white nationalists were charged with attempted murder after police said one of them shot at protesters after a speech by Richard Spencer, the leader of the so-called alt-right movement, in Florida on Thursday. NBC News reported that the attack in Niger that killed four U.S. servicemen was partly due to a "massive intelligence failure."
---
Today on The Atlantic
Follow stories throughout the day with our Politics & Policy portal.
---
Snapshot
---
What We're Reading
What to Watch: On Thursday, Senate Republicans approved a budget that will pave the way to accomplishing tax reform. Here's what you need to know about the fiscal blueprint, the deficit, and how Senator Bob Corker feels about it. (Brian Faler, Politico)
A Preview?: During Thursday's White House press briefing, Masha Gessen describes how Chief of Staff John Kelly gave Americans a taste of what a military coup might look like. (The New Yorker)
'Acting White': Conservatism used to be about taking responsibility for your actions, argues Kevin D. Williamson, but in the age of Donald Trump, it's become a "white-minstrel show." (National Review)
Inside Facebook: Here's how the company's employees feel about its role in the 2016 presidential election—and the subsequent investigations by Congress and the special counsel. (Charlie Warzel, BuzzFeed)
A Call With the President: Natasha De Alencar, whose husband was a U.S. serviceman killed in Afghanistan, shared a video of her conversation with President Trump that she described as "a moment of niceness that we needed." (Thomas Johnson, The Washington Post)
---
Visualized
Women in Prison: Oklahoma has the highest rate of female incarceration in the United States. In this short documentary, two reporters investigate why. (The Center for Investigative Reporting)
---
Question of the Week
The Atlantic's Michelle Cottle reported on Monday that younger politicians are growing frustrated with what they view as out-of-touch lawmakers clinging to power by continuing to serve well into their 70s and 80s. This week, we asked if you think there should be an age limit for politicians.
Cliff Wheeler says yes.
Like airline pilots and others that significantly affect the lives of others politicians should be required  to retire—when is subject to debate.  A prime example would be South Carolina senator Strom Thurmond in his last years.  While witnessing history  and hopefully gaining wisdom from years of service, there comes a time when our elders are just out of touch.
Gayle Golden has the opposite view:
Each candidate should be evaluated on their own merit and capacity to serve. Senator McCain's  remarks on the floor of the Senate and most powerfully at the National Constitution Center in Philadelphia remind us of the importance of values, courage, integrity, and concern for others that have been the foundation of our democracy. We need some leaders whose experience provide the appropriate awareness of history as a context for current decision making.
But John McLeod believes the conversation should be about term limits, rather than age limits:  
I believe that any politician, no matter their party nor their intent for honest service, succumbs to both party and lobby pressures and becomes more concerned about being reelected than striving for good government. I am not sure what the limit should be be. Let's say 12 years to start with—but there should be a time limit.
Thanks to everyone who submitted responses, and stay tuned for next week's Question of the Week.
-Written by Elaine Godfrey (@elainejgodfrey)
We want to hear what you think about this article. Submit a letter to the editor or write to letters@theatlantic.com.
Elaine Godfrey
is a staff writer at
The Atlantic
, where she covers politics.