The Atlantic Politics & Policy Daily: The Love Fest Continues
President Trump characterized his meeting with Republican senators on Tuesday as a "love fest."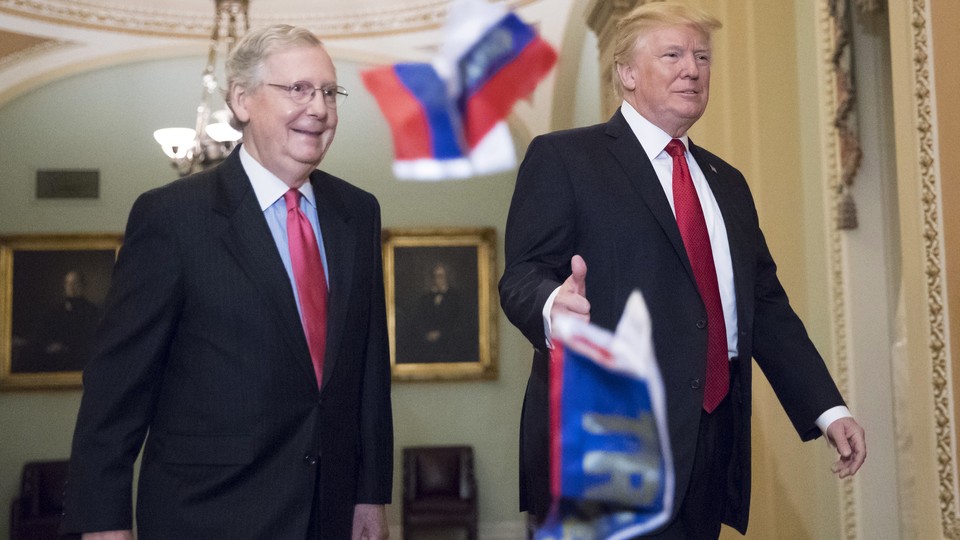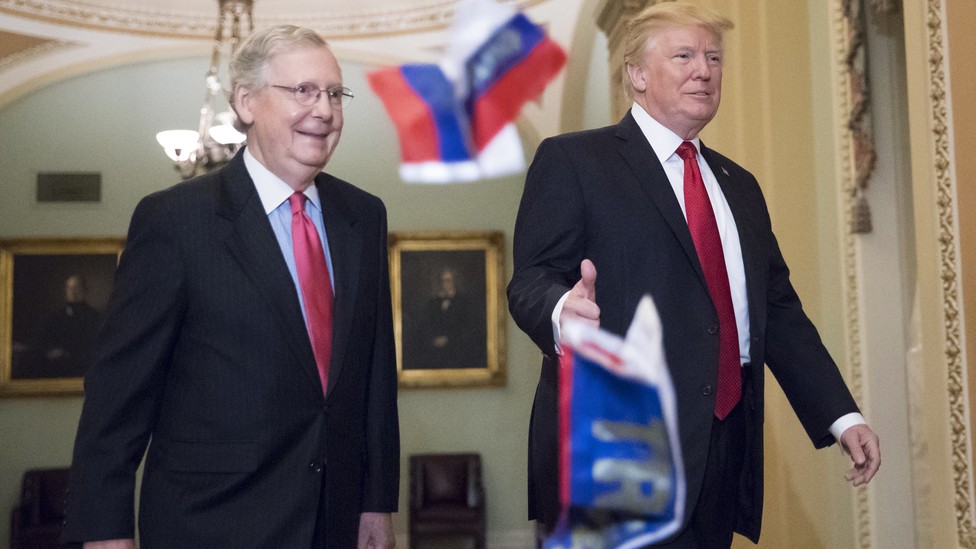 Today in 5 Lines
President Trump told reporters that he did not "specifically" authorize the mission in Niger that resulted in the deaths of four U.S. service members in early October. Trump characterized his meeting with Republican senators on Tuesday as a "love fest" and dismissed criticism from Senators Bob Corker and Jeff Flake. Ivanka Trump visited Capitol Hill to advocate for the expansion of the child-tax credit in the Republican tax-reform package. Scott Brown, the U.S. ambassador to New Zealand, confirmed that the State Department investigated him over "insensitive or inappropriate" comments he made at an event in Samoa. Bruce Douglas Paddock, the brother of Las Vegas mass shooter Stephen Paddock, was arrested on child pornography charges.
---
Today on The Atlantic
---
The Masthead
Want to support a sustainable future for journalism, and get to know The Atlantic a little better in the process? Join The Masthead, our new membership program, and you'll get an exclusive newsletter with original articles, as well as the opportunity to participate in conference calls with leading thinkers and join a private discussion group. This week, Masthead members got an update on Puerto Rico and will debate how to protect the right to self-defense in gun regulations. Coming up soon, members will hear from The Atlantic's editor in chief, Jeffrey Goldberg. Sign up now.
Follow stories throughout the day with our Politics & Policy portal.
---
Snapshot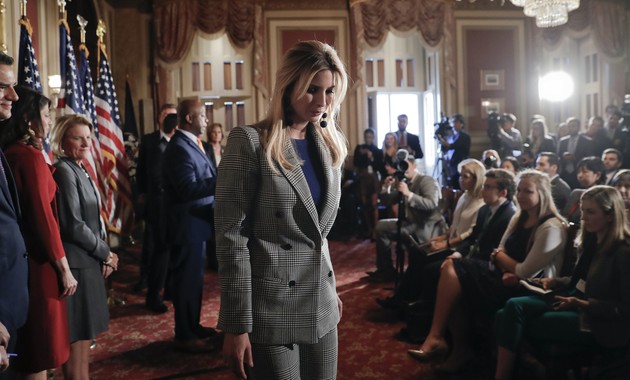 ---
What We're Reading
About That Dossier: Hillary Clinton's campaign and the Democratic National Committee reportedly helped pay for the dossier on Donald Trump. Here's what that means. (Aaron Blake, The Washington Post)
'Four Quitters Walk Into a Bar': Four former government officials share why they left the Trump administration. (Lydia Polgreen, HuffPost)
Blue Slips: Democrats are using a long-standing Senate tradition to block President Trump's judicial nominees from receiving a hearing. But Republican Senator Chuck Grassley may soon bring an end to that custom. (Jeffrey Toobin, The New Yorker)
All Talk, No Action: After being soundly defeated in the 2016 elections, Democrats should have spent the year focused on winning future elections, at the local and national level. Too bad they didn't. (Damon Linker, The Week)
No Free Speech: While universities encourage students to engage in public discourse, Robert C. Post argues there is no First Amendment right for outside speakers on college campuses. (Vox)
---
Visualized
Are You Part of the Middle Class?: Use this calculator to see how your income stacks up to those of other households in your county. (Leslie Shapiro, The Washington Post)
---
Question of the Week
In her story on Monday, The Atlantic's Molly Ball reports that some researchers attempting to understand how Americans were feeling after the 2016 presidential election didn't seem to be listening to their focus groups: "I heard all the optimism they did, but I also heard its opposite: that one side was right and that the other was the enemy; that other Americans, not just the government, were to blame for the country's problems."
So this week, we want to know: Do you think it's important to move past political partisanship? Why or why not?
Share your response here, and we'll feature a few in Friday's Politics & Policy Daily.
-Written by Elaine Godfrey (@elainejgodfrey)