The Atlantic Politics & Policy Daily: The Art of the (Iran) Deal
Trump announced that he is decertifying the Iran deal, leaving it to Congress to decide whether to amend existing U.S. legislation.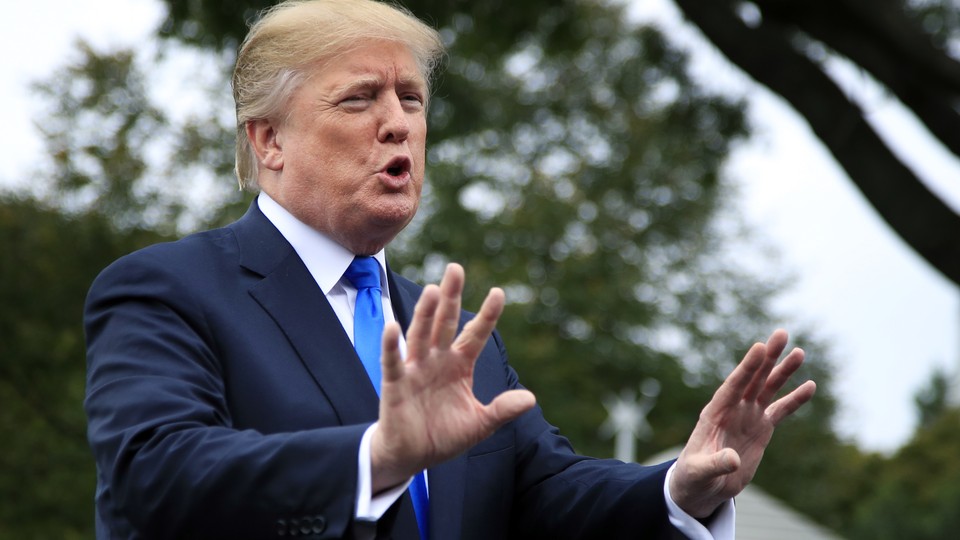 Today in 5 Lines
During an address at the Values Voter Summit, President Trump boasted about "tremendous strides" against ISIS, pledged to end Obamacare, and said he hopes to have tax reform done by Christmas. Later, Trump announced that he is decertifying the Iran deal, leaving it to Congress to decide whether to amend existing U.S. legislation. Democratic and Republican lawmakers criticized Trump's decision to kill key Obamacare subsidies. Maine Senator Susan Collins announced that she will not run for governor. At least 32 people have been killed in the wildfires blazing through Northern California.
---
Today on The Atlantic
Follow stories throughout the day with our Politics & Policy portal.
---
Snapshot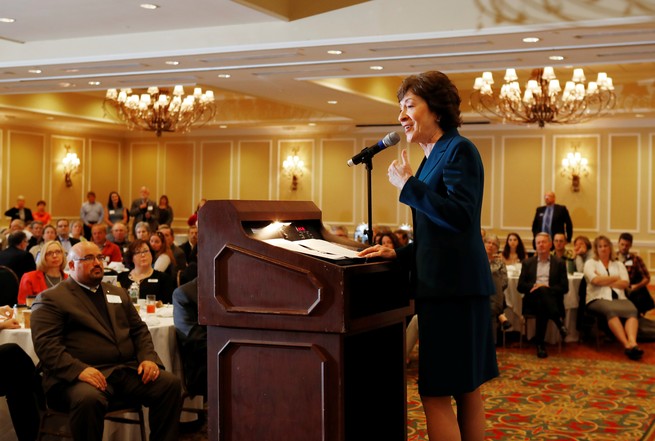 ---
What We're Reading
What Happens Now?: On Thursday night, the Trump administration announced it would stop funding Obamacare's cost-sharing subsidies. Here's what that means. (Tami Luhby, CNN)
Roy Moore's Past: In 2004, Alabama leaders attempted to remove sections of the state constitution mandating school segregation; Roy Moore, who is currently the GOP Senate nominee, helped crush the effort. (Cameron Joseph, Talking Points Memo)
Can't Undo: Federal investigators believe Twitter was Russia's primary tool in promoting Donald Trump over Hillary Clinton during the presidential election. But tweets and data that could be crucial to the probe may no longer be available. (Josh Meyer, Politico)
'We Were in Survival Mode': As a wildfire engulfed their home in Santa Rosa, California, one couple spent six hours in their neighbor's pool to escape the flames. (Robin Abcarian, Los Angeles Times)
Is Democracy in Decline?: Vox's Sean Illing spoke with 20 of the country's top political scientists about the state of American democracy. They're worried.
---
Visualized
Leaving NAFTA: President Trump has threatened to pull the United States out of the North American Free Trade Agreement. This is what would happen if he did. (Ana Swanson and Kevin Granville, The New York Times)
---
Question of the Week
On Sunday, the Trump administration released a list of immigration reforms it wants fulfilled in exchange for a DACA fix, throwing a wrench in attempts to reach an agreement on protections for young undocumented immigrants, who were brought to the U.S. as children. This week, we asked what immigration reforms, if any, you hope to see in exchange for a DACA solution.
Janet said she wants the immigration process to be "more transparent, straight-forward and easier to understand for applicants." And Roger says he would hope for "more border security [through the construction of the] wall," as well as increased border patrol, and increased deportation of illegal immigrants who have committed serious crimes.
Rachel Scott argues that building a wall is "senseless":
The cost of such a wall would be a ridiculous waste of money, from a government which wrings its hands about whether it will continue to be able to fund Social Security, and which has yet to tackle America's crumbling infrastructure.
Thanks to everyone who submitted responses, and stay tuned for next week's Question of the Week.