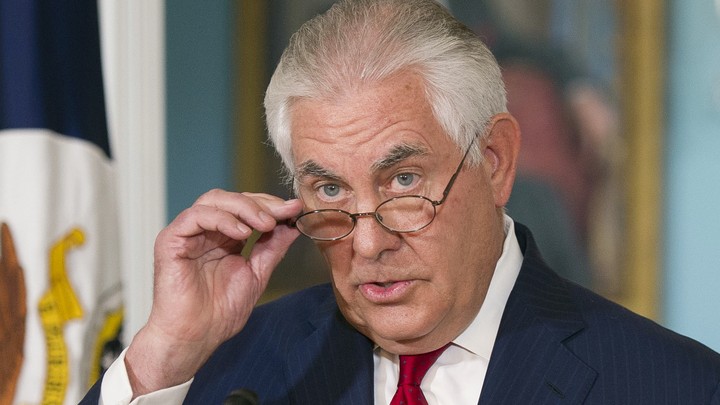 Today in 5 Lines
During his visit to Las Vegas to honor the victims of Sunday's mass shooting, Trump offered a message of unity, but refused to discuss gun policy. The FBI questioned Marilou Danley, the girlfriend of the Las Vegas gunman, Stephen Paddock. Secretary of State Rex Tillerson denied that he had ever considered resigning from his position, but stopped short of explicitly refuting a report that said he called President Trump a "moron." His spokesman later said Tillerson did not. Senate Intelligence Committee Chairman Richard Burr said "the issue of collusion is still open" in the Trump-Russia investigation.
---
Today on The Atlantic
Follow stories throughout the day with our Politics & Policy portal.
---
Snapshot
---
What We're Reading
Zeroing In: Several of the Facebook ads purchased by Russian accounts reportedly targeted key demographic groups in Michigan and Wisconsin—two states that proved pivotal to Donald Trump's presidential victory. (Manu Raju, Dylan Byers, and Dana Bash, CNN)
What Does Rex Think?: A spokeswoman denied that the secretary of state called President Trump a "moron," but administration aides say, "Mr. Tillerson's body language and terse expressions have left little doubt that he disapproves of Mr. Trump's approach." (Peter Baker, Maggie Haberman, and Glenn Thrush, The New York Times)
Many Problems, No Single Solution: Mass shootings have become a national symbol for gun violence, but they aren't an accurate depiction of the real issue. More than two-thirds of American gun deaths, for example, are suicides. (Maggie Koerth-Baker, FiveThirtyEight)
'No Way to Prevent This': Sydney Ember writes of the enduring power of a headline published by the satirical website The Onion after mass shootings. (The New York Times)
A Losing Issue: The lawmakers preventing movement on gun regulations aren't Republicans—they're the red-state Democrats who stay quiet on the subject. (Josh Kraushaar, National Journal)
The Boss's Kids: Donald Trump's attorney, Marc Kasowitz, helped Ivanka Trump and Donald Trump Jr. avoid an indictment for "misleading potential buyers of units in Trump SoHo." The way he did it raised a few eyebrows. (Andrea Bernstein, Jesse Eisinger, Justin Elliott, Ilya Marritz, The New Yorker)
---
Visualized
Gun Money: In 2016, more than half of the members of the House of Representatives received campaign contributions from gun-rights groups. See how much your representative gets. (Tyler Fisher, Sarah Frostenson, and Lily Mihalik, Politico)
The American Way: In this brief video, James Fallows explains why mass shootings will continue to happen in the United States. (Daniel Lombroso and Brianna Pressey, The Atlantic)
---
Question of the Week
After the deadly protests in Charlottesville, Virginia, in August, we asked you to share what you read to keep things in perspective and make sense of uncertain times. We return to that question this week in light of the mass shooting in Las Vegas: What books or readings do you turn to for comfort and reflection?
Share your response here, and we'll feature a few in Friday's Politics & Policy Daily.
-Written by Elaine Godfrey (@elainejgodfrey), Lena Felton (@lenakfelton), and Taylor Hosking (@Taylor_Hosking)
We want to hear what you think about this article. Submit a letter to the editor or write to letters@theatlantic.com.
Elaine Godfrey
is a staff writer at
The Atlantic
, where she covers politics.
Lena Felton
is a former editorial fellow at
The Atlantic
.