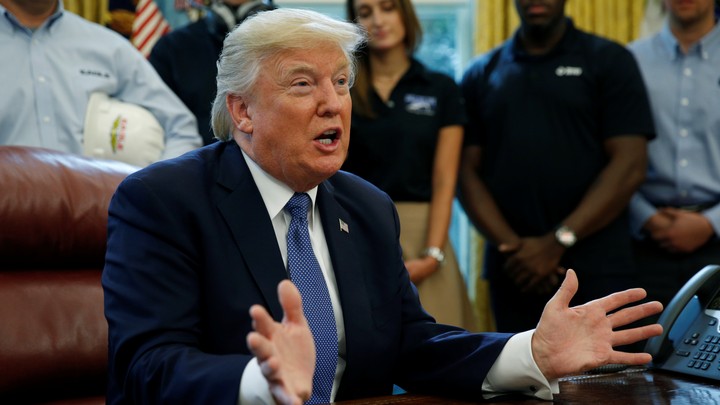 Today in 5 Lines
The Trump administration issued new regulations exempting employers from covering contraceptives if they object on moral or religious grounds, reversing the Affordable Care Act's contraceptive mandate. Attorney General Jeff Sessions sent a government-wide memo reinforcing protections for religious liberties. Army Sergeant Bowe Bergdahl is reportedly expected to plead guilty to charges of desertion and misbehavior before the enemy. The U.S. economy lost 33,000 jobs in September, the first monthly decline in employment in seven years. Tropical Storm Nate, which has already killed at least 22 people in Costa Rica and Nicaragua, is expected to make landfall in the United States late Saturday night.
---
Today on The Atlantic
Follow stories throughout the day with our Politics & Policy portal.
---
Snapshot
---
What We're Reading
Sorry, Iowa: As the enrollment period for the Affordable Care Act marketplace approaches, President Trump and his administration seem bent on undermining the program. (Juliet Eilperin, The Washington Post)
'Reign of Terror': Pro-life congressman Tim Murphy's political career might have withstood reports that he encouraged his lover to get an abortion. But a potential ethics investigation over his reported mistreatment of staffers is what ultimately pushed him to resign. (Rachael Bade, Jake Sherman, and John Bresnahan, Politico)
A Response to Bret Stephens: On Thursday, the New York Times columnist suggested getting rid of the Second Amendment altogether. Charles C. W. Cooke explains why his argument is both wrong and unconvincing. (National Review)
'Getting to No': Next week, President Trump is expected to announce that he will decertify the Iran deal, which he believes is not in the country's best interest. Here's how he came to his decision. (Stephen F. Hayes and Michael Warren, The Weekly Standard)
'It Felt Impossible': While rumors of sexual misconduct against Harvey Weinstein were Hollywood's "worst-kept secret" for many years, there's a reason why the allegations didn't come out until now. (Rebecca Traister, New York)
---
Visualized
Who They Were: Los Angeles Times profiled each victim of the Las Vegas shooting. Read their stories here.
---
Question of the Week
After the deadly protests in Charlottesville, Virginia, in August, we asked you to share what you read to keep things in perspective and make sense of uncertain times. We returned to that question this week in light of the mass shooting in Las Vegas, asking what books or readings you turn to for comfort and reflection.
Gayle Golden wrote in with a host of ideas, including "Psalm 121," which begins, "I will lift up mine eyes unto the hills, from whence cometh my help," and William Wordsworth's "Ode: Intimations of Immortality from Recollections of Early Childhood."
But most of all, she finds classical music most soothing. Gayle recommends pieces such as the third movement of Rachmaninoff's "Symphony No. 2" and The Beatles's "Here Comes The Sun" as recorded by Yo Yo Ma and James Taylor.
Dennis Anderson recently read Just Mercy, by Bryan Stevenson: "[The author] mentions that all of us are broken people at some level. We have been broken by others. And we have broken others through our words, actions and even our silence and inaction … When we experience mercy, it transforms us and gives us the power to offer it to others," he writes.
Finally, Doyle Reynolds has been re-reading James Herriot's All Creatures Great and Small.
Thanks to everyone who submitted responses, and stay tuned for next week's Question of the Week.
-Written by Elaine Godfrey (@elainejgodfrey)
We want to hear what you think about this article. Submit a letter to the editor or write to letters@theatlantic.com.
Elaine Godfrey
is a staff writer at
The Atlantic
, where she covers politics.