The Atlantic Politics & Policy Daily: One Fish, Two Fish, Whitefish, $300 Million Fish
The Federal Emergency Management Agency said it has "significant concerns" over how a $300 million contract was awarded to a small Montana company to rebuild Puerto Rico's infrastructure.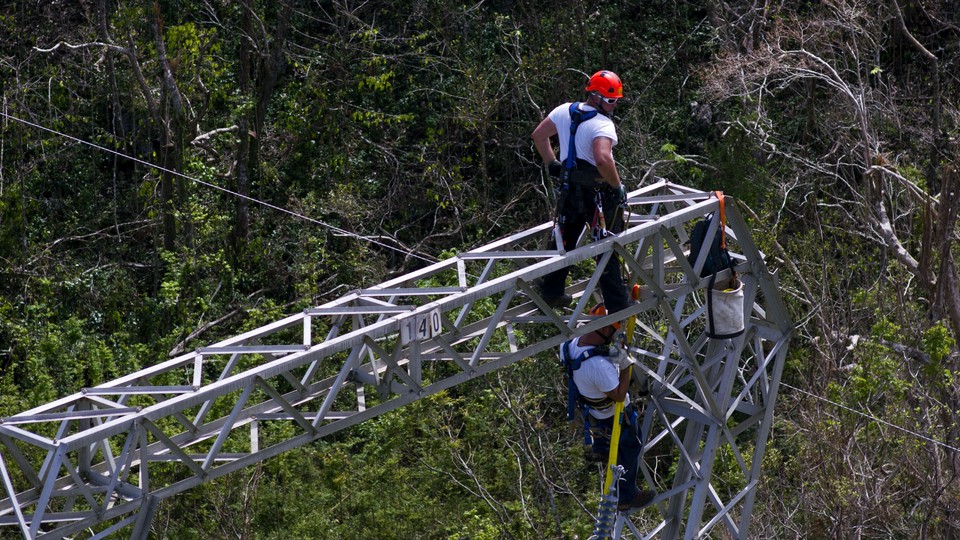 Today in 5 Lines
The Federal Emergency Management Agency said it has "significant concerns" over how a $300 million contract was awarded to Whitefish Energy Holdings, a small Montana company, to rebuild Puerto Rico's infrastructure. The White House said it was not involved in the decision. And in a statement, Interior Secretary Ryan Zinke said he did not advocate for Whitefish, which is based in his hometown, to receive the contract. Utah Senator Orrin Hatch said President Trump has agreed to shrink the boundaries of the Bear Ears National Monument, at Zinke's recommendation. Spain dissolved Catalonia's parliament and dismissed its president, after the region voted to declare its independence.
---
Today on The Atlantic
---
The Masthead
Want to support a sustainable future for journalism, and get to know The Atlantic a little better in the process? Join The Masthead, our new membership program, and you'll get an exclusive newsletter with original articles, as well as the opportunity to participate in conference calls with leading thinkers and join a private discussion group. This week, Masthead members got an update on Puerto Rico and will debate how to protect the right to self-defense in gun regulations. Coming up soon, members will hear from The Atlantic's editor in chief, Jeffrey Goldberg. Sign up now.
Follow stories throughout the day with our Politics & Policy portal.
---
Snapshot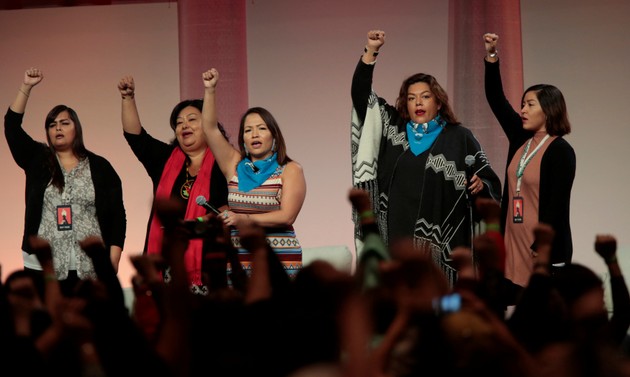 ---
What We're Reading
Hmmm: The talking points brought to a June 2016 meeting between Donald Trump Jr. and Russian lawyer Natalia Veselnitskaya were reportedly shared with the Kremlin. (Sharon LaFraniere and Andrew E. Kramer, The New York Times)
The Resurrection of Michael Grimm: The former New York congressman, who was jailed for tax evasion and once threatened to "break" a local news reporter, is now attempting to remake himself—with the help of Steve Bannon. (Olivia Nuzzi, New York)
Assault in Congress: Some lawmakers and staffers fear that Congress' protocol for handling allegations of sexual misconduct against its members actually discourages victims from coming forward. (Michelle Ye Hee Lee and Elise Viebeck, The Washington Post)
An Unknown Number: Funeral directors in Puerto Rico are reportedly burning the bodies of people killed by Hurricane Maria, many of whom have not been counted in the official death toll. (Nidhi Prakash, BuzzFeed)
Muddy the Waters: It's been a confusing five days in politics, with the revelations about the DNC-funded dossier and new investigations against Hillary Clinton. But all that confusion is good for President Trump. (Chris Cillizza, CNN)
---
Visualized
The White House Gets Spooky: Check out this photo gallery to see some memorable Halloween festivities at 1600 Pennsylvania Avenue. (Don't miss Al and Tipper Gore dressed as werewolves in 1997.)(Politico)
---
Question of the Week
In her story on Monday, The Atlantic's Molly Ball reported that some researchers attempting to understand how Americans were feeling after the 2016 presidential election didn't seem to be listening to their focus groups. So this week, we asked whether you think it's important for Americans to move past political partisanship. Here's what you said:
Don Buchanan said the terms "liberal" and "conservative" have become meaningless. "How do you define liberal? As Bernie Sanders defines it—or the way Fox News defines it? It is the same for 'conservative,' it has no concrete definition. We need to get back to discussing issues, policies, the facts that matter."
Susan P. B. argues that we should be focusing on changing our party system: "I think it is more important that we get more than two parties in the debates and in the elections. We need to be a country of more than two choices."
Finally, Paul Schickler takes issue with the question itself. "Your answer seems to assume that we can move past partisanship, just as Third Way assumed it. Everything I read suggests that we cannot any time soon. Certainly we cannot under this president, who exploits division. A different president, after being elected by a suspicious populace, may, eventually, through speech and wiser policies, begin to heal us."
Thanks to everyone who submitted responses, and stay tuned for next week's Question of the Week.